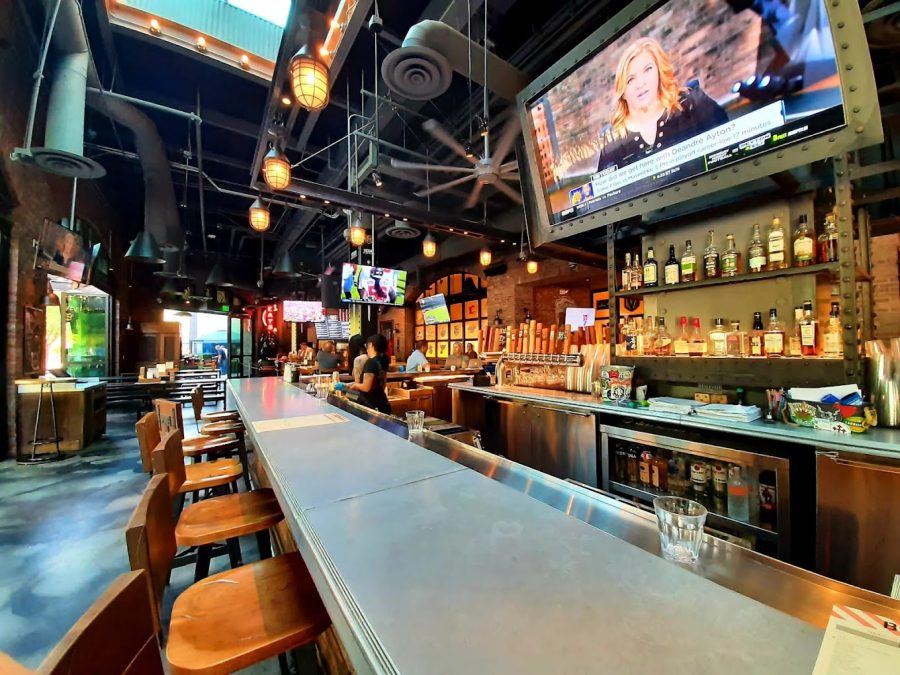 Beerhaus at the Park: An Extensive Profile
Contact Information:
Name: Beerhaus at the Park
Address: 3782 S Las Vegas Blvd, Las Vegas, NV 89109
Phone: +1 (702) 692-2337
Website: www.beerhauslv.com
Introduction: Beerhaus at the Park is a vibrant and lively beer hall located in the heart of Las Vegas. Situated on the famous Las Vegas Strip, Beerhaus offers an extensive selection of craft beers, delicious bites, and a festive atmosphere. Whether you're a beer enthusiast, a sports fan, or someone looking to enjoy a fun night out with friends, Beerhaus provides an exceptional experience for everyone.
Atmosphere: Beerhaus boasts a modern and industrial-inspired interior design, with exposed brick walls, wooden accents, and a spacious open layout. The venue offers both indoor and outdoor seating options, including a lively patio area where guests can enjoy the bustling energy of The Park, a vibrant outdoor dining and entertainment district.
The atmosphere at Beerhaus is relaxed and inviting, creating the perfect setting for socializing, watching sports events, or simply enjoying a refreshing beer. The venue often hosts live music performances, trivia nights, and other exciting events to keep guests entertained.
Hours of Operation:
Monday to Thursday: 11:00 am – 12:00 am
Friday: 11:00 am – 2:00 am
Saturday: 10:00 am – 2:00 am
Sunday: 10:00 am – 12:00 am
Menu Highlights: Beerhaus offers a diverse menu that combines classic pub fare with unique culinary creations. The menu highlights a variety of mouthwatering dishes that pair perfectly with their extensive beer selection. Here are some menu highlights:
Sausages and Sandwiches:

Beerhaus Classic Bratwurst: Traditional bratwurst served with sauerkraut and mustard on a pretzel bun.
Chicken Apple Sausage: Grilled chicken apple sausage topped with caramelized onions and mustard aioli.
Pastrami Reuben: House-made pastrami, Swiss cheese, sauerkraut, and Russian dressing on marble rye bread.

Burgers:

Classic Cheeseburger: Angus beef patty topped with American cheese, lettuce, tomato, and pickles.
Veggie Burger: A plant-based patty served with lettuce, tomato, onion, and chipotle aioli.
The Hangover Burger: Angus beef patty topped with cheddar cheese, bacon, fried egg, and Sriracha mayo.

Appetizers and Shareable Plates:

Pretzel Bites: Warm soft pretzel bites served with beer cheese and honey mustard dipping sauces.
Beer-Battered Cheese Curds: Wisconsin white cheddar cheese curds fried to golden perfection.
Loaded Tater Tots: Crispy tater tots topped with beer cheese, bacon, scallions, and sour cream.

Salads:

Brewery Salad: Mixed greens, cherry tomatoes, cucumbers, carrots, and red onions tossed in a house vinaigrette.
Southwest Caesar: Romaine lettuce, tortilla strips, Cotija cheese, and chipotle Caesar dressing.

Craft Beers: Beerhaus boasts an extensive selection of craft beers on tap, featuring both local and international brews. With rotating taps and a knowledgeable staff, beer enthusiasts can explore a wide range of styles and flavors, from hoppy IPAs to rich stouts and refreshing lagers.
Conclusion: Beerhaus at the Park is a premier beer hall in Las Vegas that offers an exciting blend of craft beers, delicious food, and a lively atmosphere. Whether you're a beer aficionado, a food lover, or simply looking for a place to relax and enjoy good company, Beerhaus is the perfect destination. Stop by, grab a pint, savor the delectable menu offerings, and immerse yourself in the vibrant energy of this popular Las Vegas establishment.