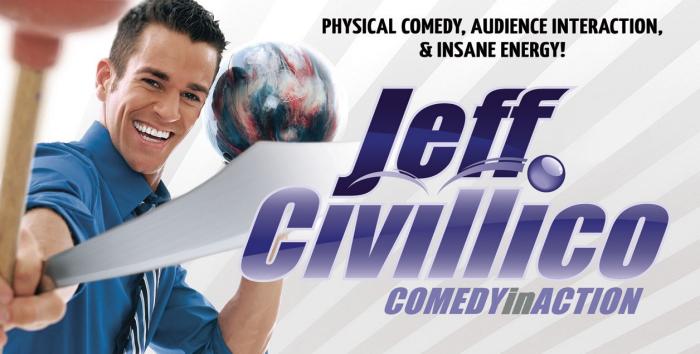 When I think of all the family-friendly attractions on the Las Vegas strip, one bargain show has become our favorite:  Jeff Civillico, Comedy in Action.
When's the last time you and your kids had a great laugh? Prepare for a train ride of comedy with his shows! I've heard all kinds of positive quotes from kids after Jeff's performance, including, "I've never laughed so hard in my life!"
One mother said about her child, "I've never seen him smile for that long in one straight period."
I've seen this show twice, and just thinking and writing about it makes me want to go again. It's that good. Even better, it's clean comedy that a wide range of people can enjoy. But children may be his biggest fans. For Las Vegas Top Picks it's clearly a top attraction for the strip. To boot, it's one of the cheapest shows out there considering all it delivers. Rich in energy, stunts, tricks and laughs, yet cheap in price.
And yes, there are many adult quips thrown in the charismatic performance, much like so many high-quality animated movies these days. Think Despicable Me, Ratatouille, The Incredibles, and Cars. Adults appreciate this – I know I did.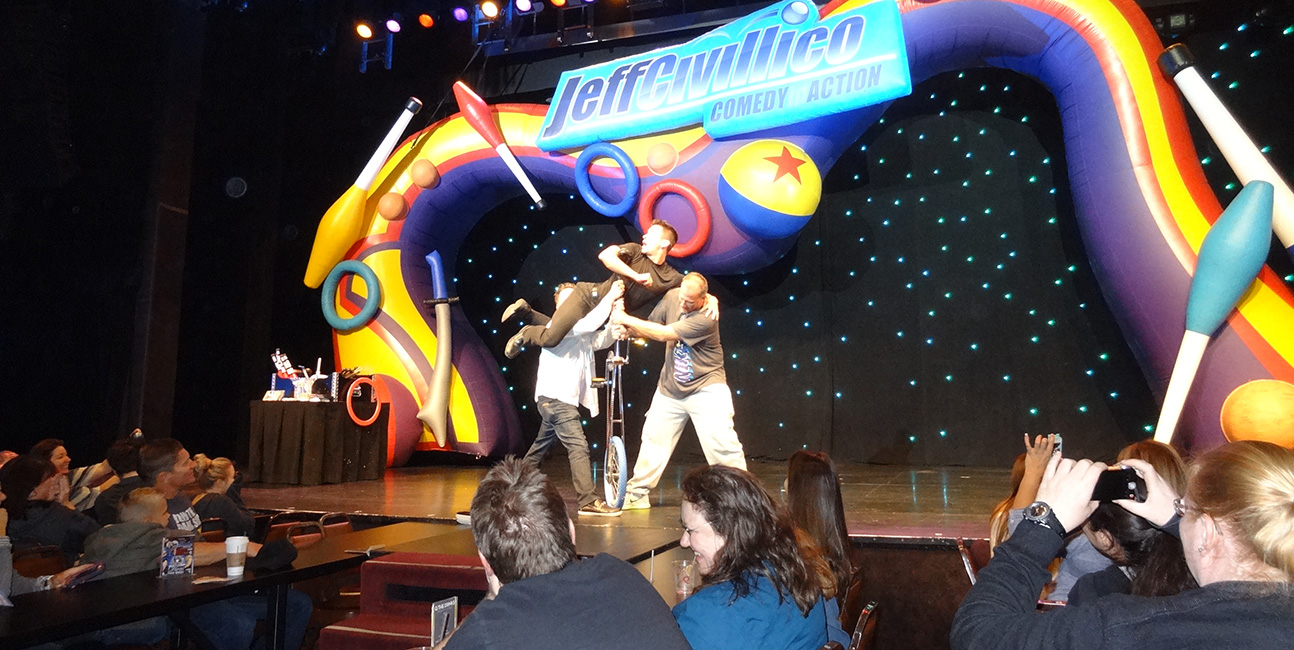 Jeff juggles, balances, dances, teeters, kicks, and whips out one-liners like a joke-making gunslinger. You'll see bowling balls, ladders, Arabian knives, marshmallows, Shake Weights, plastic chickens, flaming torches, plungers, glowing rings, and Ping-Pong balls. He puts a ten-speed road bike on his chin. And did I mention the unicycle? You'll love this part, when he brings audience members on stage to "help" him mount the unicycle. Craziness ensues!
Jeff's great with bringing adults to the stage. He's even better with kids! I've seen children ages 4 – 11 get on stage and have a blast, getting incorporated into his act, with the audience in wild applause. The kids always beam in delight! And if that weren't enough, he's makes sure the parents get a quick picture or two with their child on stage.
Shows are at 4pm at The Quad, located on the strip, in the new LINQ District. (The tallest observation wheel in the world is near here, too, The High Roller. Another fantastic thing for kids and families.)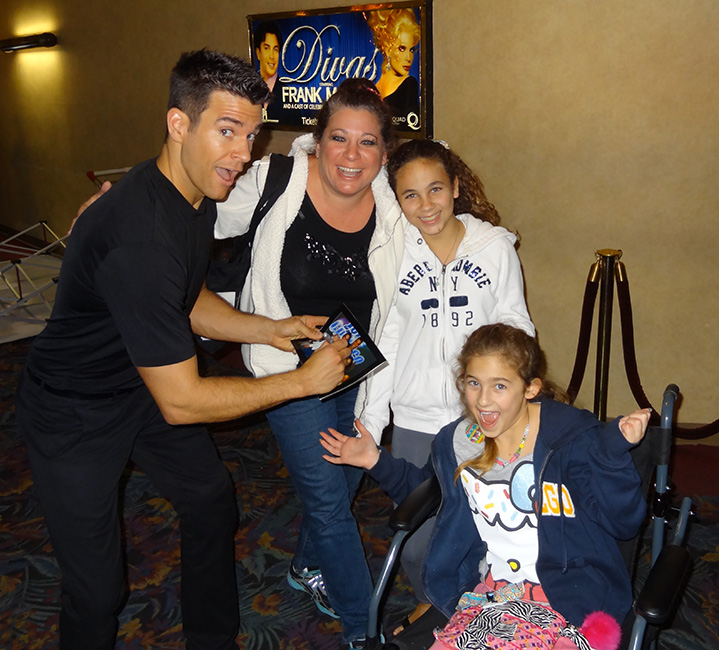 Tickets are usually under $50, and to me that's a very discounted price with everything that's packed in the show. Perhaps if you buy far in advance or in groups you can get an even bigger discount. After the show, Jeff often hangs out near the theatre exit for more pictures, meet-and-greets, laughs, and offering cool merchandise. I've seen firsthand Jeff keep several kids cracking up and smiling while signing a picture and DVD after the show. It was then I knew 100% that comedy and high-energy are in Jeff's blood.
But hey, don't just take Las Vegas Top Pick's word for it, look around at all the other reviews:  Trip Adviser, Yelp, Goldstar, Vegas.com, Las Vegas Review Journal, Las Vegas Advisor, All Vegas Reviews:  Comedy in Action is cleaning up! And it recently won Best Bargain Show for 2014.
It should also be noted, when Jeff's not performing, he's often giving back to communities and assisting charities. His non-profit organization is Win-Win Entertainment. They help connect entertainers and performers to active charities.
Jeff Civillico can kick-start a family's vacation of Vegas fun, or be the finale. At Las Vegas Top Picks, we've seen tons of shows. Comedy in Action is one of the best things happening on the strip – don't miss it!
Visit Comedy in Action Website