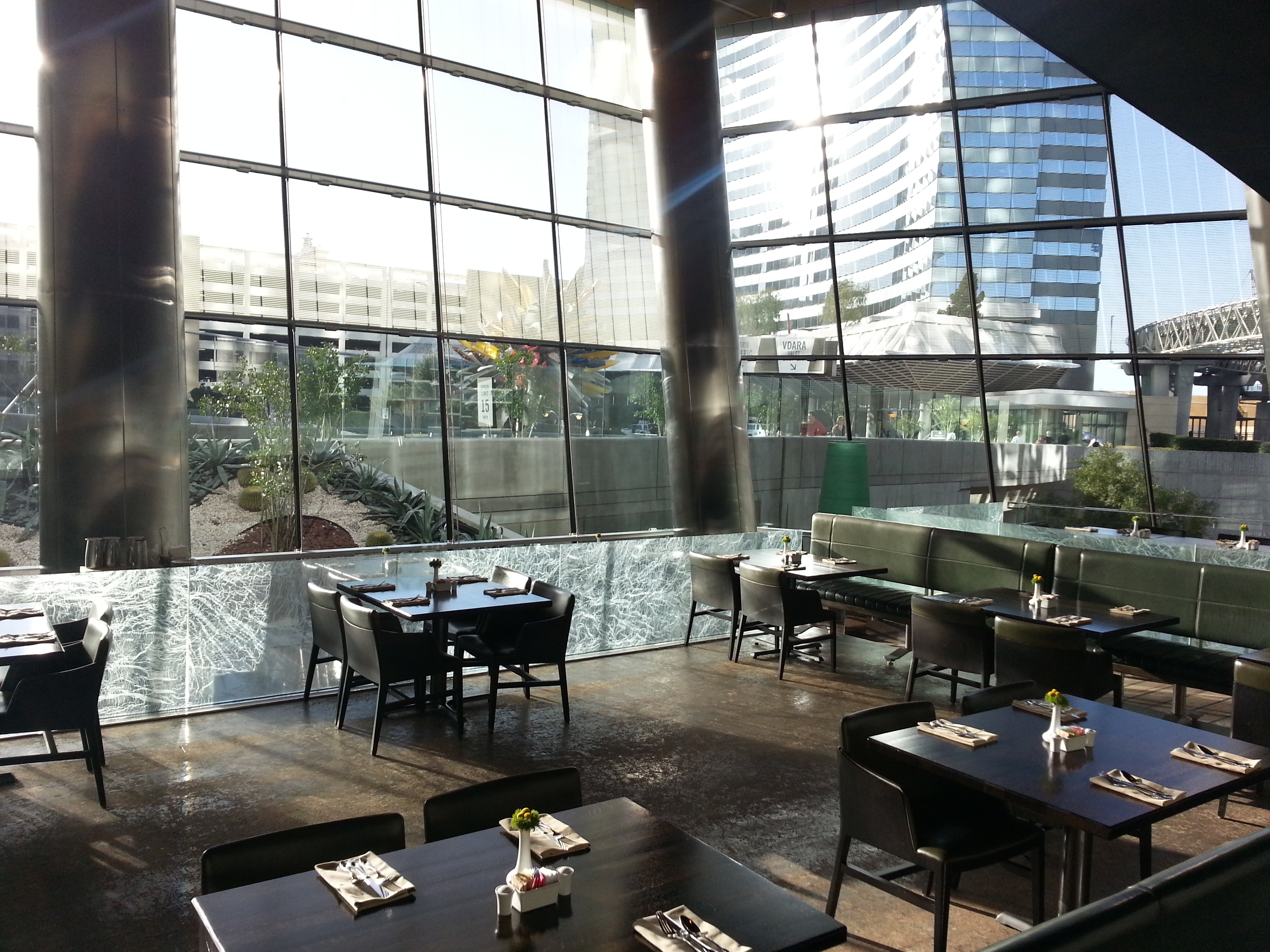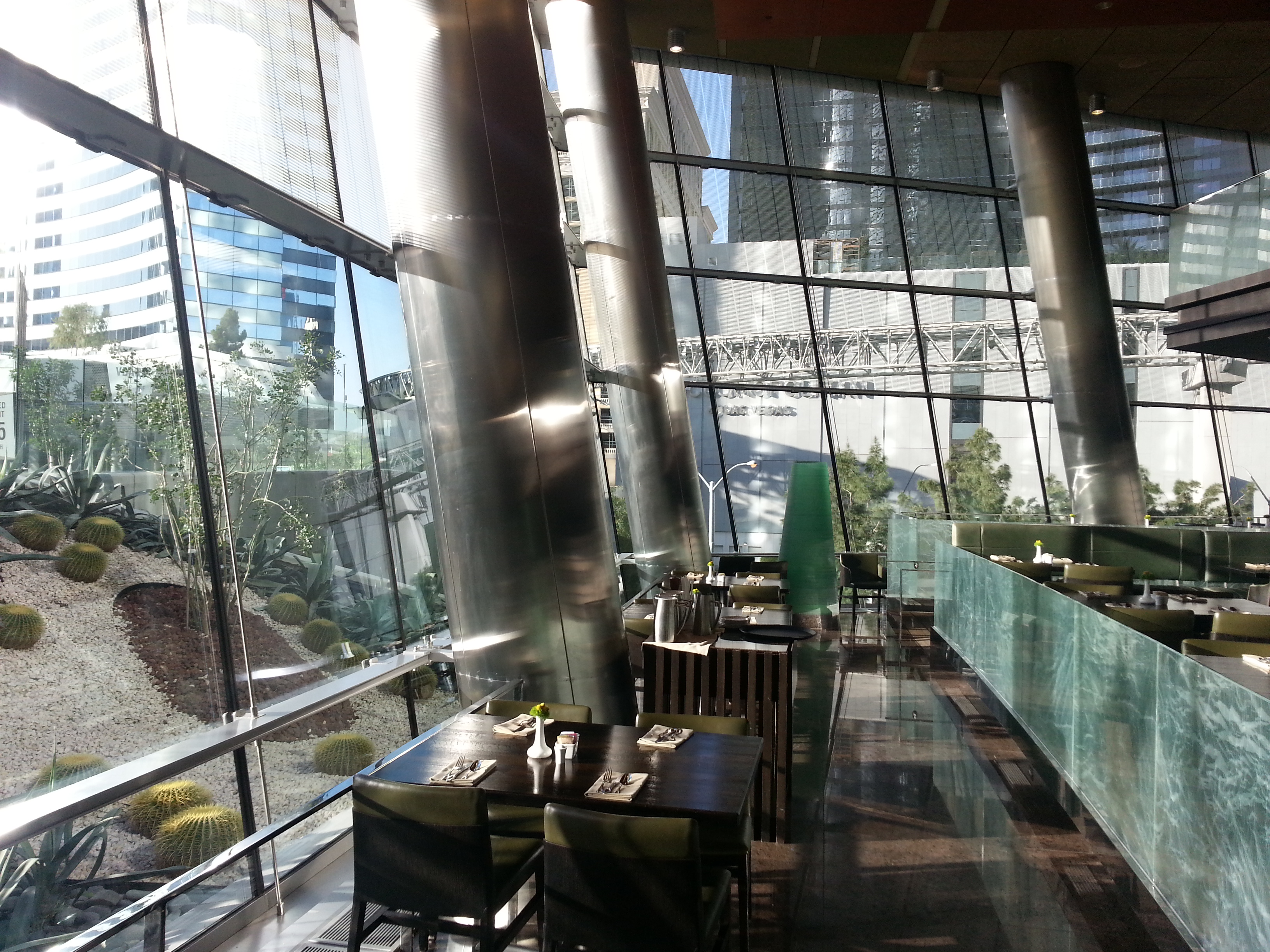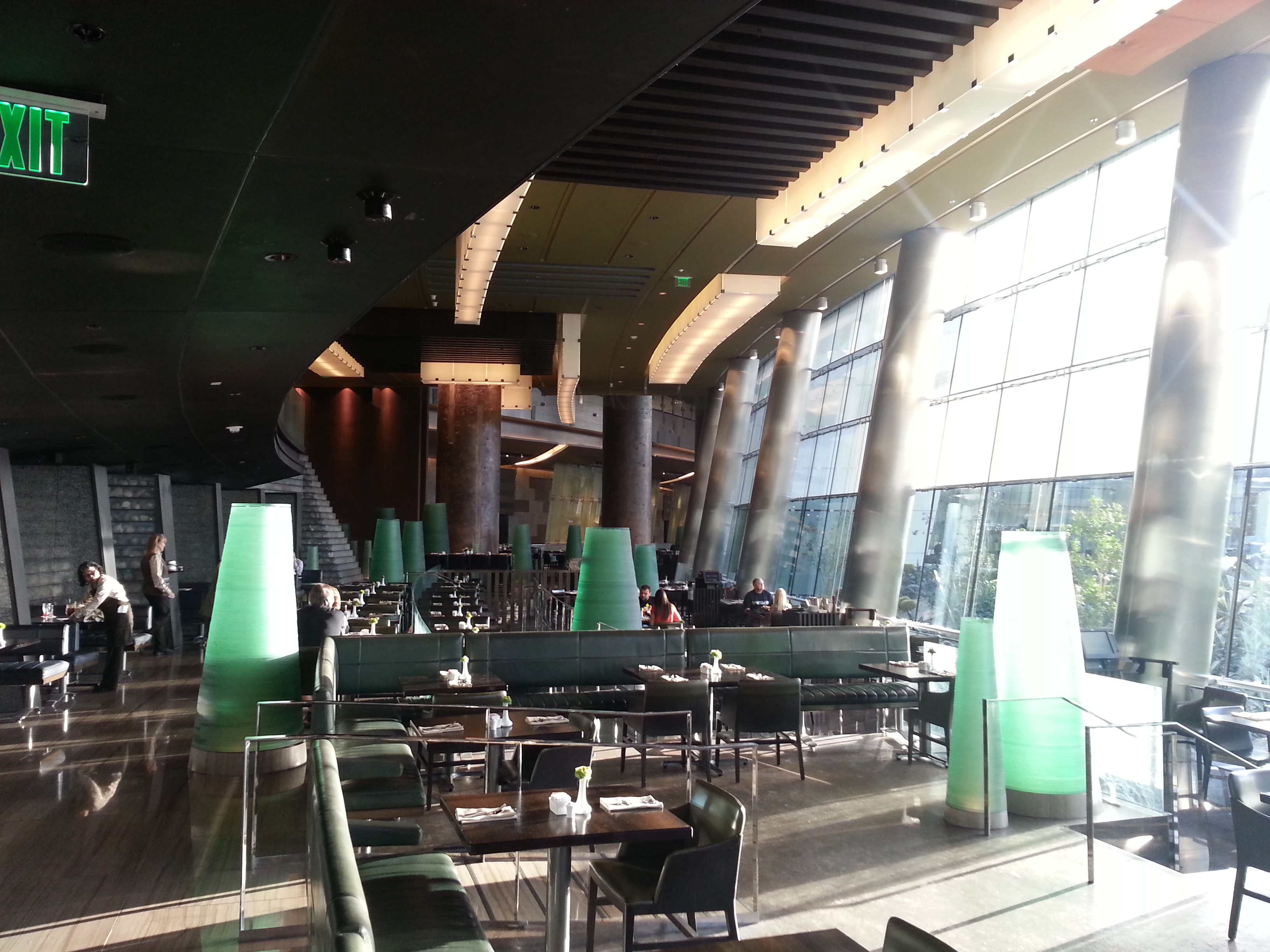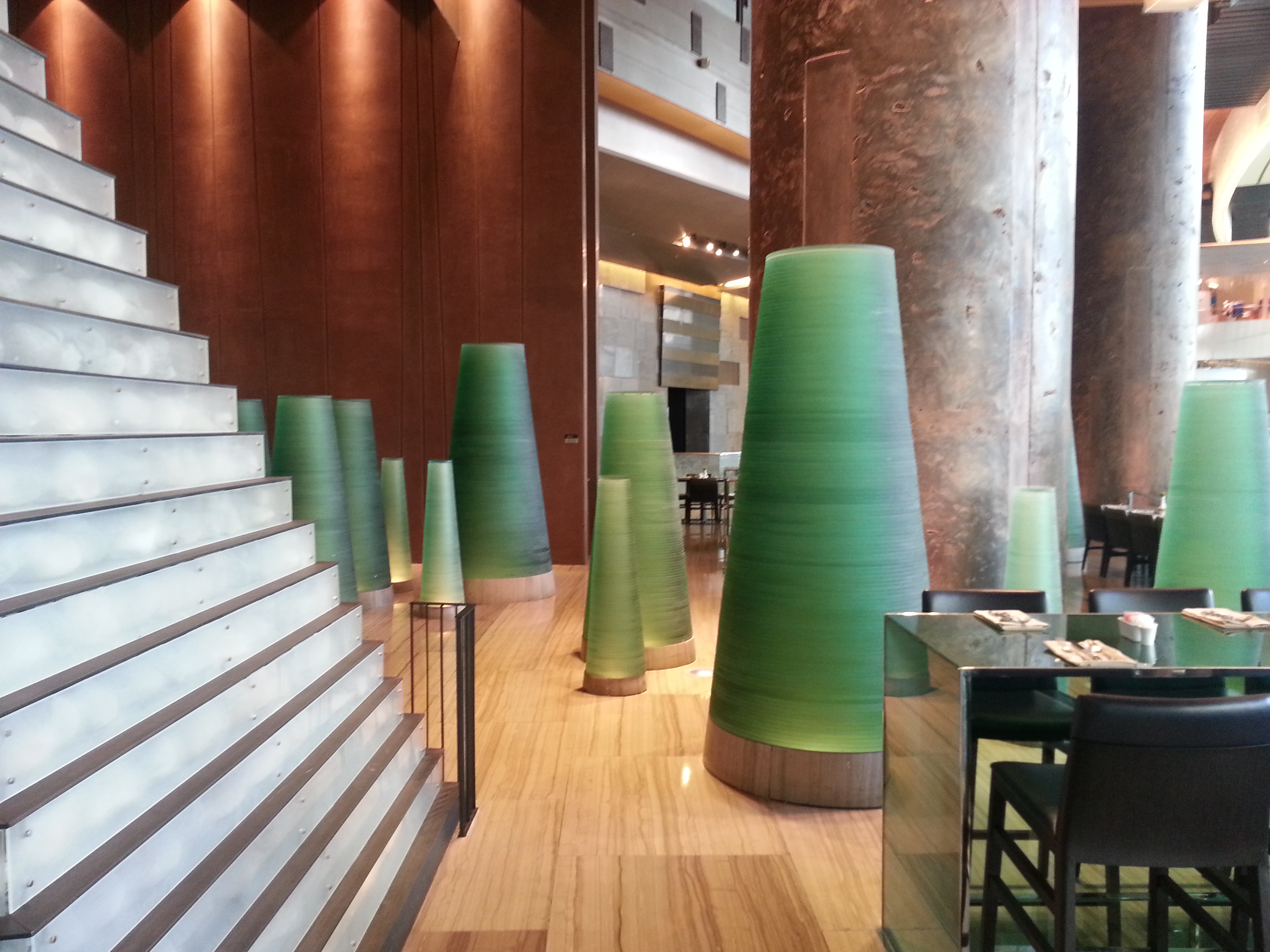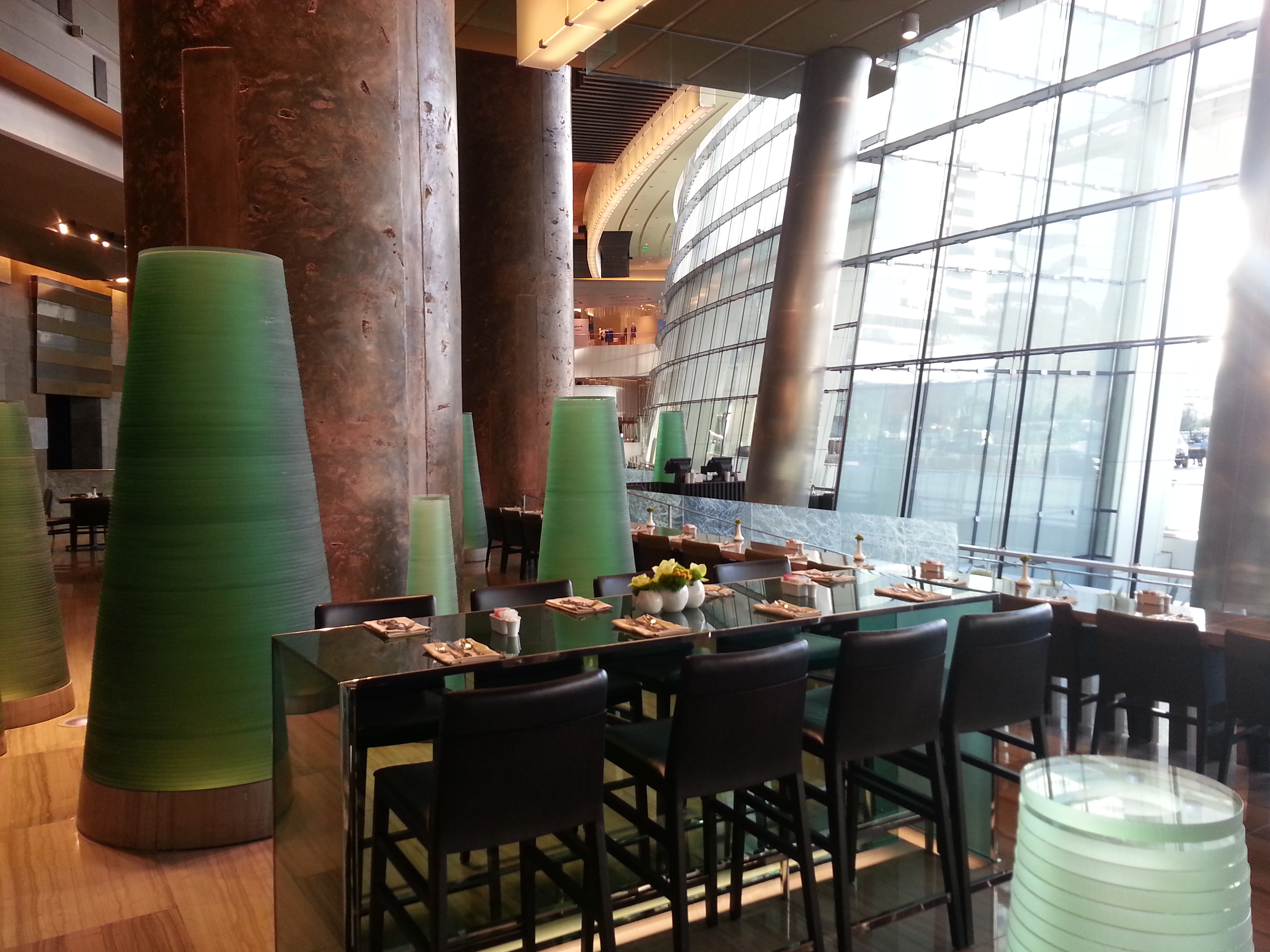 This is the largest, artiest, airiest, cutting-edge café I've ever walked into. The walls are glass, stone, and steel. The ceiling is so high it feels non-existent. Sunlight streams in from three directions. Emerald-green, cone-like sculptures–which represent trees in a techno-forest theme–pepper the walkways. A water wall creates a glass waterfall.
You might think food in a modern art museum of a cafe wouldn't taste good. Au contraire. The four times I've visited, including today, the food tasted fabulous. I've always heard positive comments from friends, too. Café Vettro is open 24 hours a day, seven days a week; another plus since the strip never sleeps. The drink pictured below may look funky, but that's fresh-squeezed apple juice, healthy and delicious.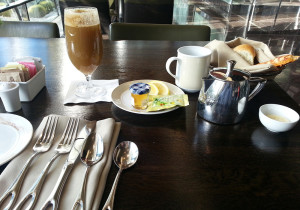 Here's a menu in PDF form: Cafe Vettro Menu
Several of the walls are lined with recaptured stones from the Historic Boardwalk Hotel. That's the hotel you see demolished at near end of the classic movie Casino. One view through the three-story windows reveals a 50 x 80 foot high sculpture fashioned from numerous canoes, called "Big Edge." It looks like a giant porcupine with canoes for quills.
Every time I've visited there was plenty of space for a variety of café needs—solace, business, pleasure, or soaking up ambience.
The first time I ate here, I noticed Craig Robinson, "Darryl" from the TV show The Office, a few tables down. I've loved several seasons of this show. Wanting to give him props and say hi, without pestering him too much, I decided to ask if I could pay for his lunch, saying I've appreciated his comedic work. He was very kind, said "sure" with a smile, and agreed to a quick picture upon exit.
I recommend this café with the same fervor as a Las Vegas lounge or show—it provides art, atmosphere, and style. And you will be well-fed.
http://www.arialasvegas.com/dining/restaurants/cafe-vettro