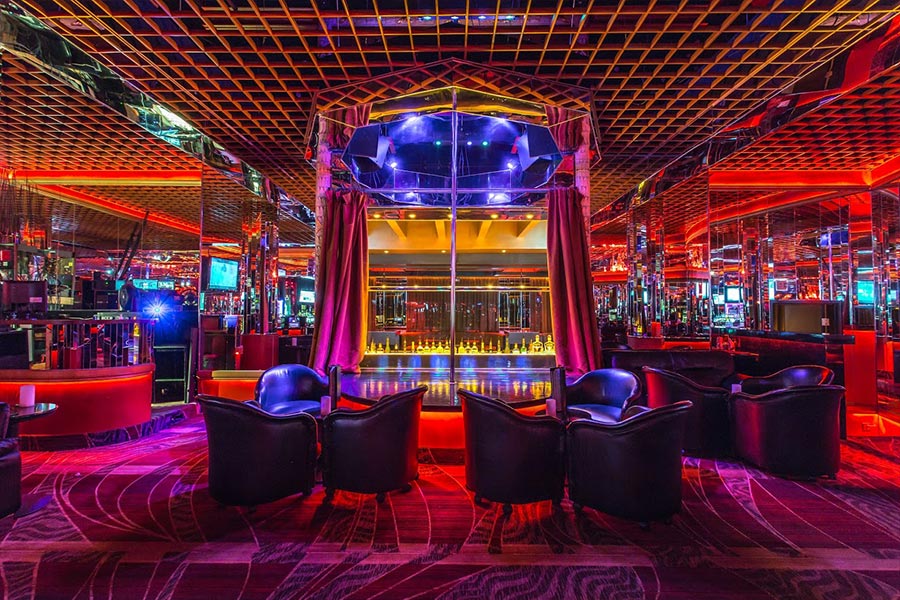 Crazy Horse 3 Gentlemen's Club in Las Vegas
Address: 3525 W Russell Rd, Las Vegas, NV 89118, United States
Hours of Operation: Crazy Horse 3 Gentlemen's Club is open 24 hours a day, 7 days a week, providing entertainment and services throughout the day and night.
Contact Information:
Introduction: Crazy Horse 3 Gentlemen's Club is one of Las Vegas' premier adult entertainment venues, offering a high-end and immersive experience for visitors. Located on Russell Road, it is conveniently situated near the famous Las Vegas Strip. With its luxurious atmosphere, talented performers, and top-notch amenities, Crazy Horse 3 has earned a reputation as one of the most popular strip clubs in the city.
Venue Features: Crazy Horse 3 boasts a range of features designed to enhance the overall experience for its guests. The club offers multiple stages, allowing for simultaneous performances and providing a variety of entertainment throughout the night. The main stage is the centerpiece of the club, where the most captivating performances take place. In addition to the stages, the venue also has private VIP rooms for those seeking a more intimate and exclusive experience.
Entertainment and Performers: Crazy Horse 3 Gentlemen's Club is known for its talented and diverse lineup of performers. The club hosts a mix of local and international entertainers, including stunning dancers who are skilled in various dance styles. The performances are choreographed to provide an electrifying and visually captivating experience for guests. Whether you're seeking a thrilling group routine or a private dance, the performers at Crazy Horse 3 are sure to impress.
Menu and Highlights: Crazy Horse 3 Gentlemen's Club goes beyond traditional expectations by offering an extensive menu featuring a range of gourmet dishes and handcrafted cocktails. The venue takes pride in its culinary offerings, ensuring that guests can indulge in delicious food while enjoying the entertainment.
Menu Highlights:
Appetizers: Start your dining experience with mouthwatering appetizers such as crispy calamari, buffalo chicken wings, loaded nachos, or savory sliders.
Salads: For a lighter option, choose from an array of fresh salads, including Caesar salad, house salad, or a protein-packed steak salad.
Steaks and Seafood: Savor the finest cuts of steak, expertly prepared to your liking, and complemented by a selection of seafood dishes like lobster tails, jumbo shrimp, or grilled salmon.
Burgers and Sandwiches: Enjoy gourmet burgers and sandwiches with premium ingredients, including the classic cheeseburger, BBQ pulled pork sandwich, or a flavorful chicken club.
Sides and Desserts: Enhance your meal with delectable sides like truffle fries, mac and cheese, or grilled asparagus. Don't forget to satisfy your sweet tooth with tempting desserts like New York cheesecake or molten chocolate lava cake.
VIP Services: Crazy Horse 3 Gentlemen's Club takes pride in offering exceptional VIP services to enhance the overall experience. The club provides a dedicated VIP concierge to cater to your needs, ensuring personalized attention and exclusive access. The VIP section offers a more intimate setting for guests who desire a private and luxurious atmosphere.
Events and Specials: Crazy Horse 3 regularly hosts special events and promotions to provide an even more exciting experience for its patrons. These may include themed nights, guest appearances by renowned performers, and holiday celebrations. It is advisable to check the club's website or contact their staff directly to inquire about upcoming events and any current specials.
Crazy Horse 3 Gentlemen's Club in Las Vegas is a premier destination for those seeking an unforgettable night of entertainment, gourmet dining, and top-notch service. With its convenient location, stunning performers, luxurious amenities, and delectable menu options, it continues to be a popular choice for locals and visitors looking to experience the vibrant nightlife of Las Vegas.