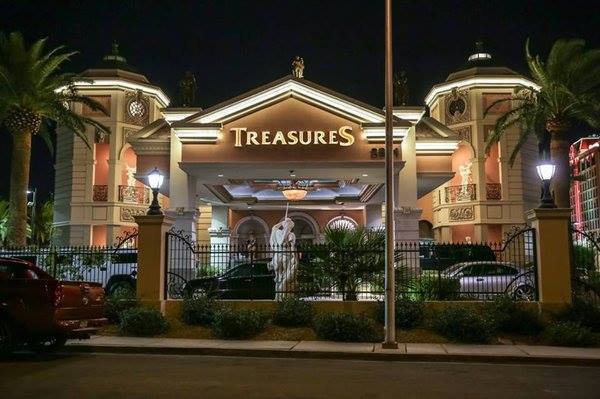 Treasures Gentlemen's Club & Steakhouse
Treasures Gentlemen's Club & Steakhouse is an upscale adult entertainment venue and steakhouse located in Las Vegas, Nevada. Known for its luxurious ambiance, world-class entertainment, and delectable cuisine, Treasures offers a unique and sophisticated experience for its patrons.
Address Treasures Gentlemen's Club & Steakhouse is situated at: 2801 Westwood Dr, Las Vegas, NV 89109, United States
Hours of Operation The club operates with the following hours:
Monday: 11:30 am – 6:00 am
Tuesday: 11:30 am – 6:00 am
Wednesday: 11:30 am – 6:00 am
Thursday: 11:30 am – 6:00 am
Friday: 11:30 am – 6:00 am
Saturday: 6:00 pm – 6:00 am
Sunday: 6:00 pm – 6:00 am
Contact Information
Venue and Atmosphere Upon entering Treasures Gentlemen's Club & Steakhouse, guests are welcomed by a sophisticated and elegant atmosphere. The interior design features plush seating, dim lighting, and an opulent decor that creates a luxurious ambiance throughout the venue. The club boasts multiple stages for live performances, private VIP rooms, and comfortable seating areas where guests can relax and enjoy the entertainment. The overall setting exudes a refined and exclusive atmosphere, making it a popular destination for locals and visitors alike.
Entertainment and Performances Treasures offers a diverse lineup of talented entertainers who showcase their skills on multiple stages throughout the venue. From sultry pole dancing to aerial acrobatics and burlesque performances, the club offers a variety of captivating shows. The performers at Treasures are renowned for their artistry and provide a thrilling and visually stunning experience for the guests.
Cuisine and Menu Highlights In addition to its world-class entertainment, Treasures Gentlemen's Club & Steakhouse is also known for its exceptional dining experience. The venue houses a top-notch steakhouse, offering a range of delectable dishes prepared by skilled chefs. The menu features a variety of high-quality steaks, including prime rib, filet mignon, New York strip, and porterhouse, cooked to perfection and accompanied by a selection of gourmet sides.
Menu Highlights:
Filet Mignon: Tender and juicy, this classic steak cut is known for its exceptional flavor and tenderness. Served with a choice of sauces and paired with your preferred side dishes.
Prime Rib: Slow-roasted to perfection, the prime rib at Treasures is a melt-in-your-mouth delicacy. Served with au jus and horseradish sauce, it's a favorite among steak lovers.
Seafood Selection: Treasures offers a variety of fresh seafood options, including lobster, shrimp, and oysters, sourced from the finest suppliers.
Appetizers and Small Plates: The menu also features a range of appetizers and small plates, such as crab cakes, calamari, and beef sliders, perfect for those looking for lighter options or to complement their main course.
Extensive Drink Selection: Treasures provides an extensive drink menu, including a wide array of premium spirits, wines, cocktails, and champagnes to enhance the overall dining experience.
Private Events and VIP Services Treasures Gentlemen's Club & Steakhouse caters to private events, bachelor parties, and corporate gatherings, offering customized packages to suit the specific needs and preferences of the guests. The venue provides VIP services that include personal hosts, private rooms, bottle service, and exclusive access to the club's amenities.
Whether visiting for an intimate dinner, a night of entertainment, or a special occasion, Treasures Gentlemen's Club & Steakhouse aims to provide an unforgettable experience through its exceptional service, refined atmosphere, and tantalizing cuisine.