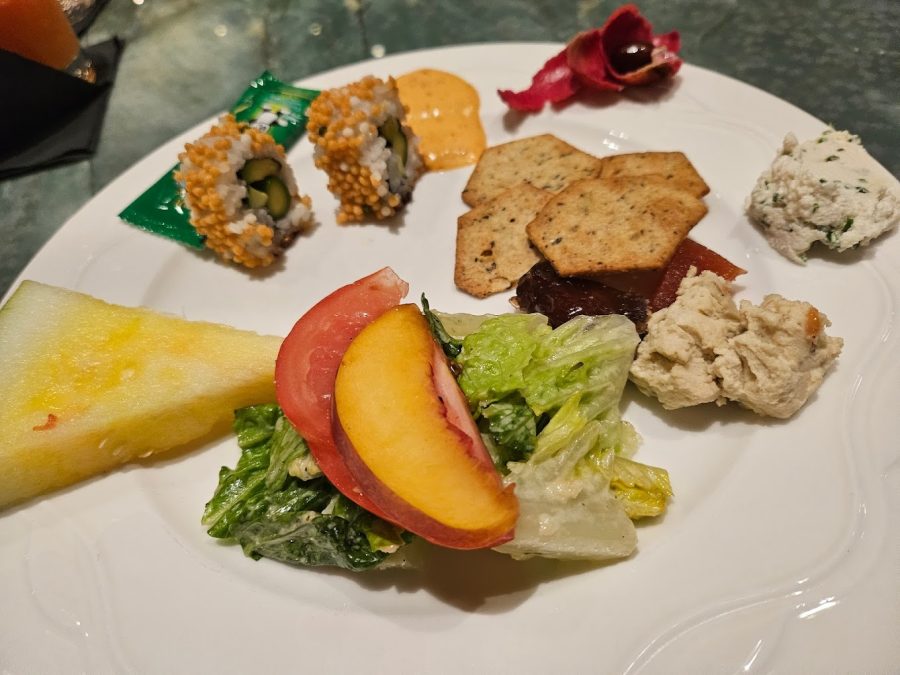 Crossroads Kitchen at Resorts World Las Vegas: A Vegan Culinary Delight on the Strip
Address: Resorts World Las Vegas 3000 S Las Vegas Blvd Las Vegas, NV 89109
Reservations: opentable.com, sevenrooms.com
Introduction: Crossroads Kitchen at Resorts World Las Vegas is a vegan gem nestled in the heart of the Las Vegas Strip. This upscale dining establishment offers a distinctive blend of gourmet vegan cuisine, impeccable service, and an inviting atmosphere. Whether you're a seasoned vegan, a dedicated carnivore looking to explore plant-based options, or simply a lover of exquisite food, Crossroads Kitchen is poised to take your taste buds on an unforgettable journey.
The Ambiance: As you step into Crossroads Kitchen, you're greeted by a harmonious blend of modern design and a warm, welcoming ambiance. The restaurant's sophisticated décor features chic lighting, an open kitchen concept, and a lush indoor garden. The atmosphere is perfect for a romantic dinner, a celebratory gathering, or an intimate meal with friends.
Menu Highlights:
Appetizers:
Artichoke Oysters: A signature dish that tantalizes your senses with artichoke puree, kelp caviar, and a silky aioli.
Mezze Platter: A Mediterranean delight with hummus, falafel, olives, and lavash for sharing.
Main Courses:
Scaloppini: Thinly sliced seitan sautéed with lemon-caper sauce, served with creamy mashed potatoes.
Truffle Risotto: Creamy Arborio rice cooked with black truffle and mushroom ragout.
Impossible Burger: A plant-based masterpiece that tastes just like the real thing, with all the fixings.
Lasagna Verde: Layers of spinach pasta, almond ricotta, and roasted tomato sauce, baked to perfection.
Sides:
Brussels Sprouts Chips: Crispy Brussels sprout leaves tossed in a mouthwatering balsamic glaze.
Truffle Fries: Shoestring fries sprinkled with truffle salt and served with garlic aioli.
Desserts:
Chocolate Molten Cake: A decadent treat with a gooey center, paired with vegan vanilla ice cream.
Lemon Semifreddo: A light and zesty frozen dessert that cleanses the palate.
Beverages:
Signature Cocktails: Try the "Vegan Mule" or "Crossroads Sour" for a creative twist on classic cocktails.
Extensive Wine List: A carefully curated selection of vegan-friendly wines from around the world.
Craft Beers: Local and international craft beers to complement your meal.
Unique Selling Points:
Celebrity Chef Tal Ronnen: Crossroads Kitchen is the brainchild of renowned vegan chef Tal Ronnen, whose innovative culinary creations have earned him worldwide acclaim.
Vegan Excellence: All dishes at Crossroads Kitchen are 100% plant-based, making it a haven for vegans and vegetarians, as well as those seeking eco-conscious dining options.
Exceptional Service: The staff at Crossroads Kitchen is committed to providing top-notch service, ensuring that every guest's dining experience is memorable.
Conclusion: Crossroads Kitchen at Resorts World Las Vegas is a culinary oasis where exceptional vegan cuisine takes center stage. From the moment you enter, you'll be treated to a sensory experience that transcends expectations. Whether you're a vegan aficionado or simply looking to savor the flavors of conscientious dining, Crossroads Kitchen promises an unforgettable journey for your palate.
When in Las Vegas, don't miss the opportunity to indulge in the gourmet delights at Crossroads Kitchen. Make your reservation today and embark on a culinary adventure that celebrates the art of plant-based cuisine in the heart of the entertainment capital of the world.