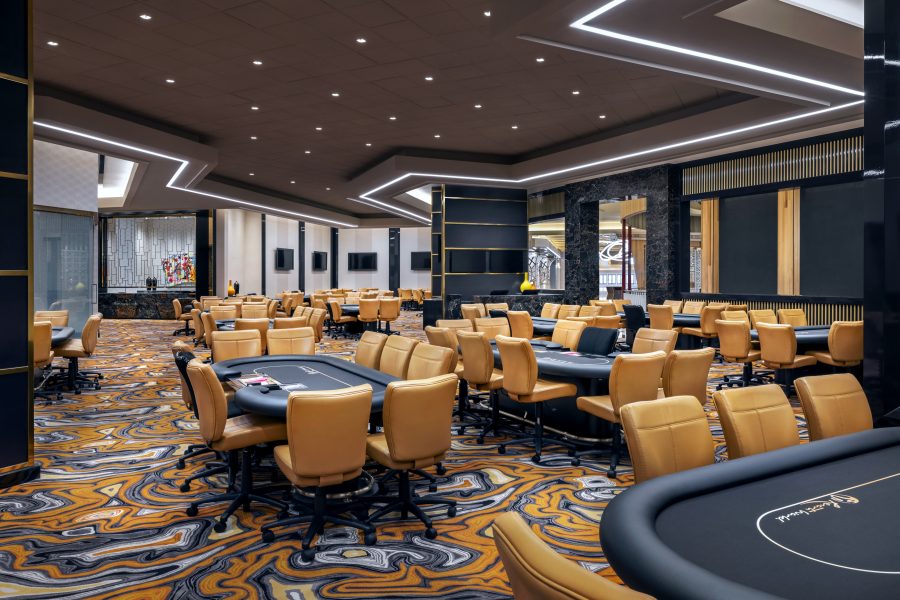 Resorts World Las Vegas is a luxury integrated resort located on the Las Vegas Strip in Winchester, Nevada. The resort boasts a wide range of amenities, including a state-of-the-art casino, world-class dining options, luxurious accommodations, and an impressive poker room. The Resorts World Poker Room is a haven for poker enthusiasts, offering a thrilling gaming experience in a sophisticated and vibrant setting.
Overview: The Resorts World Poker Room is situated within the casino floor of the resort, creating an immersive and electrifying atmosphere for players. It is one of the largest and most prestigious poker rooms in Las Vegas, known for its high-quality service, spacious layout, and diverse range of poker games.
Design and Ambiance: The poker room at Resorts World Las Vegas showcases modern design elements combined with a touch of classic elegance. The room is tastefully appointed, featuring stylish furnishings, comfortable seating, and state-of-the-art poker tables. The ambiance is vibrant yet relaxed, creating an ideal environment for both casual players and serious professionals.
Game Variety: The Resorts World Poker Room offers a wide selection of poker games to cater to players of all skill levels and preferences. You can find popular variants such as Texas Hold'em, Omaha, Seven-Card Stud, and more. The room hosts a variety of cash games and tournaments, including daily and weekly events that attract both locals and tourists.
Tournaments and Events: Resorts World Poker Room is renowned for its exciting tournament schedule. It hosts prestigious poker events and series throughout the year, featuring large guaranteed prize pools and attracting top players from around the world. The poker room also organizes regular daily and weekly tournaments, catering to players with different budgets and skill levels.
Professional Staff: The poker room at Resorts World Las Vegas is staffed by a team of highly skilled and knowledgeable professionals. The friendly and courteous staff members are always available to assist players with any inquiries, provide game information, and ensure that the poker room operates smoothly. Their expertise and commitment to excellent service enhance the overall poker experience for every visitor.
Player Amenities: To enhance the poker playing experience, the Resorts World Poker Room provides various amenities for its guests. These include complimentary food and beverage service, dedicated restrooms, charging stations for electronic devices, and comfortable seating areas. Additionally, the poker room is conveniently located near other resort amenities such as restaurants, bars, and entertainment venues.
Technology and Features: The poker room at Resorts World Las Vegas integrates modern technology to provide a seamless gaming experience. It offers electronic card tables with built-in screens that display player information, chip counts, and community cards. This innovative feature enhances gameplay and allows for more efficient and accurate game management.
Player Rewards and Promotions: Resorts World Las Vegas rewards its loyal poker players through its player rewards program. Participants can earn points based on their play, which can be redeemed for various perks and benefits within the resort. Additionally, the poker room offers regular promotions, including bad beat jackpots, high hand bonuses, and special tournament packages, adding an extra level of excitement and value for players.
Security and Fair Play: Resorts World Las Vegas prioritizes the security and integrity of its poker room. The resort employs robust security measures to ensure a safe and fair gaming environment. The poker room follows industry-standard protocols, and all games are overseen by professional dealers and floor staff who are trained to enforce rules and maintain fairness.
In summary, the Resorts World Poker Room at Resorts World Las Vegas is a premier destination for poker enthusiasts. With its luxurious setting, diverse game selection, professional staff, and modern amenities, the poker room offers an exceptional gaming experience for both recreational players and seasoned professionals. Whether you're looking to participate in tournaments, enjoy cash games, or simply immerse yourself in the thrilling world of poker, Resorts World Poker Room is a must-visit destination for poker lovers in Las Vegas.