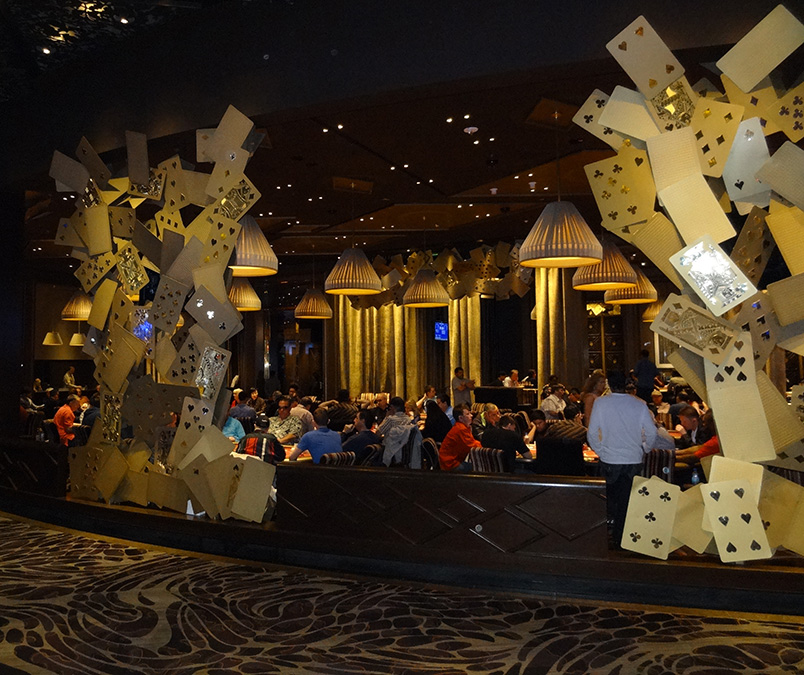 Title: Aria Poker Room: The Epitome of Luxury and Excitement in Las Vegas
Introduction: The Aria Poker Room, located in the heart of the famous Aria Resort and Casino on the Las Vegas Strip, is a renowned destination for poker enthusiasts and professionals seeking unparalleled gaming experiences. This comprehensive profile will delve into the various aspects of the Aria Poker Room, including its history, ambiance, amenities, tournament offerings, cash games, and services. Prepare to immerse yourself in the world of high-stakes poker at one of Las Vegas's most prestigious poker rooms.
History and Prestige: The Aria Poker Room opened its doors in 2009 and quickly gained a reputation as one of the premier poker rooms in Las Vegas. It has since become synonymous with luxury and extravagance, offering an upscale gaming environment combined with world-class service. The Aria Poker Room has hosted numerous prestigious tournaments, attracting renowned professional players and poker enthusiasts from around the globe.
Ambiance and Design: Upon entering the Aria Poker Room, players are greeted by an elegant, modern, and sophisticated atmosphere. The room features a contemporary design with high ceilings, comfortable seating, and ample space between tables, providing a sense of privacy for players. The lighting is soft and warm, creating a relaxed and inviting ambiance conducive to intense poker play.
Amenities and Services: The Aria Poker Room offers a range of amenities and services to enhance players' experiences. These include:
Food and Beverage Service: A dedicated cocktail service ensures that players can enjoy drinks and refreshments while playing, with a variety of food options available at the nearby Aria Resort and Casino restaurants.
Tableside Massages: To promote relaxation and rejuvenation during long poker sessions, professional masseuses are available to provide soothing tableside massages.
High-Speed Wi-Fi: The Aria Poker Room provides complimentary high-speed Wi-Fi, allowing players to stay connected and access online resources while playing.
Mobile Charging Stations: Conveniently located throughout the poker room, mobile charging stations ensure that players can keep their devices powered up at all times.
Poker Rate Hotel Accommodations: Aria Resort and Casino offers special discounted rates for poker players, making it convenient to stay just steps away from the poker action.
Tournaments: The Aria Poker Room hosts a wide array of tournaments to cater to players of all skill levels and bankrolls. From daily tournaments to major series events, there is always an exciting tournament happening. The Aria High Roller Series, Super High Roller Bowl, and the Aria Poker Classic are among the marquee events that attract top professionals and offer substantial prize pools. The Aria Poker Room also hosts the prestigious Aria Poker Awards, recognizing the achievements and contributions of notable poker players and industry figures.
Cash Games: For players seeking cash game action, the Aria Poker Room offers a variety of stakes and game formats. No-Limit Texas Hold'em and Pot-Limit Omaha are the primary games spread, with stakes ranging from $1/$3 to high-stakes games with no upper limit. The Aria Poker Room is known for attracting a mix of recreational players and seasoned professionals, creating a challenging and dynamic playing environment.
Professional Staff and Dealers: The Aria Poker Room prides itself on its team of professional and experienced staff members, including highly skilled dealers who ensure that the games run smoothly and efficiently. The staff is known for providing exceptional customer service and creating a welcoming atmosphere for players.
Player Rewards Program: The Aria Poker Room is part of the MGM Resorts' M life Rewards program, allowing players to earn points and benefits while playing poker. These rewards can be redeemed for various perks, including hotel accommodations, dining experiences, entertainment, and more, both within the Aria Resort and Casino and across other participating MGM properties.
Conclusion: The Aria Poker Room in Las Vegas embodies the epitome of luxury, excitement, and world-class poker experiences. With its sophisticated ambiance, exceptional amenities, a wide range of tournaments and cash games, and a dedicated staff, the Aria Poker Room provides an unforgettable poker adventure for players of all skill levels. Whether you're a casual player or a seasoned pro, the Aria Poker Room promises an unparalleled poker experience that blends elegance, competition, and the thrill of the game.