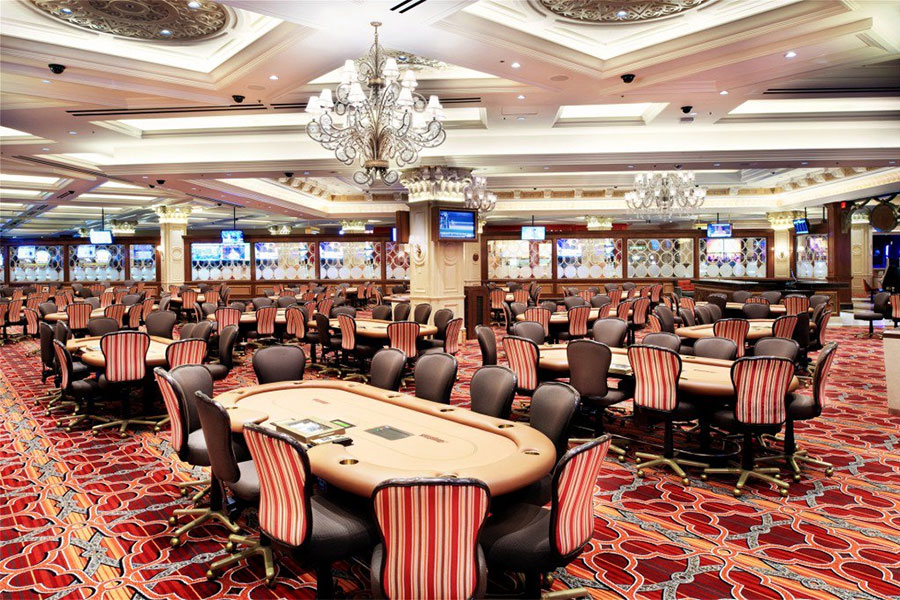 The Venetian Poker Room, located in Las Vegas, is renowned for its luxurious atmosphere, world-class poker tournaments, and exceptional service. Situated within the iconic Venetian Resort, this poker room offers an unparalleled experience to both casual players and seasoned professionals. With its opulent setting and a wide range of amenities, the Venetian Poker Room stands as a premier destination for poker enthusiasts from around the globe.
Setting: The Venetian Poker Room is situated on the Las Vegas Strip, in the heart of the city's bustling entertainment district. As part of the Venetian Resort, the poker room seamlessly blends in with the resort's Italian-inspired architecture and design. The ambiance reflects the elegance and grandeur of Venice, with beautiful frescoes, ornate chandeliers, and marble accents throughout the room. The spacious layout provides ample room for players and ensures a comfortable playing experience.
Tournaments and Cash Games: The Venetian Poker Room is known for hosting a diverse range of poker tournaments and cash games to suit players of all skill levels and bankrolls. The daily tournament schedule includes a variety of formats such as No-Limit Hold'em, Omaha, Stud, and mixed games. These tournaments feature different buy-ins and prize pools, catering to both recreational players and high rollers.
In addition to regular tournaments, the Venetian Poker Room hosts prestigious series and events throughout the year, attracting top players from around the world. The DeepStack Extravaganza tournament series, for instance, offers a multitude of events spanning several weeks, with buy-ins ranging from affordable to high-stakes. The Venetian also hosts the popular Mid-States Poker Tour (MSPT) and the DeepStack Championship Poker Series.
For cash game enthusiasts, the Venetian Poker Room offers a wide selection of tables to choose from. No-Limit Hold'em, Limit Hold'em, Pot-Limit Omaha, and mixed games are all available, with varying stakes to accommodate players of different skill levels and bankrolls. The room also features a high-limit area for those seeking the ultimate poker experience.
Amenities and Services: The Venetian Poker Room provides players with a range of amenities and services to enhance their overall experience. The well-appointed poker room includes comfortable seating, large flat-screen TVs displaying sports events, and conveniently located charging stations for electronic devices.
Food and beverage services are easily accessible, with a dedicated poker room menu offering a variety of delicious options. Players can enjoy an array of appetizers, sandwiches, salads, and desserts, along with a selection of beverages, including alcoholic and non-alcoholic choices. The attentive staff ensures that players' needs are promptly met, providing personalized service and maintaining a high level of professionalism.
The Venetian Poker Room is also equipped with modern technology to enhance gameplay. Automatic shufflers are used on all tables, ensuring fairness and efficiency in card distribution. The Bravo Poker Live app allows players to check real-time game information, waiting lists, and upcoming tournaments.
Player Rewards and Promotions: The Venetian Poker Room offers a player rewards program known as Grazie. By signing up for Grazie, players can accumulate points while playing poker and other casino games at the Venetian Resort. These points can be redeemed for various rewards, including complimentary hotel stays, dining vouchers, show tickets, and more. The program provides additional incentives to loyal players and enhances the overall value of playing at the Venetian.
Conclusion: The Venetian Poker Room in Las Vegas provides an exceptional poker experience, combining a lavish setting with a wide range of tournaments, cash games, and amenities. Whether you're a recreational player looking for some fun or a seasoned pro seeking high-stakes action, the Venetian Poker Room offers an unforgettable experience in the heart of the entertainment capital of the world. With its luxurious ambiance, top-notch service, and exciting poker offerings, the Venetian Poker Room stands as a premier destination for poker enthusiasts visiting Las Vegas.