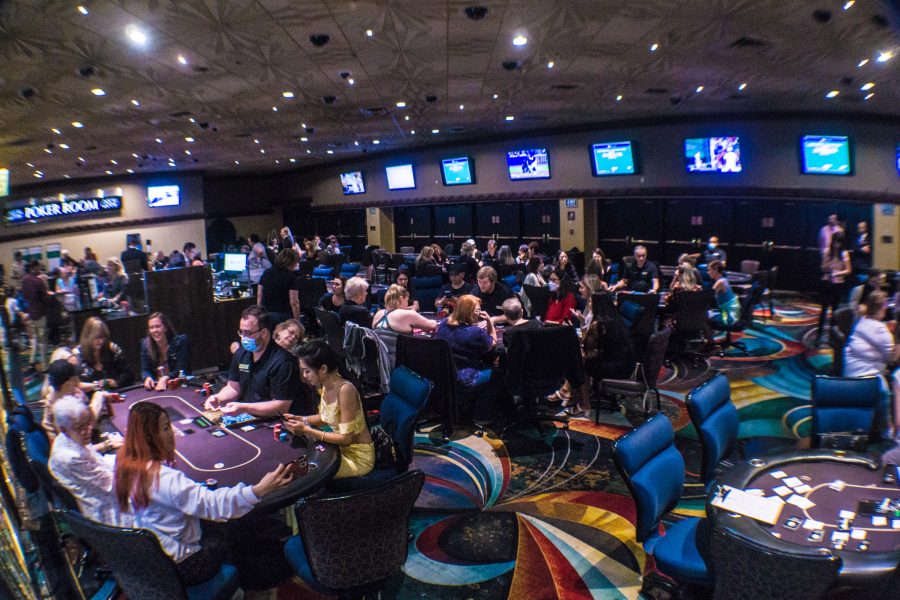 Name: MGM Poker Room, Vegas
Location: MGM Grand Hotel and Casino, Las Vegas, Nevada, USA
Description: The MGM Poker Room, located within the iconic MGM Grand Hotel and Casino on the renowned Las Vegas Strip, is a premier destination for poker enthusiasts. With its luxurious setting, professional staff, and a wide range of poker games, the MGM Poker Room offers an exhilarating and memorable poker experience.
Facilities: The MGM Poker Room is situated on the casino floor of the MGM Grand Hotel, providing players with convenient access to other amenities within the resort. The room boasts a spacious layout, designed to accommodate both recreational and professional players alike. The atmosphere is vibrant, with comfortable seating, excellent lighting, and a well-appointed decor that exudes elegance and style.
Games and Tournaments: The MGM Poker Room hosts a diverse selection of poker games to cater to players of all skill levels and preferences. Texas Hold'em, Omaha Hi-Lo, Seven Card Stud, and other popular variants are regularly available, with a variety of table limits to suit different bankrolls. The room offers both cash games and tournaments, allowing players to choose their preferred format.
Cash Games: Cash games at the MGM Poker Room feature a wide range of stakes to accommodate all players. Whether you're a recreational player looking for low stakes or a high-roller seeking the thrill of high-stakes action, you'll find a table to match your preferences. The room also offers a variety of game formats, including No-Limit Texas Hold'em, Pot-Limit Omaha, and Limit games.
Tournaments: The MGM Poker Room hosts a range of daily, weekly, and monthly tournaments to cater to tournament enthusiasts. These tournaments feature various buy-ins, ensuring there are options available for players of different budgets. From smaller buy-in events to high-stakes tournaments, the room offers a diverse tournament schedule to satisfy players' competitive desires.
Amenities and Services: The MGM Poker Room provides numerous amenities and services to enhance the overall poker experience for its patrons. Some of the amenities include:
Complimentary food and beverage service: Players can enjoy a selection of refreshments, including alcoholic and non-alcoholic beverages, while playing in the room.
Professional dealers and staff: The room prides itself on its well-trained and knowledgeable dealers who maintain a friendly and professional atmosphere.
State-of-the-art technology: The poker room is equipped with modern technology, including digital screens displaying tournament information, waiting lists, and current promotions.
Player rewards and promotions: The MGM Poker Room offers a rewards program for frequent players, providing them with benefits such as discounted hotel rates, dining offers, and exclusive tournament invitations.
Convenient location: Being situated within the MGM Grand Hotel and Casino, players have easy access to a wide range of entertainment options, including restaurants, bars, shows, and other casino games.
Poker lessons and beginner-friendly tables: The MGM Poker Room is known for its welcoming environment and offers poker lessons and beginner-friendly tables for those new to the game or looking to improve their skills.
Staff: The staff at the MGM Poker Room are highly trained professionals who strive to provide exceptional service to all players. From dealers to floor supervisors, the staff ensures that games run smoothly and that players' needs are met promptly. They are knowledgeable about the various games and rules and are always available to assist players with any questions or concerns.
Conclusion: The MGM Poker Room in Las Vegas is a world-class destination for poker enthusiasts. With its luxurious setting, wide variety of games and tournaments, and exceptional service, the poker room offers an unparalleled poker experience. Whether you are a novice or a seasoned player, the MGM Poker Room provides an exciting and memorable atmosphere for all poker enthusiasts visiting the Las Vegas Strip.