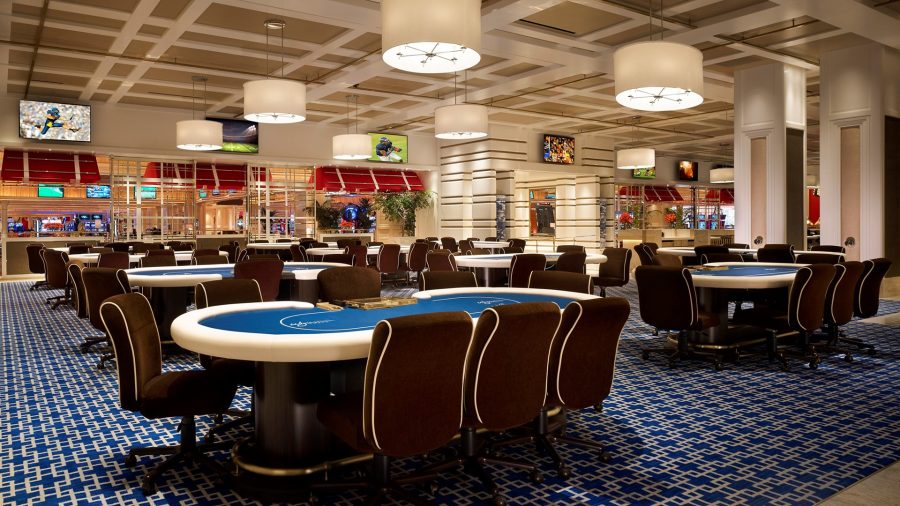 Wynn Poker Room: An Extensive Profile
Introduction: The Wynn Poker Room, located in the luxurious Wynn Las Vegas resort, is renowned for its upscale ambiance, exceptional service, and high-stakes poker action. Opened in April 2005, the Wynn Poker Room quickly gained a reputation as one of the premier poker destinations in Las Vegas. With its elegant décor, state-of-the-art facilities, and a wide range of poker offerings, it has become a favorite among both recreational players and seasoned professionals.
Location and Atmosphere: Situated in the heart of the Wynn Las Vegas casino, the Wynn Poker Room offers a sophisticated and inviting atmosphere. The room features a modern design with tasteful furnishings, plush seating, and elegant decor, creating a luxurious environment for poker enthusiasts. The ambiance is enhanced by soft lighting, creating a comfortable and relaxing setting conducive to intense poker play.
Facilities and Amenities: The Wynn Poker Room boasts a spacious layout, allowing for comfortable seating and ample space between tables. The room features 28 tables, ensuring that there are plenty of options for players to join the action. The tables are equipped with state-of-the-art electronic devices for tracking chips, managing waitlists, and displaying tournament information.
The room also offers various amenities to enhance the player experience. Complimentary Wi-Fi is available throughout the poker room, enabling players to stay connected and access online resources. Additionally, tableside food and beverage service is provided, ensuring that players can enjoy delicious refreshments without having to leave their seats.
Poker Offerings: The Wynn Poker Room offers a wide array of poker games and limits to cater to players of all skill levels and bankrolls. The primary focus is on No-Limit Texas Hold'em, which is the most popular poker variant. Cash games are available at various stakes, starting from low-limit games for beginners to high-stakes tables for seasoned pros.
Tournaments are another highlight of the Wynn Poker Room. Daily tournaments are offered, including both single-table and multi-table formats. These tournaments feature buy-ins suited for different budgets, allowing players to compete for substantial prize pools and the thrill of tournament play.
For players seeking an exclusive experience, the Wynn Poker Room hosts prestigious poker events throughout the year. These events attract some of the biggest names in the poker world and offer substantial prize pools, making them a must-visit for serious players and poker enthusiasts alike.
Staff and Service: The Wynn Poker Room prides itself on providing exceptional service to its patrons. The staff consists of highly trained and professional dealers and floor personnel who are knowledgeable about poker rules and etiquette. They ensure that the games run smoothly, handle player inquiries, and maintain a welcoming and friendly environment.
The room also offers a dedicated poker cashier cage, allowing players to conveniently handle their financial transactions, such as buying chips, cashing out, or registering for tournaments. The staff members at the cashier cage are efficient and strive to provide prompt and accurate service to players.
Player Rewards and Promotions: The Wynn Poker Room offers various player rewards and promotions to enhance the overall gaming experience. Players can enroll in the Wynn Red Card program, which rewards them with points for their poker play and other resort activities. These points can be redeemed for a range of benefits, such as complimentary rooms, dining, entertainment, and more.
In addition to the ongoing rewards program, the Wynn Poker Room regularly runs promotions and special events. These promotions may include high-hand bonuses, bad-beat jackpots, and exclusive tournaments with added prizes. These incentives attract players and add excitement to the poker room's offerings.
Conclusion: The Wynn Poker Room in Las Vegas is a top-tier destination for poker enthusiasts seeking an exceptional gaming experience. With its upscale ambiance, luxurious facilities, and comprehensive range of poker offerings, it caters to both recreational players and professionals alike. Whether you're looking to enjoy cash games, compete in tournaments, or immerse yourself in the electrifying atmosphere of high-stakes play, the Wynn Poker Room provides a world-class poker experience that is sure to exceed your expectations.