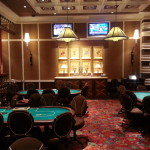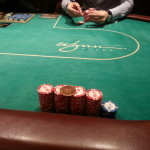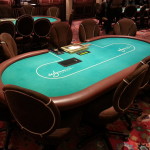 Welcome to the classiest poker room in town, and one of my favorites for four years now.
They offer 26 tables with a variety of games, including Limit Hold'em, No Limit Hold'em, 7Card Stud, Omaha 8/B, PLO, and more. Limits include 1-3, 2-5, 5-10, and sometimes higher depending on requests.
Like the Wynn itself, the room paints a picture of elegance with every detail. Fine wood paneling, marble and granite counters, plush spotless seating, ample space between tables, soft rippling draperies, poker-themed artwork, and a plethora of soft lighting that leaves the room well-lit without glare.
This is not the place to stumble into after the club. This is the place to enjoy a glass of wine or cognac, meet players from all over the world, and feel like you're playing poker on Steve Wynn's private yacht.
Players rarely get out of line here, due to the atmosphere. You will find bigger rooms at the Venetian and Caesar's, and I've rated Venetian as the best poker room all-around, but you won't find a more elegant poker setting in all of Las Vegas.
The room sits well-positioned near the casino and hotel offerings. Within twenty paces you'll find show tickets, The Café, Allegro (fine dining), a Ferrari showroom, and restrooms fit for the Queen of England. The Wynn also has some of the easiest parking I've encountered; I like the 4th floor roof, where there's always space and a clear view to mountains. You can hear the feel-good music of the Wynn as soon as you open your car door.
One more note: The Wynn Classic, a well-run and popular tournament, starts tomorrow February 28 and goes through March 21. Click picture below for details.