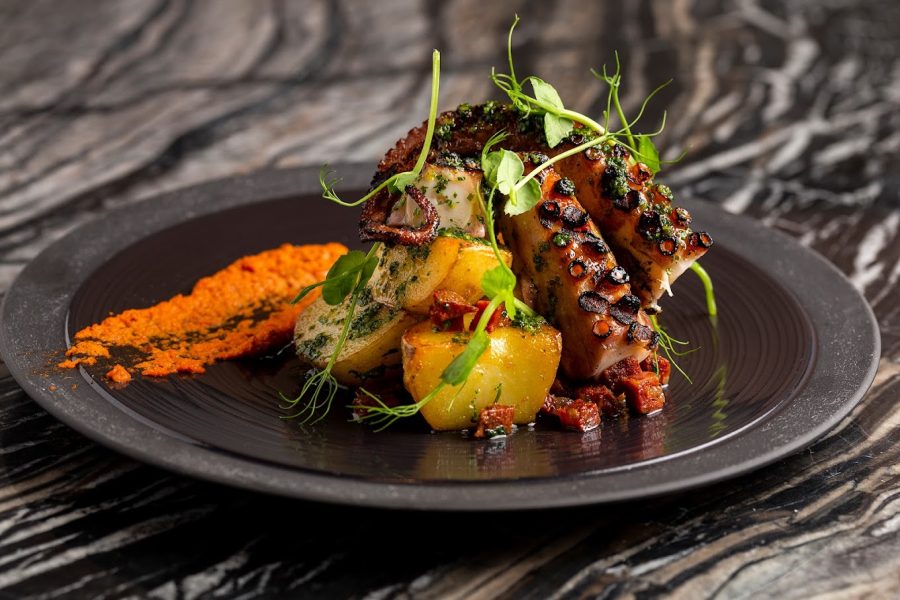 When it comes to dining and entertainment in Las Vegas, Resorts World Las Vegas stands at the forefront, offering a world-class experience in the heart of the Strip. Among its array of exquisite dining establishments, Bar Zazu shines as a beacon of gastronomic delight, inviting patrons on a journey through Spanish-inspired cuisine, meticulously crafted cocktails, and an ambiance that transports them to the vibrant streets of Barcelona.
A Taste of Spain in the Heart of Las Vegas
Bar Zazu is a culinary gem nestled within Resorts World Las Vegas, a resort that has rapidly become a must-visit destination on the Las Vegas Strip since its opening in 2021. With a name that pays homage to the renowned Spanish surrealist artist Salvador Dalí, the restaurant embodies the spirit of creativity, innovation, and indulgence.
Sensory Delights
Upon entering Bar Zazu, guests are immediately struck by its sophisticated yet inviting atmosphere. The interior is a blend of modern chic and traditional Spanish design elements, with warm colors, rich textures, and a captivating blend of contemporary and classic art adorning the walls. The restaurant's attention to detail in creating an authentic Spanish ambiance sets the stage for a memorable dining experience.
Culinary Highlights
Bar Zazu's menu is a culinary symphony, orchestrated by Executive Chef Joshua Smith, who has a passion for bringing the vibrant flavors of Spain to life in every dish. Here are some menu highlights that promise to tantalize your taste buds:
1. Tapas Galore
Begin your journey with an array of tapas, including Patatas Bravas, Gambas al Ajillo, and Jamón Ibérico, showcasing the richness and diversity of Spanish cuisine.
2. Perfectly Grilled Octopus
The Pulpo a la Plancha is a must-try dish, featuring tender octopus perfectly grilled and served with a tantalizing Romesco sauce.
3. Flavorful Paella
No Spanish feast is complete without Paella. Bar Zazu offers several variations, including the classic Valenciana and a delectable Seafood Paella, both cooked to perfection.
4. Sip on Sangria
Pair your meal with a glass of Bar Zazu's Sangria, a refreshing blend of red wine, citrus fruits, and a hint of brandy, delivering a taste of Spanish sunshine.
Mixology Magic
Complementing the delectable cuisine, the bar at Bar Zazu is a destination in itself. Skilled mixologists craft a range of innovative cocktails that pay homage to Spanish culture while adding a contemporary twist:
1. "Dalí's Dream"
A playful and visually stunning cocktail inspired by Salvador Dalí's surreal art, featuring a combination of gin, lavender, citrus, and a touch of absinthe.
2. "Flamenco Fusion"
This cocktail is a dance of flavors, mixing Spanish brandy, sherry, pomegranate, and spices, creating a taste sensation that mirrors the passion of Flamenco.
Perfect for Any Occasion
Whether you're celebrating a special occasion, enjoying a night out with friends, or simply seeking an exquisite dining experience, Bar Zazu caters to all occasions. The restaurant's attentive staff ensures that your every need is met, making it an ideal setting for a memorable evening.
Reserve Your Table Today
Bar Zazu at Resorts World Las Vegas is a culinary oasis in the desert city, offering an unforgettable Spanish dining experience that transports you to the streets of Barcelona. With its impressive menu, creative cocktails, and captivating ambiance, it's no wonder that Bar Zazu has become a coveted destination on the Las Vegas Strip. To savor the flavors of Spain and embark on a culinary journey like no other, make your reservation at Bar Zazu today, and let your taste buds dance with delight.
Menu: barzazulv.com