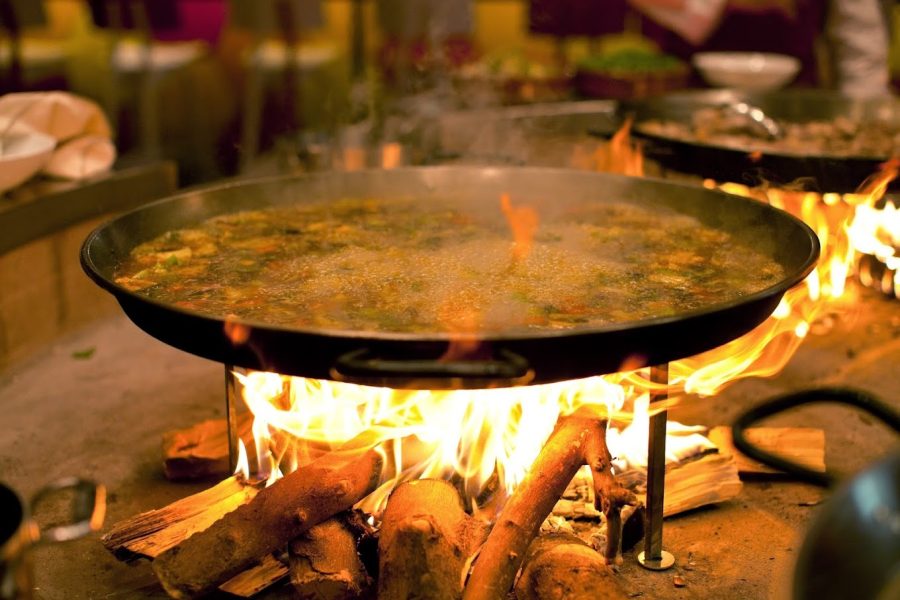 Jaleo at The Cosmopolitan, Las Vegas – A Spanish Culinary Adventure
Overview: Experience the vibrant flavors of Spain at Jaleo, an esteemed Spanish restaurant nestled within The Cosmopolitan of Las Vegas. Led by the renowned chef José Andrés, Jaleo offers an unforgettable culinary journey through the diverse regions of Spain. Blending traditional Spanish cuisine with innovative techniques, Jaleo has established itself as a premier dining destination in Las Vegas, captivating food enthusiasts from around the world.
Address: The Cosmopolitan of Las Vegas 3708 S Las Vegas Blvd Las Vegas, NV 89109 United States
Contact Information:
Hours of Operation: Indulge in the flavors of Spain during these hours of operation:
Monday: 5:00 PM – 10:00 PM
Tuesday: 5:00 PM – 10:00 PM
Wednesday: 5:00 PM – 10:00 PM
Thursday: 5:00 PM – 10:00 PM
Friday: 5:00 PM – 11:00 PM
Saturday: 5:00 PM – 11:00 PM
Sunday: 5:00 PM – 10:00 PM
Menu Highlights: Jaleo boasts an extensive and enticing menu, showcasing the very best of Spanish gastronomy. The tapas-style offerings allow guests to savor a variety of dishes, perfect for sharing and exploring new flavors.
**1. Tapas Galore: Dive into an array of delectable tapas, including the must-try Gambas al Ajillo (garlic shrimp) with succulent shrimp cooked in a flavorful garlic sauce. Don't miss the Patatas Bravas, crispy fried potatoes topped with a tantalizing blend of spicy tomato sauce and creamy aioli.
**2. Paella Perfection: Experience the culinary artistry of Jaleo's paellas, a symbol of Spanish cuisine. Savor the Paella Valenciana, a fragrant blend of rabbit and chicken with saffron-infused rice, or delight in the Paella de Mariscos, brimming with an abundance of fresh seafood.
**3. Spanish Sangria: Raise a toast to the Spanish spirit with Jaleo's refreshing and fruit-filled Sangria, a delightful libation that perfectly complements the bold flavors of the menu.
**4. Jamón Ibérico: Treat yourself to the unparalleled flavors of Jamón Ibérico, a premium Spanish cured ham made from the acorn-fed black Iberian pigs, meticulously aged for a remarkable taste.
**5. Seafood Extravaganza: Revel in Spain's coastal heritage with dishes like Pulpo a la Gallega, tender Galician-style octopus drizzled with olive oil and sprinkled with smoked paprika, and Bacalao Confitado, a delectable confit cod that melts in your mouth.
**6. Sweet Indulgences: End your meal on a high note with Spanish desserts such as the Flan al Estilo Tradicional, a velvety caramel custard, and the Torrijas Con Helado de Leche Merengada, a delightful bread pudding served with meringue ice cream.
**7. Wine Selection: Pair your meal with an impressive selection of Spanish and international wines, curated to enhance the flavors of your dining experience.
Ambiance: Jaleo's inviting ambiance captures the essence of Spain, blending rustic charm with contemporary elements. The warm and lively atmosphere sets the stage for an exceptional dining experience, whether you're enjoying an intimate dinner or a vibrant gathering with friends.
Conclusion: Jaleo at The Cosmopolitan in Las Vegas is your gateway to the flavors of Spain. Led by the culinary visionary José Andrés, this Spanish gem entices guests with an enticing array of tapas, flavorful paellas, and a curated wine selection. Immerse yourself in the spirit of Spain and create unforgettable memories at Jaleo, where exceptional cuisine and warm hospitality converge to offer an authentic Spanish culinary adventure in the heart of the Las Vegas Strip. Reserve your table now to embark on this gastronomic journey that awaits you at Jaleo!