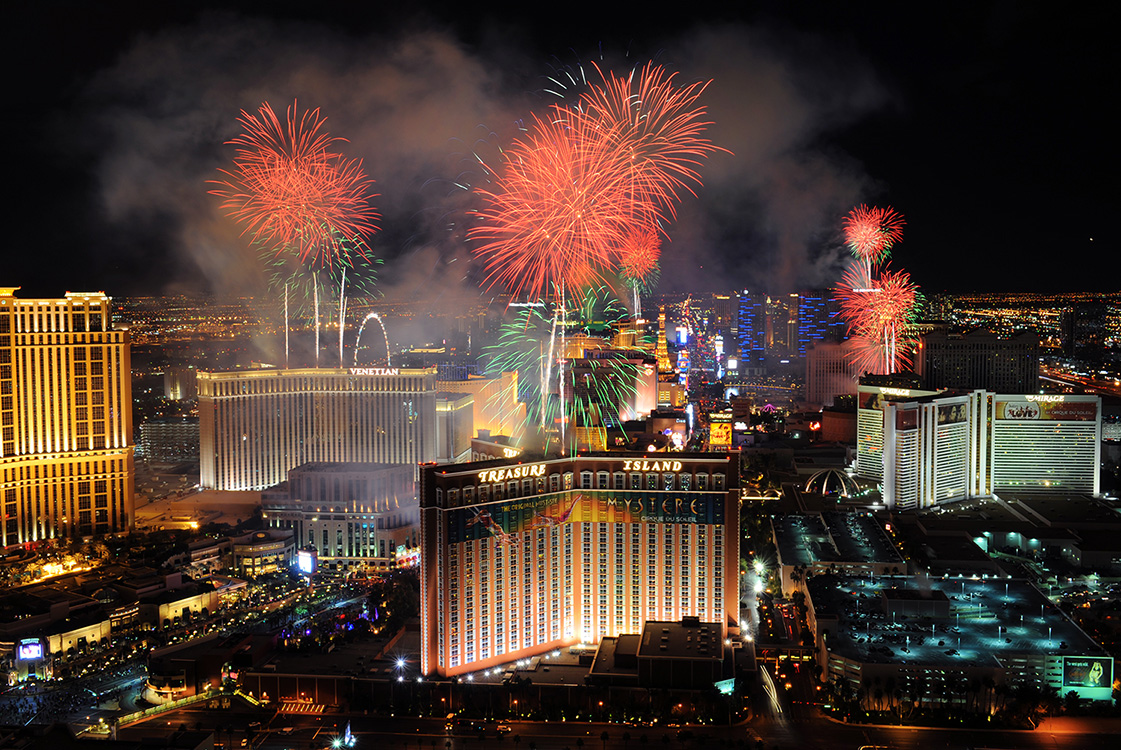 Fireworks burst over the Las Vegas Strip at midnight on New Year's 2015, as seen from Trump International Hotel Las Vegas. Las Vegas officials expected 340,000 visitors for the holiday. Thursday, January 1, 2015. (Photo/Las Vegas News Bureau, Brian Jones)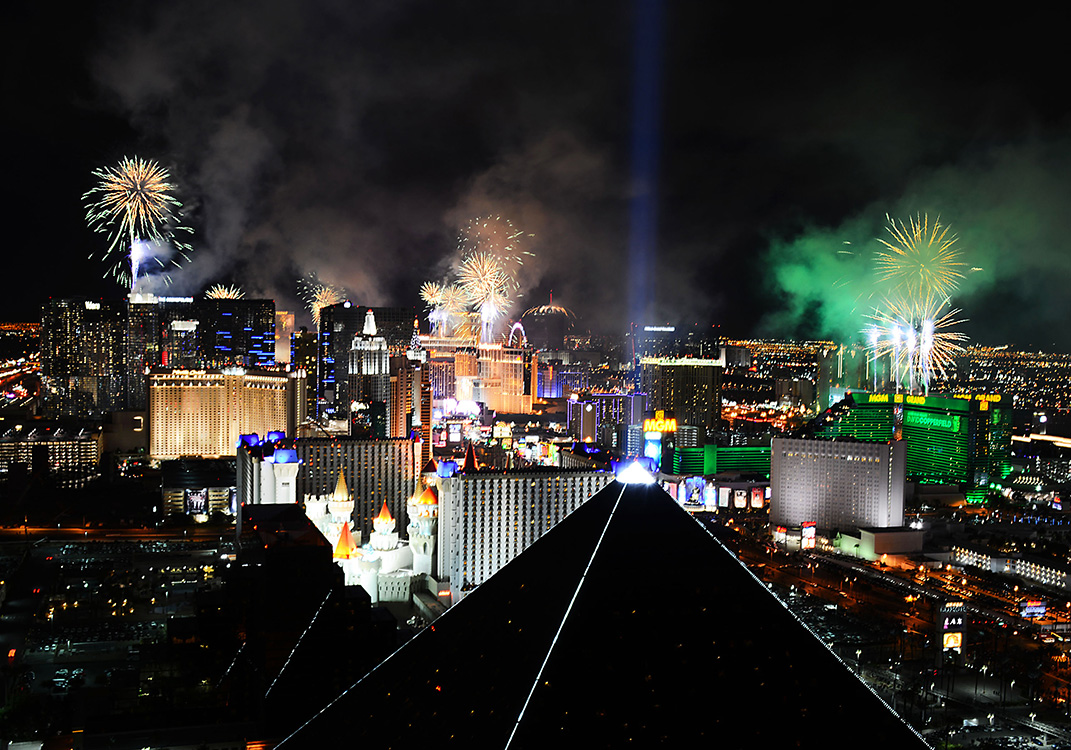 In these photos provided by the Las Vegas News Bureau, Fireworks by Grucci light up the sky above the Las Vegas Strip during America's Party 2015. The "Don't Stop the Party" themed display was fired off the rooftops of the MGM Grand, Aria, Planet Hollywood, Caesars Palace, Treasure Island, The Venetian, and Stratosphere Resorts in Las Vegas, Nevada.  Thursday, January 1, 2015.  (AP Photo/Las Vegas News Bureau, Steve Spatafore)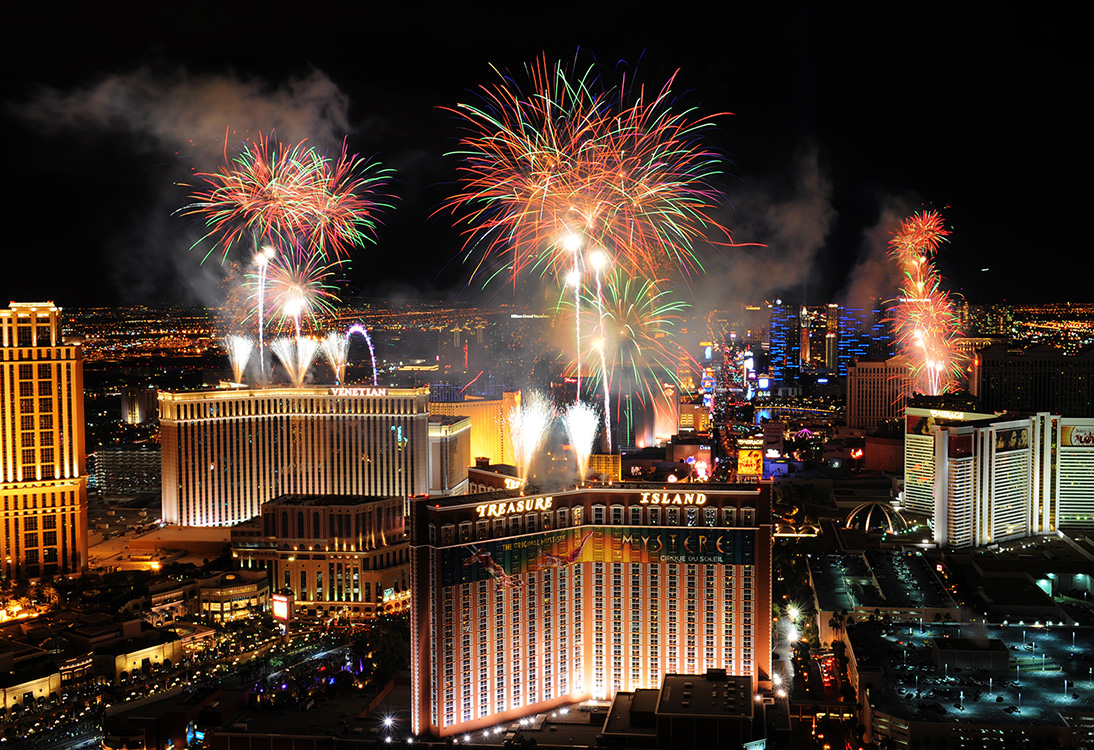 America's Party 2015, the citywide New Year's Eve Party in Las Vegas went off without a hitch despite chilly conditions in the Entertainment Capital of the World. The fireworks firing locations include (from the south, heading north): MGM Grand, Aria, Planet Hollywood, Caesars Palace, Treasure Island (TI), The Venetian and Stratosphere. As a culmination to a full year of planning, Fireworks by Grucci coordinated a 7 minute and 11 second performance. At midnight, more than 11,000 electrical circuits fired the intricate sequences from the seven locations along the Las Vegas Strip. Each circuit was controlled to deliver split second pulses of electricity to ignite in excess of 80,000 pyrotechnic devices loaded on the rooftops. The performance opened with ten seconds of dramatic pyrotechnics rising up from the Stratosphere Tower, as the clock counts down to midnight.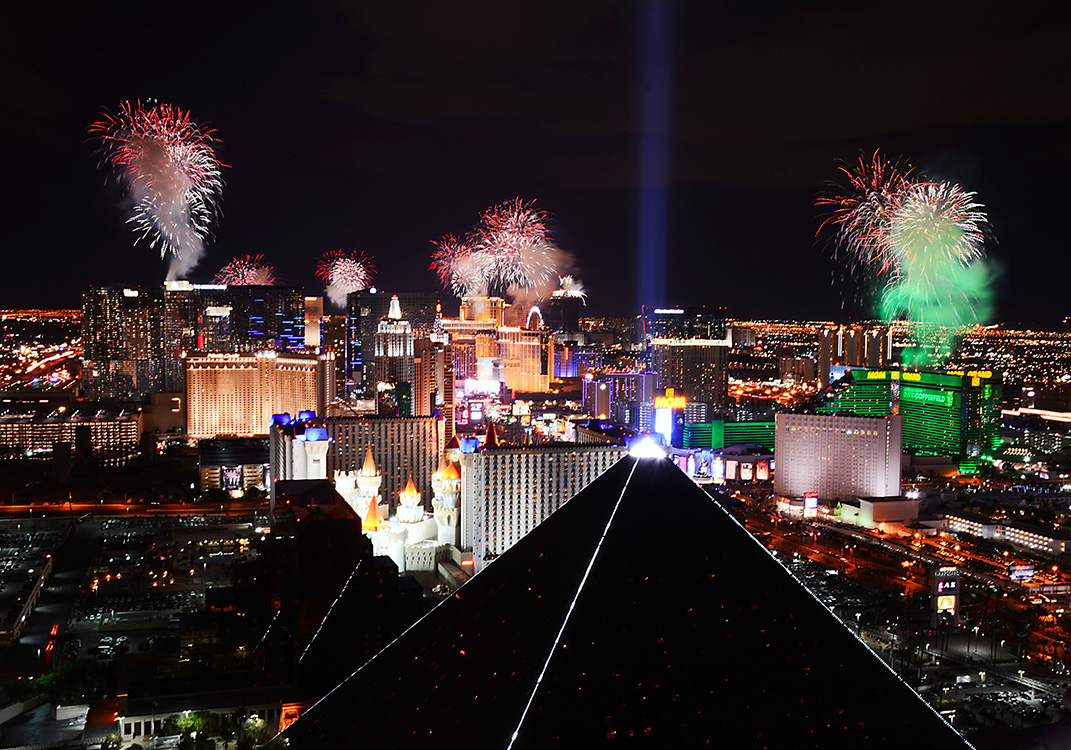 Fireworks by Grucci choreographed the one-of-a-kind performance with an exhilarating music mix. After the heart-pounding countdown and, for some, the traditional kiss to Auld Lang Syne, the party continued long after midnight to this year's theme –  Don't Stop the Party. The show featured a barrages of pyrotechnic flashes, salutes and rapid-fire aerial shells. The music mix continued with the rousing end of The Star Spangled Banner by Whitney Houston, Girl on Fire by Alicia Keys, Counting Stars by One Republic, Burn by Ellie Goulding and, of course, Don't Stop the Party by Pitbull.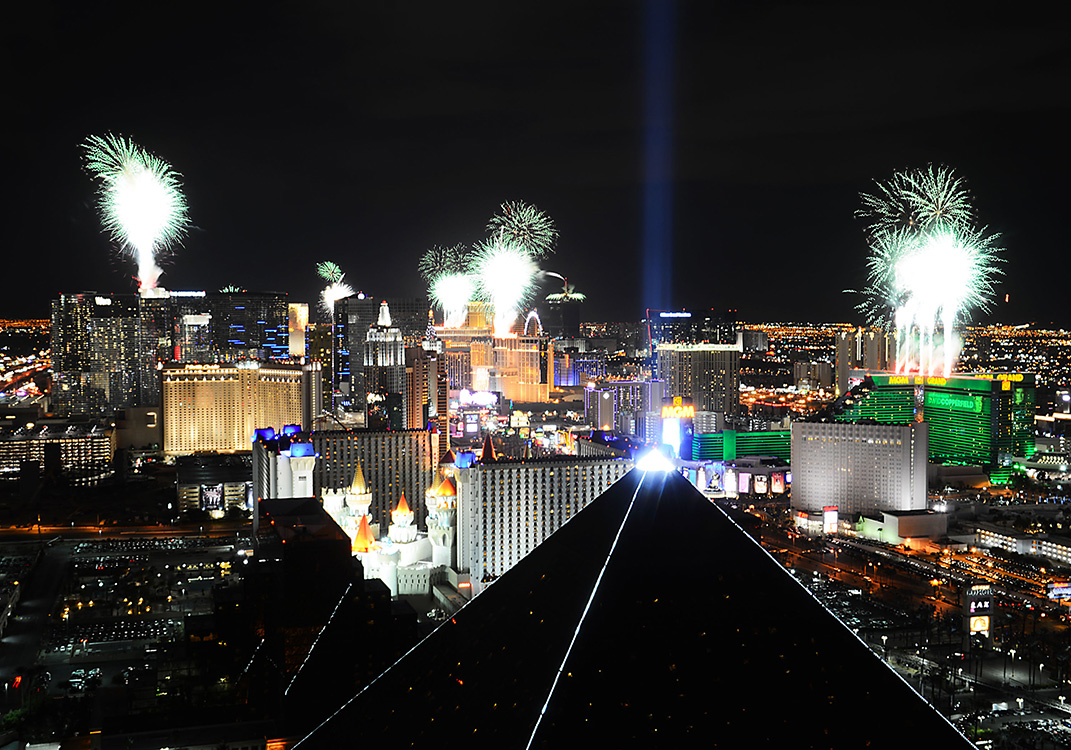 The mix and rush of sound and light delighted the eyes and created a vibrant, colorful backdrop for revelers along the Las Vegas Strip and throughout the city. The Grucci finale played Viva by Bond with scintillating chrysanthemums and barrages of titanium flash salutes that rumbled and rattled the night sky, concluding the program. Revelers also Rock 'n' Rolled into the new year during the Downtown Countdown New Year's Eve 2015 Celebration that took place at Fremont Street Experience in fabulous downtown Las Vegas. This year the ultimate New Year's Eve street party was themed TributePalooza and features 13 of the world's greatest tribute bands. These tribute bands included: Fan Halen (Van Halen), Queen Nation (Queen), Led Zepagain (Led Zeppelin), Rio (Duran Duran), Generation Idol (Billy Idol), No Duh (No Doubt), Red Not Chili Peppers (Red Hot Chili Peppers), Doobies Inc. (The Doobie Brothers), Jumping Jack Flash (Rolling Stones), Aeromyth (Aerosmith), Crimes of Passion (Pat Benatar), Don't Look Back (Boston) and Bonfire (AC/DC).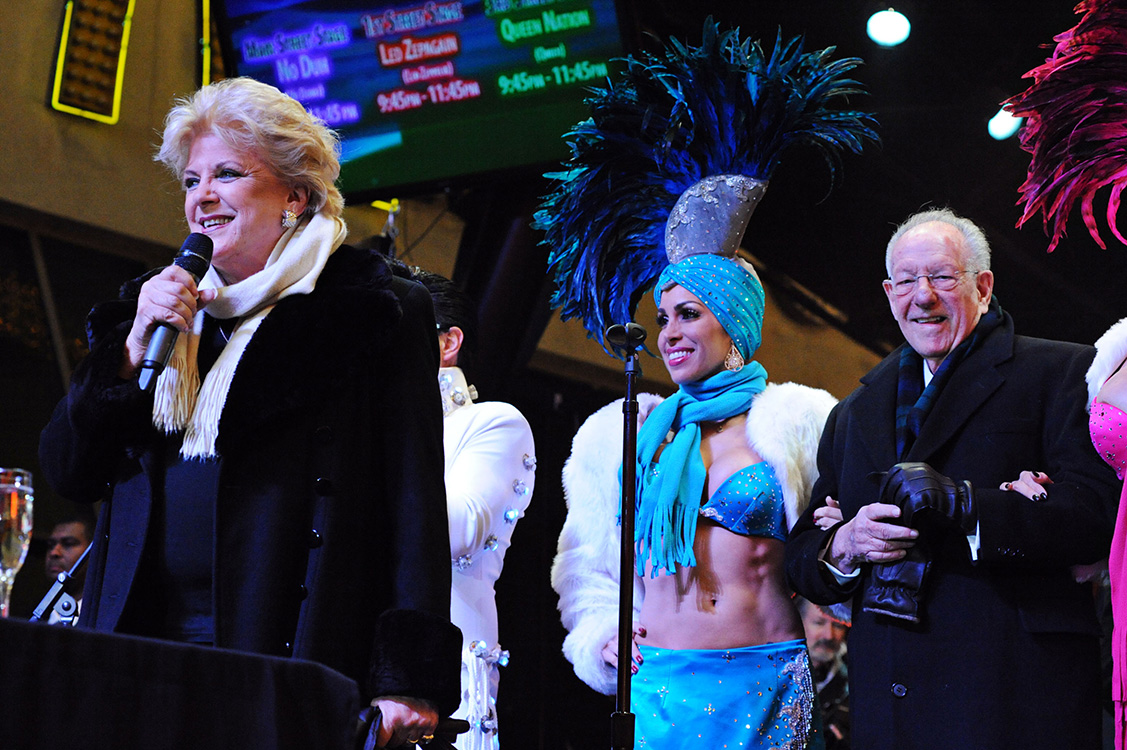 Mayor Carolyn Goodman and former Mayor Oscar Goodman toast thousands of party goers on Fremont Street in Downtown Las Vegas for New Year's Eve (Bryan Haraway/Las Vegas News Bureau)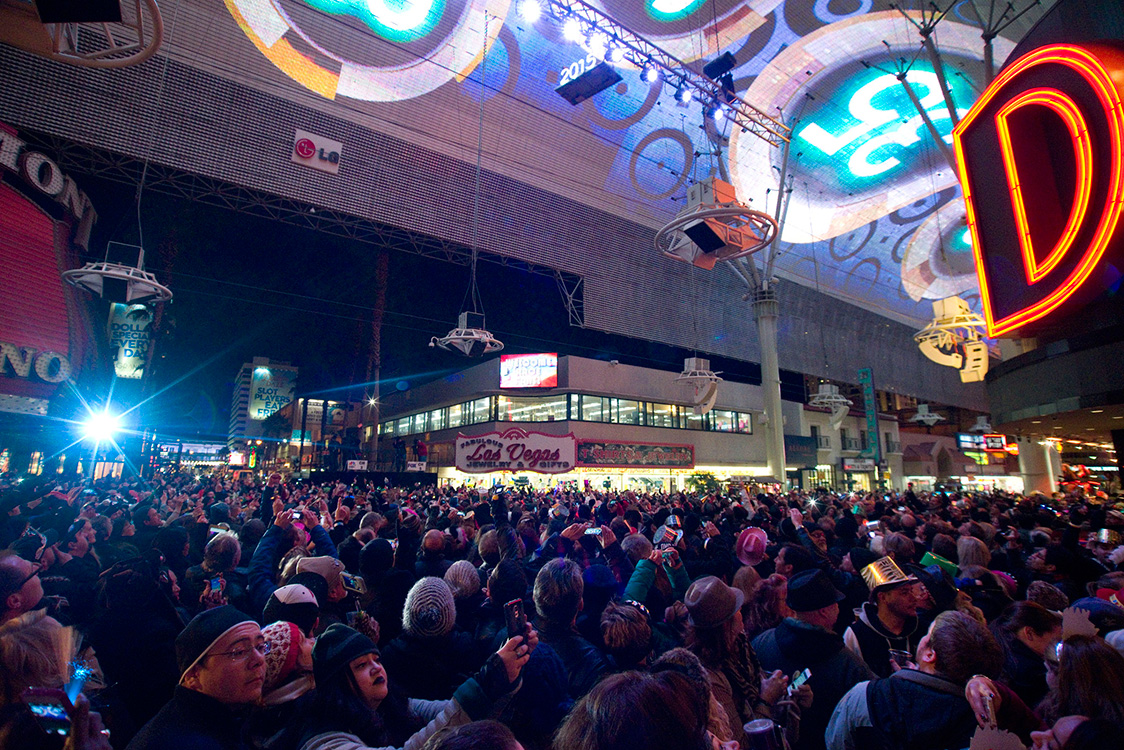 Party Goers Swarm Downtown Las Vegas at the Fremont Street Experience (Bryan Haraway/Las Vegas News Bureau)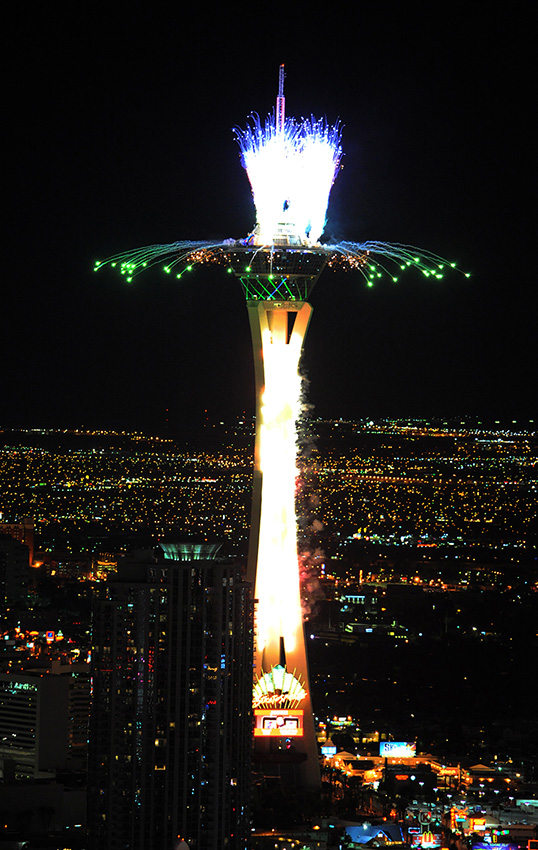 Stratosphere hotel and casino kicks-off New Year's with fireworks over the Las Vegas Strip at midnight on New Year's 2015, as seen from Trump International Hotel Las Vegas. Las Vegas officials expect to welcome 340,000 visitors for the holiday. Thursday, January 1, 2015. (Photo/Las Vegas News Bureau, Brian Jones)