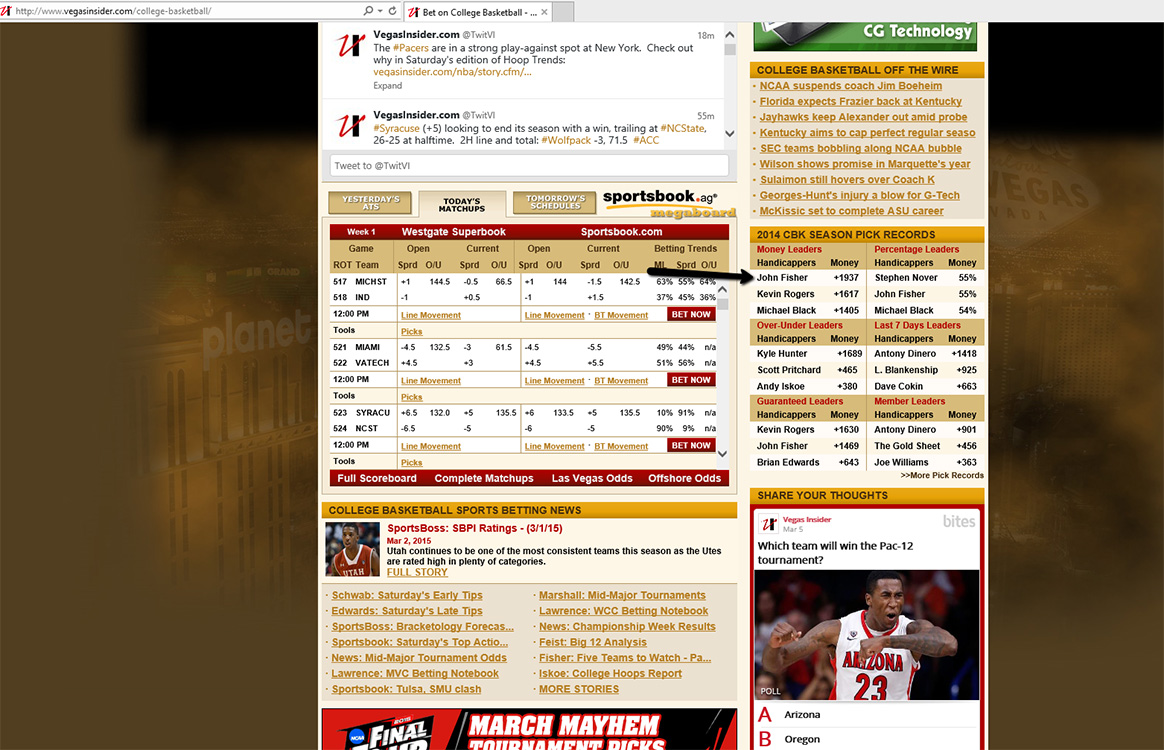 Our top handicapper John Fisher continues his hot streak, and is now the Money Leader on Vegas Insider.
Here's his FREE PLAY OF THE DAY:
Oklahoma State +6
The Cowboys need this game bad and a victory in conference tournament to feel comfortable about a NCAA Bid. Lucky for them Mountaineers will once again be without its two Senior GuaDD's Brown and Staten. Brown was limping around practice and Staten had a serious knee wrap. Huggims will bring them out on Senior day but I do t expect them to play. Listed as Questionable. Cowboys have a great veteran team and will be focused with Seniors Nash, Hickey, and Cobbins. Add JR. Sharp shooter Forte I love the value here. Take the 6 points and a close contest here . 4 stars
And a quick note from yesterday's win:
Three times a charm. That's what happened to FGCU last night to Upstate. Now it's  Loyola Chicago to get the Win after losing twice to the Sycamores during regular season, They lost both games by DDs as Indiana State teed off from the three point line. Again over ten years of data has shown that INDIANA State has a 37% chance on covering. Another interesting tid bit…in 11 games in a row INDIANA State has alternated between wins and losses…their last game was a win. 4 stars
Loyola -Chicago +3
Loyola-Chicago 80-52
WINNER
Clean sweep players. 3-0 tonight as Yale, NIU, and now LOYOLA easily covers with blowout victory ….three times is a charm with College Hoops. Number 1 on vegasinsider.com!