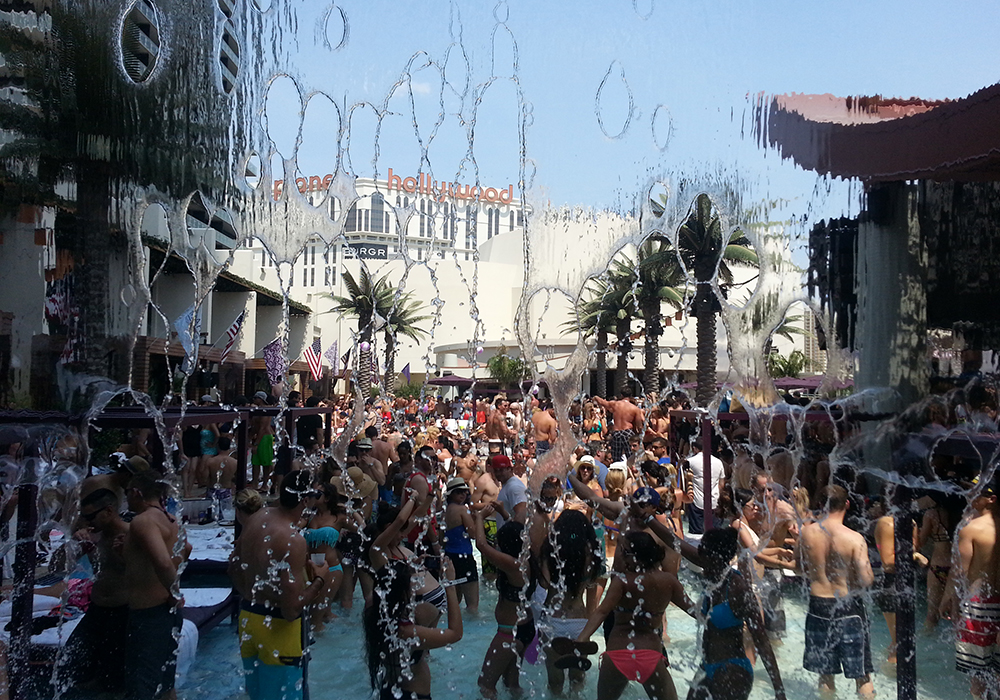 Marquee Dayclub, located in Las Vegas, is one of the most prestigious and sought-after pool party destinations in the world. Situated at the iconic resort and casino, The Cosmopolitan of Las Vegas, Marquee Dayclub offers a vibrant and luxurious atmosphere where guests can enjoy a day of sun-soaked revelry and unforgettable entertainment.
Design and Ambiance: Marquee Dayclub boasts a stylish and modern design, with a sprawling pool area surrounded by lush landscaping and comfortable seating options. The club's architecture combines sleek lines and contemporary elements with a touch of classic Las Vegas glamour, creating an ambiance that is both sophisticated and energetic.
The Pool: The centerpiece of Marquee Dayclub is its sparkling pool, which is large enough to accommodate a sizable crowd. The pool features a shallow area for lounging and socializing, as well as a deeper section for those who want to take a refreshing dip. Guests can relax on luxurious daybeds and cabanas, complete with plush seating, shade options, and personalized service from attentive staff.
Music and Entertainment: Marquee Dayclub is renowned for its world-class music and entertainment lineup. A lineup of top-tier DJs, including both resident and guest artists, takes the stage to deliver electrifying performances and keep the energy levels high throughout the day. The club offers a diverse range of music genres, from EDM and house to hip-hop and pop, ensuring there is something for every taste.
Special Events and Performances: In addition to its regular pool parties, Marquee Dayclub hosts a variety of special events and performances that further elevate the experience. These may include live musical performances, celebrity appearances, themed parties, and collaborations with renowned brands or artists. These events add an extra layer of excitement and exclusivity to the already vibrant atmosphere.
Culinary Delights: Marquee Dayclub understands the importance of a delectable culinary experience alongside its vibrant ambiance. The club offers a carefully curated menu featuring a fusion of international flavors and refreshing beverages. Guests can indulge in an array of appetizers, salads, gourmet sandwiches, and light bites, complemented by signature cocktails, premium spirits, and a selection of wines and champagnes.
Service and Hospitality: Marquee Dayclub is known for its exceptional service and hospitality. The staff is attentive, professional, and dedicated to ensuring guests have an extraordinary experience. From providing personalized bottle service to offering recommendations and accommodating special requests, the team strives to create a welcoming and unforgettable environment.
VIP and Cabana Experience: For those seeking an elevated experience, Marquee Dayclub offers VIP packages and cabana rentals. These exclusive options provide guests with a private space to relax and enjoy the party with a dedicated server, enhanced amenities, and additional perks. VIP guests also have priority access to the club and can skip the general admission lines.
Strict Door Policy: Marquee Dayclub maintains a strict door policy to ensure the comfort and safety of its guests. The club adheres to a dress code that encourages stylish and fashionable attire, with swimwear highly encouraged. Additionally, guests must be 21 years or older to enter the venue, and a valid ID is required for entry.
Conclusion: Marquee Dayclub is an unparalleled pool party destination in Las Vegas, offering an immersive and unforgettable experience for guests. With its stunning design, world-class music and entertainment, exceptional service, and luxurious amenities, Marquee Dayclub continues to set the standard for daytime revelry in the city. Whether you're a local or a visitor to Las Vegas, a day at Marquee Dayclub promises to be an unforgettable highlight of your trip.