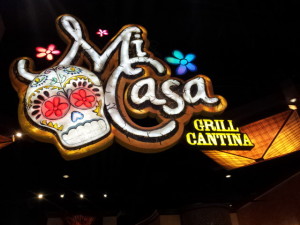 Mi Casa, Mexican Restaurant, Silverton Casino:
Chef Javier brings thoughtfulness to Las Vegas Mexican cuisine.
Unexpected is another theme here. Not everyone has heard of the Silverton Casino. Nor did I expect to find an executive chef in a Mexican restaurant. Another plus and surprise—they update their menus.
The familiar sound of casino slots give way to traditional Mexican music. Your cheerful hostess escorts you to a quiet booth in a dimly-lit, richly-styled dining area. Mi Casa offers a variety of decor throughout the restaurant.
Full Slideshow, 31 pictures, Click Here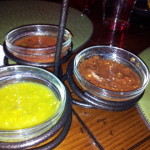 The taste of warm tortilla chips is always a welcome surprise as you are seated in a Mexican eatery, but Mi Casa quickly delights you again with rack of three salsas, each served in its own bowl. The three salsas change seasonally. Nothing is an afterthought at Mi Casa. The three salsas represent three distinct places on the palate of Mexican cuisine: green tomatoes and chilies, habanero chilies with red tomatoes, and cilantro with red tomatoes.
The tequila portfolio is the next sign you are dining with professionals. Tequilas are listed by aging categories, blanco, reposado, and anejo on an easy-to-read menu. Agave nectar is available as a Margarita ingredient, a finishing touch missing from many bars.
We shared the Chili Verde (slow roasted pork) and Chicken Tinga. Rather than simply swapped meats in the same pile of beans and cheese, both burritos consisted of distinct, complementary flavors.
Muy Bueno, Chef Javier and staff!
Make sure to explore the Silverton after dinner. You stroll includes a large glass fish tank with sharks, sting rays, and hundreds of other fish. Another body of water with fish is a few steps away, an open stream fed by several splashing fountains. Then view the recently installed, large and brilliant TV screens in the sports book. The new poker room, opening soon, tempts players with stunning red colors worthy of a Chinese festival.
Mi Casa, Silverton Casino Hotel
3333 Blue Diamond Road
702-263-7777
http://www.silvertoncasino.com/dining/vegas-mexican-restaurant.aspx