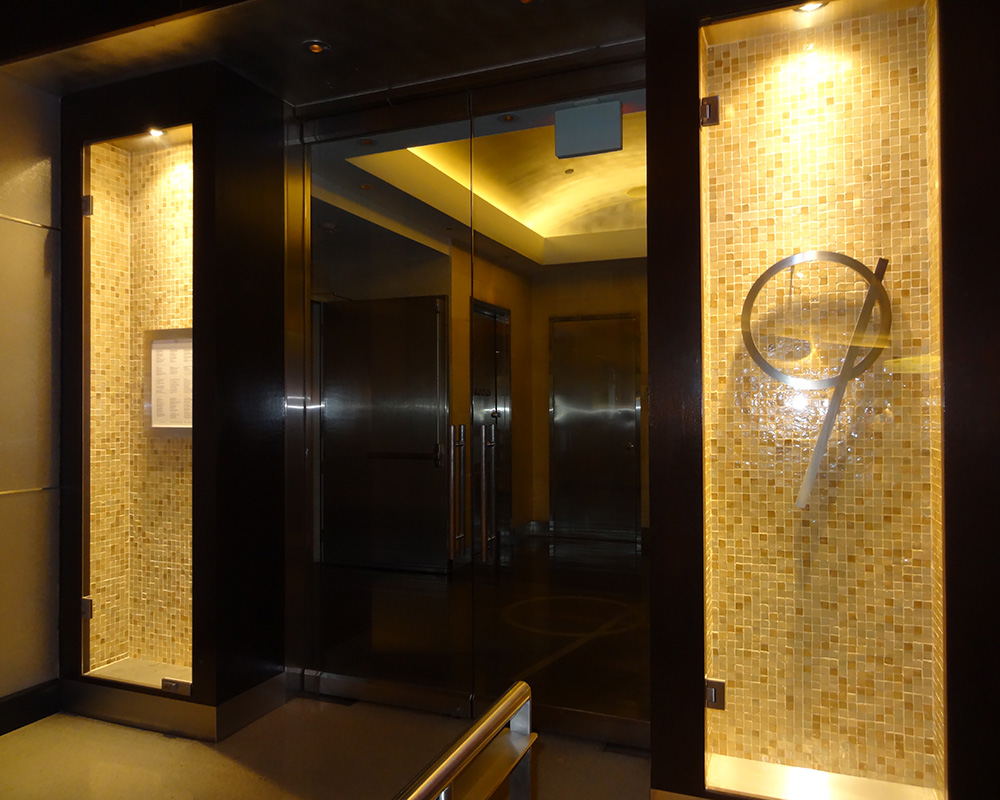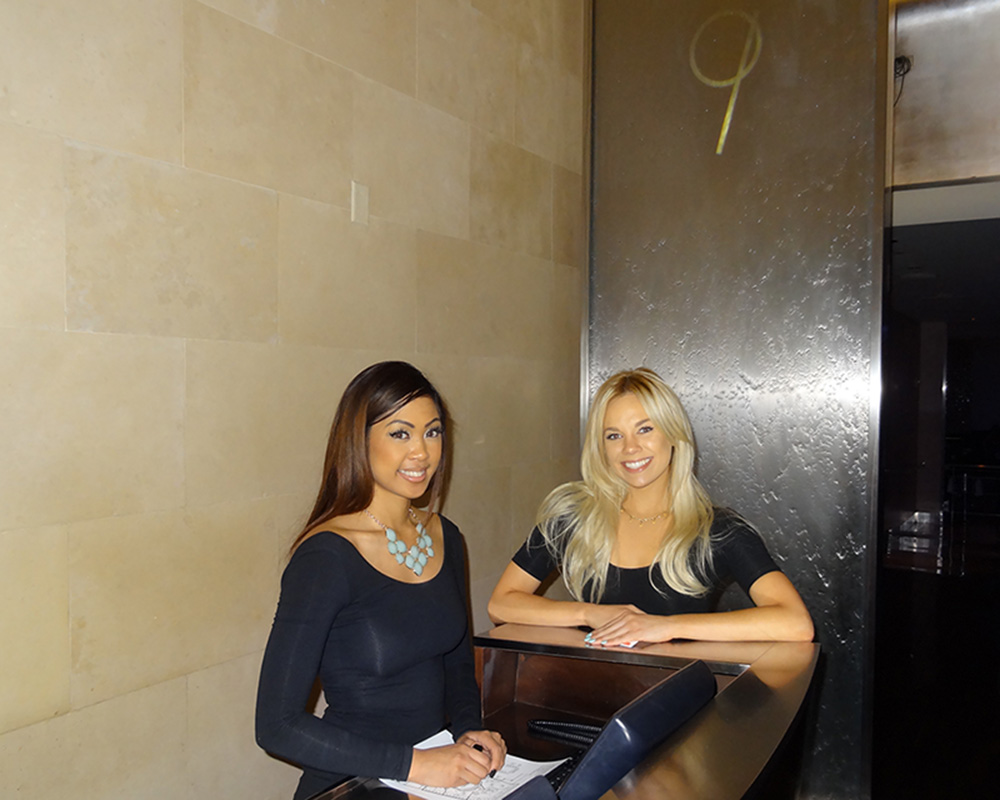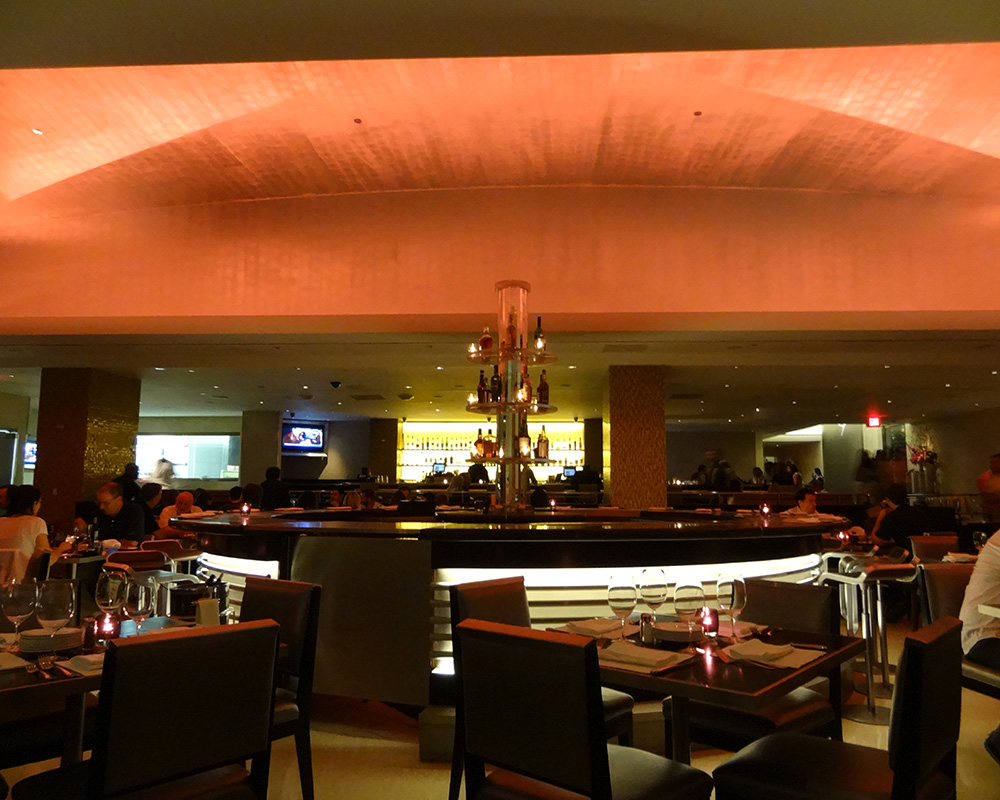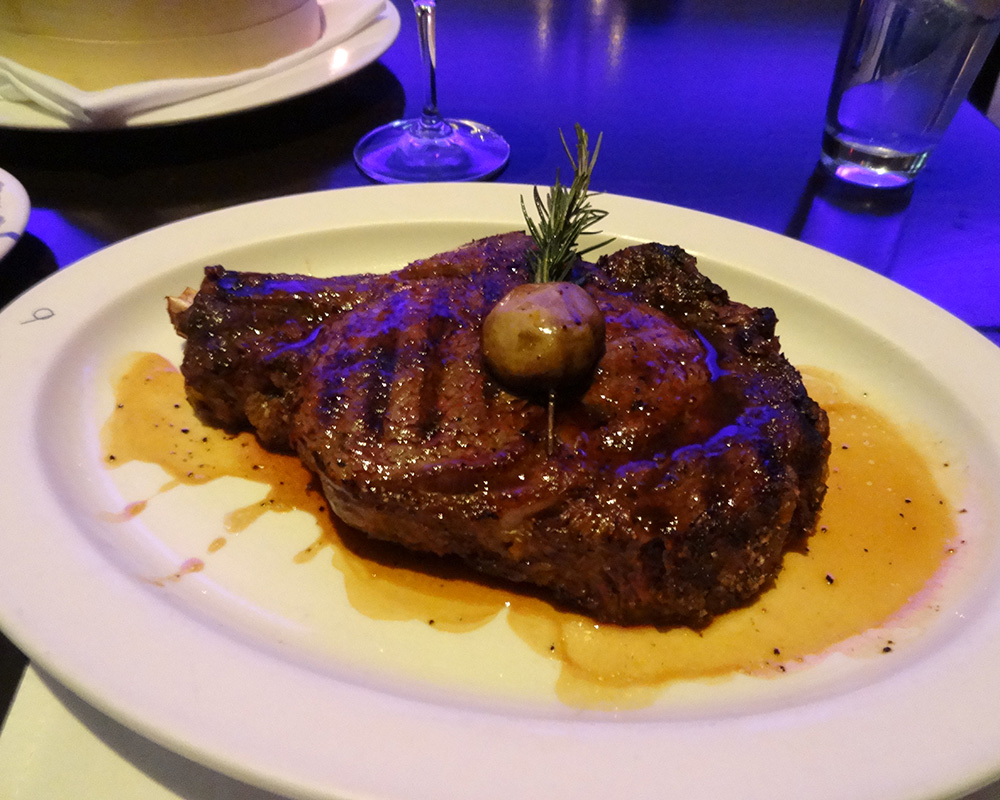 Several Vegas residents told me this is one of the top steakhouses in the city. I dined here last night–they were right.  The N9NE Steakhouse also features fresh seafood and an exclusive champagne and caviar bar.
Your first-class experience with N9NE starts when you walk through an elegant—and not overdone—entryway. You may miss it at first, if you're used to the glitzier places that shine bright but don't deliver. You're greeted with a purple flower arrangement against a cream-colored stone wall, then turn left as the space stretches, heightens, and expands before you. It felt a little like walking into Ryōan-ji, Japan's most famous Zen rock garden; the space is well-filled, yet allows room for imagination. The colors are vibrant, alluring, while surprisingly soft; the effect is slow, steady, non-disruptive attraction.
As you can see from the slideshow, the first two hosts were luminescent, with an authentic beauty that matched the surroundings.  The space unfolds into polished bar, lounge, and dining area. They've been open since 2001, yet everything looked new, gleaming.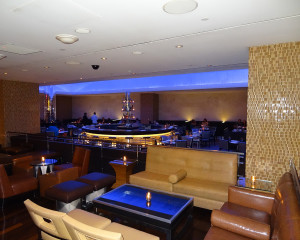 While waiting for my friend, I enjoyed a house Cabernet at the bar, soon engaging in a spirited conversation with a nearby patron, Brad, and another unique beauty, the Bulgarian bartender. The atmosphere felt inviting and organic; nothing standoffish or scripted.
Once my friend arrived we were seated in the dining area. The waiter's initial welcome speech, which included specials, steaks, and entrees, sounded so lush, interesting, and extraordinary, I wanted him to do it again for video. He laughed. For appetizers we enjoyed Lobster Pot Stickers—bok choy, shiitake mushrooms, chile-ginger sauce; then their signature N9NE Rock Shrimp in crispy, spicy sriracha sauce and lemon aioli.
My friend tried the Dover Sole Special, a succulent and meaty flat fish from the flounder family, topped with rock shrimp and artichoke. She couldn't stop smiling.
Montana, where I'm from, has top shelf steakhouses in nearly every town. The state abounds with large open ranges and healthy wild animals. The 22oz bone-in ribeye that I ordered reminded me of the best steaks back home:  fresh, tender, and deep natural flavors.
The doughnut dessert, accompanied by raspberries, almonds, white chocolate sauce and milk chocolate sauce, looked like a work of art. It tasted like one too.
Candles flickered, conversation flowed, warm colors enveloped us. Other patrons appeared merry, satiated, glowing. It's hard to leave restaurants like this!
Sunday – Thursday 5:30pm-10pm; Friday & Saturday 5:30pm-11pm
Bar opens at 5pm every day; Questions? 702-933-9900
http://www.palms.com/dining/las-vegas-n9ne-steakhouse/
http://9groupvegas.com/dining/n9ne-steakhouse