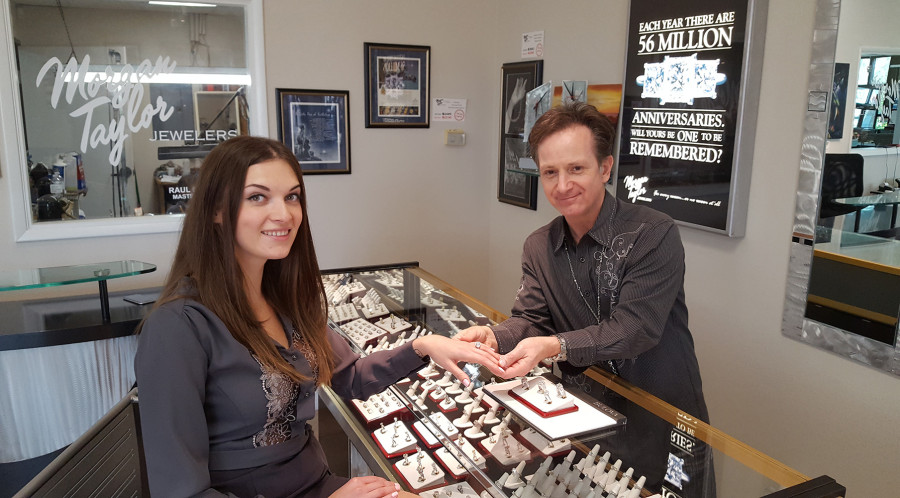 Profile: Morgan Taylor's Jewelers in Las Vegas
Introduction: Morgan Taylor's Jewelers, located in the vibrant city of Las Vegas, is a premier destination for those seeking exquisite and high-quality jewelry. With a rich history spanning over four decades, Morgan Taylor's Jewelers has established itself as a trusted name in the industry, known for their exceptional craftsmanship, personalized service, and an extensive selection of fine jewelry.
History and Legacy: Dan Golceker is a master jeweler with a passion for creating stunning and timeless pieces. Golceker's dedication to his craft, attention to detail, and commitment to customer satisfaction quickly earned the trust and loyalty of patrons from all walks of life. Over the years, the jewelry store has flourished under the Golceker's family guidance and remains a family-owned and operated business, passing down the tradition of excellence to subsequent generations.
Exquisite Jewelry Collections: Morgan Taylor's Jewelers boasts an impressive array of jewelry collections that cater to diverse tastes and preferences. Each piece is meticulously crafted using the finest materials, including precious metals, diamonds, gemstones, and pearls. Whether you're searching for an engagement ring that symbolizes eternal love, a statement necklace to add glamour to an evening ensemble, or a pair of earrings to celebrate a milestone, their extensive selection ensures there is something for every occasion.
Engagement Rings: From classic solitaires to elaborate halo designs, Morgan Taylor's Jewelers offers an extensive range of engagement rings that capture the essence of romance and commitment. Their knowledgeable staff will assist you in finding the perfect ring that reflects your unique style and preferences.
Wedding Bands: Complement your engagement ring with a stunning wedding band crafted to perfection. Morgan Taylor's Jewelers offers an assortment of traditional and contemporary bands, including diamond-studded, eternity, and custom designs.
Fine Jewelry: Explore their collection of necklaces, bracelets, earrings, and pendants that showcase exceptional craftsmanship and exquisite design. Whether you prefer timeless elegance or contemporary flair, you'll find a piece that resonates with your personal style.
Luxury Watches: As an authorized retailer for renowned watch brands, Morgan Taylor's Jewelers presents an impressive selection of luxury timepieces for both men and women. From Swiss-made classics to cutting-edge designs, their collection represents the epitome of precision, craftsmanship, and style.
Custom Design Services: Recognizing that every individual has a unique vision when it comes to jewelry, Morgan Taylor's Jewelers offers custom design services. Their team of expert designers and artisans work closely with clients to bring their dream jewelry pieces to life. From concept development to the final creation, the process is guided by meticulous attention to detail, ensuring a truly one-of-a-kind masterpiece that reflects your personal style and sentiment.
Expert Jewelry Services: In addition to their impressive inventory and custom design services, Morgan Taylor's Jewelers provides a comprehensive range of expert jewelry services to ensure your cherished pieces are always in pristine condition. These services include:
Jewelry Repairs: Trust their skilled craftsmen to restore and repair your jewelry to its original glory. From ring resizing to gemstone replacement, their meticulous attention to detail guarantees a flawless result.
Appraisals: Morgan Taylor's Jewelers offers professional jewelry appraisal services to determine the value of your precious pieces for insurance purposes or estate planning.
Cleaning and Maintenance: Maintain the brilliance and luster of your jewelry with their professional cleaning and maintenance services. Their team will carefully inspect and clean your pieces, ensuring they continue to shine for generations to come.
Watch Servicing: Ensure the longevity and accuracy of your luxury timepiece with their expert watch servicing and repairs. From battery replacements to complete overhauls, their certified watchmakers will keep your watch running smoothly.
Exceptional Customer Service: At Morgan Taylor's Jewelers, customer satisfaction is of utmost importance. The dedicated and knowledgeable staff members are passionate about helping clients find the perfect piece of jewelry or assisting with any inquiries. They provide a warm and welcoming atmosphere, ensuring a personalized and memorable shopping experience. The team is well-versed in the intricacies of gemstones, metals, and design, allowing them to offer expert guidance and advice.
Community Involvement: Morgan Taylor's Jewelers takes pride in being an active participant in the Las Vegas community. They believe in giving back and supporting local charitable organizations, events, and initiatives. By forging strong relationships with the community, they strive to make a positive impact beyond the realm of fine jewelry.
Online Presence and E-Commerce: Recognizing the evolving needs of their clientele, Morgan Taylor's Jewelers has established a robust online presence. Their user-friendly website showcases their extensive inventory, allowing customers to explore and purchase their desired pieces from the comfort of their homes. The online platform also offers educational resources, such as guides on gemstone selection and care instructions, ensuring customers are well-informed during their jewelry-buying journey.
Industry Affiliations and Accreditation: As a testament to their commitment to excellence, Morgan Taylor's Jewelers maintains memberships in esteemed industry associations, including the Jewelers of America and the American Gem Society. These affiliations signify their adherence to ethical practices, industry standards, and ongoing education in gemology and jewelry design.
Conclusion: Morgan Taylor's Jewelers in Las Vegas represents a true gem in the world of fine jewelry. With their rich history, exceptional craftsmanship, diverse selection, and commitment to customer satisfaction, they have solidified their position as a premier destination for those seeking exquisite pieces and personalized service. Whether you're celebrating a special occasion, searching for the perfect engagement ring, or desiring a custom-designed masterpiece, Morgan Taylor's Jewelers is poised to exceed your expectations and create enduring memories through their timeless and elegant creations.