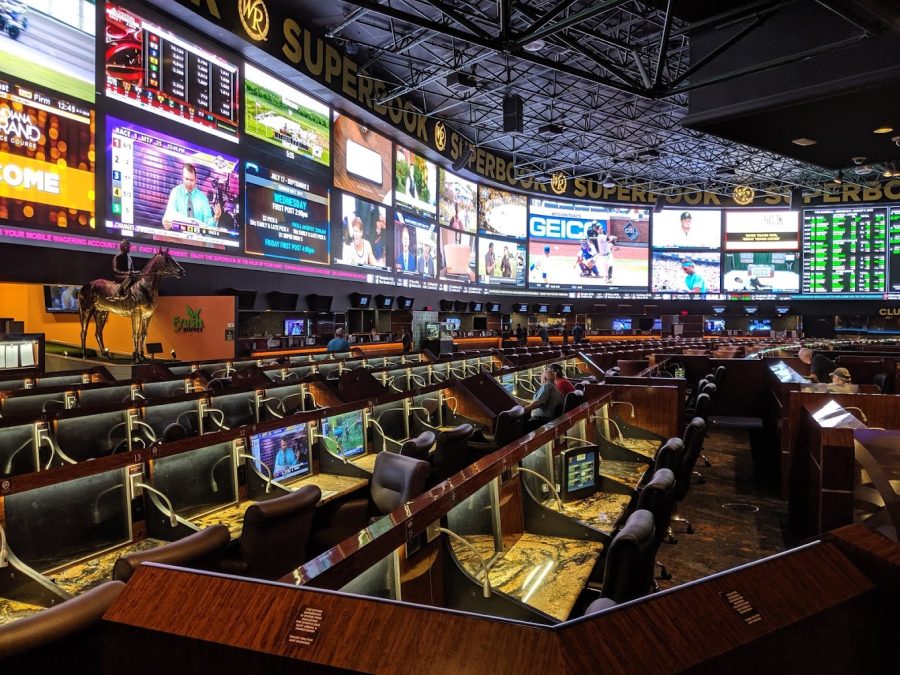 Westgate Sportsbook, located in Las Vegas, is one of the premier sports betting destinations in the city. Situated within the Westgate Las Vegas Resort & Casino, it offers a thrilling and immersive experience for sports enthusiasts and betting enthusiasts alike. With its expansive space, state-of-the-art facilities, and a wide range of betting options, Westgate Sportsbook has established itself as a go-to destination for sports wagering in Las Vegas.
Location: Westgate Sportsbook is conveniently located in the heart of the Las Vegas Strip at the Westgate Las Vegas Resort & Casino. The resort is situated at 3000 Paradise Road, Las Vegas, Nevada, and is easily accessible for both locals and tourists visiting the city.
Facilities: Spanning over 25,000 square feet, Westgate Sportsbook provides ample space for sports bettors to enjoy their favorite games and place their wagers. The sportsbook features a modern and comfortable design with numerous high-definition screens strategically placed throughout the venue, ensuring that visitors never miss a moment of the action.
Betting Options: Westgate Sportsbook offers a comprehensive range of betting options to cater to the diverse preferences of its customers. The sportsbook covers a wide variety of sports, including but not limited to football, basketball, baseball, hockey, soccer, golf, tennis, boxing, and MMA. Furthermore, it covers both professional and college-level sports, giving bettors a multitude of opportunities to place their bets.
In addition to traditional sports betting, Westgate Sportsbook also provides an array of betting formats such as moneyline bets, point spreads, over/under bets, futures bets, prop bets, and parlay bets. This extensive selection allows visitors to tailor their betting strategies to their liking and explore different wagering possibilities.
Events and Promotions: Westgate Sportsbook often hosts special events and promotions to enhance the betting experience for its customers. These events may include viewing parties for major sporting events like the Super Bowl or the World Cup, where visitors can watch the games on large screens with fellow sports enthusiasts. Promotions may include enhanced odds, bonuses, or contests that offer the chance to win exciting prizes.
Mobile Betting: To provide even greater convenience to its customers, Westgate Sportsbook offers a mobile betting platform. This allows visitors to place bets remotely from their smartphones or tablets, eliminating the need to be physically present at the sportsbook. The mobile betting platform is user-friendly, secure, and provides real-time updates on odds and game results.
Amenities and Accommodations: Being part of the Westgate Las Vegas Resort & Casino, Westgate Sportsbook benefits from the resort's numerous amenities and accommodations. Visitors can take advantage of the various dining options, bars, and lounges within the resort for a complete entertainment experience. The resort also offers comfortable hotel rooms, ensuring that guests have a convenient place to stay after an exciting day at the sportsbook.
Customer Service: Westgate Sportsbook prides itself on its exceptional customer service. The staff is knowledgeable, friendly, and readily available to assist visitors with any inquiries or assistance they may require. Whether it's explaining the betting process, providing guidance on wagering strategies, or resolving any issues, the customer service team is dedicated to ensuring a positive experience for all patrons.
Conclusion: Westgate Sportsbook in Las Vegas is a premier destination for sports betting enthusiasts, offering a wide range of betting options, state-of-the-art facilities, and a vibrant atmosphere. Its central location, extensive betting opportunities, and commitment to customer satisfaction make it a favorite among locals and tourists seeking an unforgettable sports wagering experience in Las Vegas.