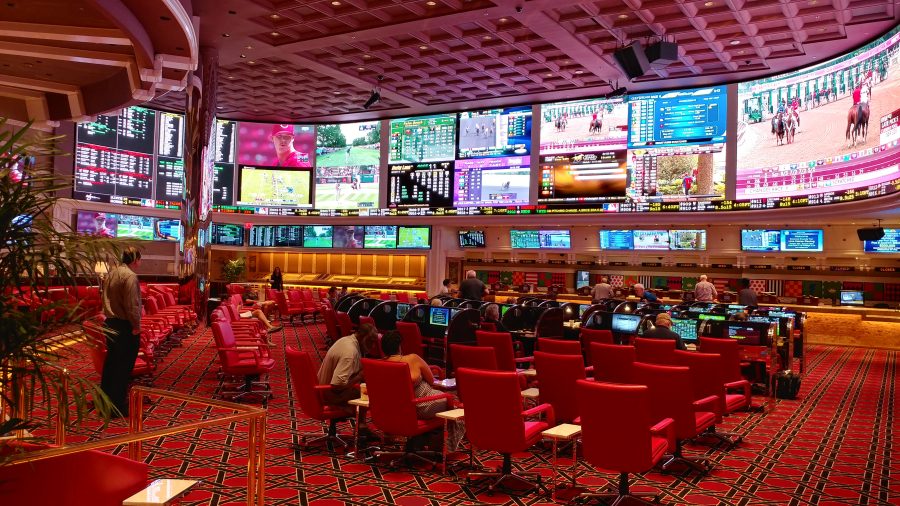 Sportsbooks in Las Vegas are an integral part of the city's vibrant gambling and entertainment scene. Known as the sports betting capital of the United States, Las Vegas offers a wide array of sportsbooks that cater to both casual bettors and professional gamblers. These establishments are renowned for their luxurious amenities, state-of-the-art technology, and unmatched sports betting experience. In this detailed profile, we will delve into the various aspects of sportsbooks in Las Vegas, including their history, features, and notable establishments.
History of Las Vegas Sportsbooks: Sports betting has a rich history in Las Vegas, dating back several decades. The development of modern sportsbooks can be attributed to the 1949 establishment of the first legal sportsbook at the Las Vegas Turf Club. Over the years, sports betting gained popularity, and numerous casinos began incorporating sportsbooks into their operations. In 1975, the landmark event occurred when the Stardust Resort and Casino introduced the concept of the "race and sportsbook," which combined horse racing and sports betting under one roof. This revolutionary approach laid the foundation for the modern sportsbook experience in Las Vegas.
Features and Amenities:
Expansive Screens and Viewing Areas: Sportsbooks in Las Vegas boast massive high-definition screens that display multiple games simultaneously. These screens are strategically placed to provide optimal viewing angles for all guests. The seating areas are designed to offer comfort and convenience, often featuring plush chairs, individual monitors, and ample space to relax and enjoy the action.
State-of-the-Art Betting Technology: Las Vegas sportsbooks utilize cutting-edge betting technology, including electronic odds boards, digital betting stations, and mobile betting applications. These innovations enable bettors to place wagers quickly and efficiently, with real-time updates on odds and results.
Diverse Betting Options: Las Vegas sportsbooks offer an extensive range of betting options to cater to all types of bettors. In addition to traditional moneyline, point spread, and over/under bets, you can find exotic bets, such as prop bets, futures, parlays, teasers, and more. The variety ensures that there is something for everyone, from seasoned sports bettors to novices.
VIP Lounges and Private Rooms: Some high-end sportsbooks in Las Vegas feature exclusive VIP lounges and private rooms for high-stakes bettors. These areas provide a more intimate and luxurious experience, often accompanied by personal attendants, private viewing screens, and enhanced amenities.
Food and Beverage Service: Sportsbooks understand the importance of keeping guests fueled and refreshed during their betting sessions. Many establishments offer food and beverage services, ranging from casual dining options to upscale restaurants and bars. Guests can enjoy a wide selection of cuisines, refreshing drinks, and even dedicated waitstaff at certain sportsbooks.
Notable Sportsbooks in Las Vegas:
Westgate Las Vegas SuperBook: Known as the "World's Largest Race and Sportsbook," the Westgate SuperBook is an iconic destination for sports bettors. It features a 25,000-square-foot facility with over 4,488 square meters of HD screens, making it a premier venue for sports enthusiasts. The SuperBook is renowned for its vast betting menu, including numerous prop bets and futures.
Caesars Palace: The sportsbook at Caesars Palace is a legendary establishment that combines elegance with a thrilling sports betting experience. With a massive 138-foot LED video wall and a multitude of betting stations, it offers a grand atmosphere for avid sports fans. Caesars Palace also provides private Fan Caves, where guests can enjoy an exclusive setting with personalized screens and game consoles.
MGM Grand: The Race & Sports Book at MGM Grand is a popular choice for sports bettors seeking a sophisticated ambiance. Boasting over 60 HD screens and a dedicated VIP area, the MGM Grand sportsbook provides a comfortable and stylish setting. The book also offers a unique feature called "The Moneyline," a sports bar and lounge that combines live sports viewing with food, drinks, and socializing.
Wynn Las Vegas: The sportsbook at Wynn Las Vegas is renowned for its luxurious setting and top-notch service. The elegant design, including a 1,600-square-foot wraparound LED video screen, creates an immersive experience for guests. The Wynn sportsbook also offers a mobile betting app, allowing patrons to place bets conveniently from anywhere on the premises.
The Venetian: The Venetian Race & Sports Book stands out with its extensive betting options and lavish surroundings. With numerous individual betting stations, large screens, and a spacious layout, it provides a comfortable and visually stunning environment. The Venetian sportsbook is also known for its high-end bar, where guests can enjoy craft cocktails while watching their favorite games.
Regulations and Responsible Gambling: It is essential to note that sportsbooks in Las Vegas operate under strict regulations enforced by the Nevada Gaming Control Board. These regulations ensure fairness, transparency, and responsible gambling practices. Sportsbooks are required to uphold integrity in sports betting, prevent underage gambling, and comply with anti-money laundering protocols. Furthermore, responsible gambling initiatives are prevalent in Las Vegas, with sportsbooks offering resources, information, and assistance for those who may need help with gambling-related issues.
Conclusion: Sportsbooks in Las Vegas are a quintessential part of the city's allure, providing an unparalleled sports betting experience in a luxurious and technologically advanced setting. With a rich history, diverse betting options, and notable establishments, Las Vegas sportsbooks continue to captivate both casual and professional sports bettors. As the sports betting industry evolves, these establishments strive to offer cutting-edge technology, exceptional amenities, and a commitment to responsible gambling, ensuring that Las Vegas remains the premier destination for sports betting enthusiasts.