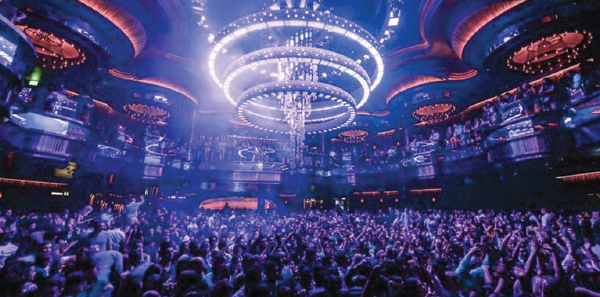 Omnia Nightclub, located in Las Vegas, is one of the most renowned and extravagant nightlife destinations in the world. Situated within the iconic Caesars Palace hotel and casino, Omnia offers an unforgettable clubbing experience that combines cutting-edge technology, world-class performances, and a luxurious atmosphere. This comprehensive profile will delve into the various aspects that make Omnia Nightclub a must-visit venue for partygoers and music enthusiasts.
Location and Design: Omnia Nightclub is situated on the Las Vegas Strip, occupying a prime spot within Caesars Palace. The club spans over 75,000 square feet, showcasing a multi-level layout that includes a main dance floor, multiple bars, VIP areas, and a mesmerizing rooftop terrace. The design of Omnia is a blend of opulence and modernity, featuring stunning LED screens, state-of-the-art lighting systems, and a breathtaking centerpiece chandelier that spans across the main dance floor.
Music and Performances: Omnia Nightclub hosts an impressive lineup of world-class DJs and artists who deliver exceptional performances. The club is renowned for its diverse music selection, catering to a wide range of tastes and genres, including electronic dance music (EDM), hip-hop, and mainstream hits. Some of the most prominent names in the music industry, such as Calvin Harris, Zedd, Tiësto, and Martin Garrix, have graced the decks at Omnia, ensuring an unforgettable night filled with energetic beats and crowd-pleasing tracks.
Main Room: The main room at Omnia Nightclub is the heart of the venue. It features a massive dance floor surrounded by VIP tables, providing an immersive and energetic setting for partygoers. The state-of-the-art sound system amplifies the music, ensuring every beat is felt throughout the venue. The LED screens and lighting effects synchronize with the music, creating a visually stunning experience that complements the music perfectly.
Terrace: Omnia's outdoor terrace offers a unique clubbing experience with panoramic views of the Las Vegas Strip. The terrace is lavishly decorated and equipped with comfortable seating areas, VIP tables, and a dedicated bar. It provides an ideal space for socializing, enjoying a breath of fresh air, and taking in the vibrant atmosphere of the city while still being part of the club's electrifying ambiance.
Heart of Omnia: A distinct feature of Omnia Nightclub is the Heart of Omnia, an intimate and exclusive area located just off the main room. The Heart of Omnia is a separate room with its own DJ booth and dance floor, offering a more private and upscale experience for VIP guests. It is exquisitely designed with luxurious furnishings and a unique lighting system, creating an intimate and sophisticated atmosphere.
VIP Experience: Omnia Nightclub offers an unparalleled VIP experience for those seeking an elevated level of service. VIP guests have access to dedicated seating areas, private tables, and bottle service. The VIP sections provide a heightened sense of exclusivity and luxury, with top-notch amenities and personalized attention from professional staff members.
Special Events and Occasions: Omnia Nightclub frequently hosts special events and themed parties, adding an extra layer of excitement to the nightlife scene in Las Vegas. From celebrity-hosted parties to holiday celebrations and special performances, there's always something unique happening at Omnia. These events often feature enhanced production elements, including captivating stage setups, live performances, and immersive visual effects.
Dress Code and Entry Policy: Omnia Nightclub enforces a dress code to maintain a sophisticated atmosphere. The dress code typically includes stylish and fashionable attire, avoiding overly casual clothing such as athletic wear, baggy jeans, or flip-flops. It is recommended to check the club's official website or contact them directly for the most up-to-date information on the dress code and entry policy.
Overall Experience: Omnia Nightclub offers an unparalleled clubbing experience, combining world-class music, stunning visuals, and a luxurious environment. Whether you're a dedicated music lover, a social butterfly, or simply looking to indulge in Las Vegas' vibrant nightlife, Omnia provides an unforgettable night out. With its prime location, top-tier performances, and attention to detail in every aspect, Omnia Nightclub stands as a pinnacle of entertainment and remains an iconic destination in the heart of the Las Vegas Strip.