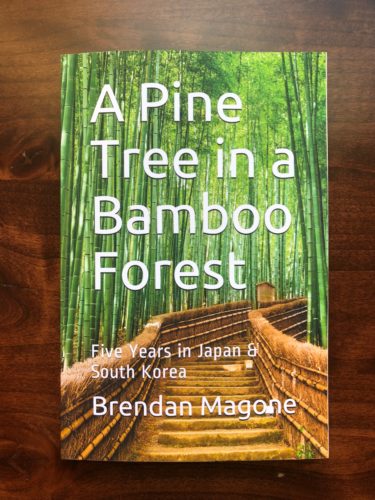 A Pine Tree in a Bamboo Forest:  Five Years in Japan & South Korea, new nonfiction by writer Brendan Magone, has garnered positive reviews and ratings on Amazon books. It has received all five-star ratings, posted below:
"Like all great writers, Magone inspires."
Brendan Magone deftly captures the experience of immersing oneself in vastly different cultures — a pine tree among bamboo, a young man from Montana in Japan and then South Korea.
Teaching English in the far east, he compellingly describes the experience of living day to day in foreign lands, adapting to strange customs, learning to eat and enjoy exotic foods, and finding friendship, even love, among the natives and other transplanted Westerners.
This book is a must-read for anyone contemplating giving in to wanderlust and spending serious time in a part of the world so alien. Perhaps most riveting is his unflinching account of succumbing to the addiction of online gambling. What starts as an innocent way to find comfort in the familiar by connecting with others over virtual hands of Texas Hold 'em ends up costing him thousands of dollars.
Never boring, always insightful, Magone, like all great writers, tells it like it is, inspiring us to get outside the proverbial box of what we know and experience what truly must be lived to be known.
–Gregg Hamm
"Fitting Title!"
A very personal, entertaining memoir of a Montana native's perspectives and experiences teaching English & living abroad in Japan and Korea. I especially enjoyed the essay "Wounded Tigers" and the short story "Mountains as Shields". I also liked the future insights in italics scattered amongst the journal highlights.
–Amazon Customer
"Highly Recommend"
I enjoyed reading this book. Highly recommend to anyone interested in Asian lifestyle, especially in comparison to American, and
Western values and customs.
–Nataly Khanoukhova
"A River Runs Through a Cultural Zen Garden"
This is a wonderful slice of time and place. It looks at the culture and atmosphere of Japan and Korea from the perspective of a rural Montanan. Covering his years teaching and exploring Asia, with fun stories and anecdotes about the women he met and befriended along the way. If you are considering visit Asia, for more than a bus tour of the great wall of China this book will be an enjoyable read, what it's like spending years deeply living in Asian Culture.
–B. Knowlton
"A Montana man experiences the highs and lows of the Far East"
A concise memoir of travels in Japan and Korea as well as the author's homeland of Montana… Brendan has lived the adventure and you can experience the wonders of the East along with him as well as the complexities and emotional experience of being a stranger in a strange land… the disorientation and loneliness inherent in the experience forced him to look for the deeper meanings in his life and relationships as well as take desperate measures throughout his time in Asia…. these Adventures will inspire the reader to travel, even if only from the comfort of their armchair.
–Aaron Williams
"Warts and all"
Great writing and insight into an American's struggle to fit in and understand Asian culture. Comparison's to life in America with our wide open spaces and high crime rates to Asia's mores.
–Marybeth Josey
"Great Book"
Very interesting account of life in a foreign country. I enjoyed reading about some of the cultural differences and the struggles of an American trying to fit in.
–Jessie Case
Read all reviews for A Pine Tree in a Bamboo Forest on Amazon