What's rich, creamy, delicious and luxurious?
What boosts endorphins, contains antioxidants, enhances mood, comes wrapped like silver and gold ingots in an elegant velvet box, and pairs perfectly with various food, drink, and cigars?
DeSage Chocolates. Our top pick for chocolate! Featuring milk chocolate, dark chocolate, with hazelnuts or without. The mouth-watering creation of Ramon DeSage, Founder and CEO of Cadeau Express.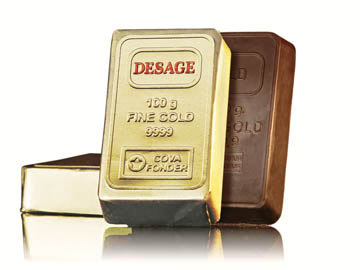 I first met Ramon DeSage while enjoying a drink at La Casa in Tivoli Village. There was an event promoting his chocolate and nuts. My friend Roy patted me on the shoulder, saying "Brendan, you must meet Ramon, Ramon DeSage." I wheeled around to see a Middle-Eastern man observing me with a friendly smile and penetrating gaze. His eyes shone bright, as if about to tell me a tale from A Thousand and One Arabian Nights. I asked "How are you?" and held out my hand. He replied "aging," then took my hand. I laughed, then tried to withdraw my hand, but he held firm. I laughed again. He wore a dark Italian suit with polished, camel-colored shoes. I said, "You seem like a classy Rodney Dangerfield." He replied, "I'm better." I laughed a third time.
And so the night went on, in the swank lounge at La Casa, with Ramon telling stories worthy of Arabian Nights, amazing his large group of listeners while also making them laugh.
A consummate host of Lebanese descent, Ramon entertained us while La Casa served delicious chocolate and signature mixed nuts. Ramon doesn't go to parties. He is the party. He is the center which people orbit. I've met many famous and rich people in my day, but none so accessible, engaging, humorous, and well-spoken on world affairs. He is a product of a thorough education, which included the prestigious French university the Sorbon, akin to Harvard and Cambridge. He is book-smart, street-smart, and extremely well-traveled. No one in our group wanted to leave; and in fact we stayed several hours, talking, laughing, eating chocolate, smoking cigars, discussing politics and religion and business. Such topics are usually prickly, but Ramon had a way of smoothing them out.
And yes, the chocolate is fantastic. Many of the big hotels have been carrying his chocolate and signature nuts for decades. He told stories of working with Steve Wynn and several casino juggernauts, of rubbing elbows with world leaders, international businessmen, actors, and famous athletes. Ramon has lived in Las Vegas since 1977. Pictured below is Sylvestor Stallone, Ramon Desage, and Simon Cowell.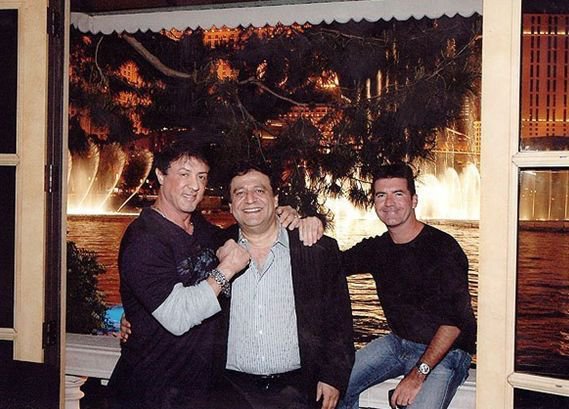 Throughout the evening, Ramon peppered the group discussion with wise proverbs and witty expressions. "I don't point. I pinpoint." "You can't be the butcher and eat the steak." "Dialogue is better than monologue."
Around midnight, one of La Casa's guests stood up and put on her coat. She looked at Ramon and said, "Thank you so much. I must go since I have to work early in the morning." Ramon replied, deadpan, "Thank God." Everyone laughed. She then said, "Okay call me soon?" He said "Sorry, I'm overbooked." Everyone laughed again.
According to people close to him, Ramon has been charitable his entire life, not just to people, but to all kinds of organizations like Red Cross, Easter Seals, Rescue Mission, and religious charities. I plan to write more on his philanthropy soon. And on his amazing life. Below is one of several pictures he has with Muhammad Ali.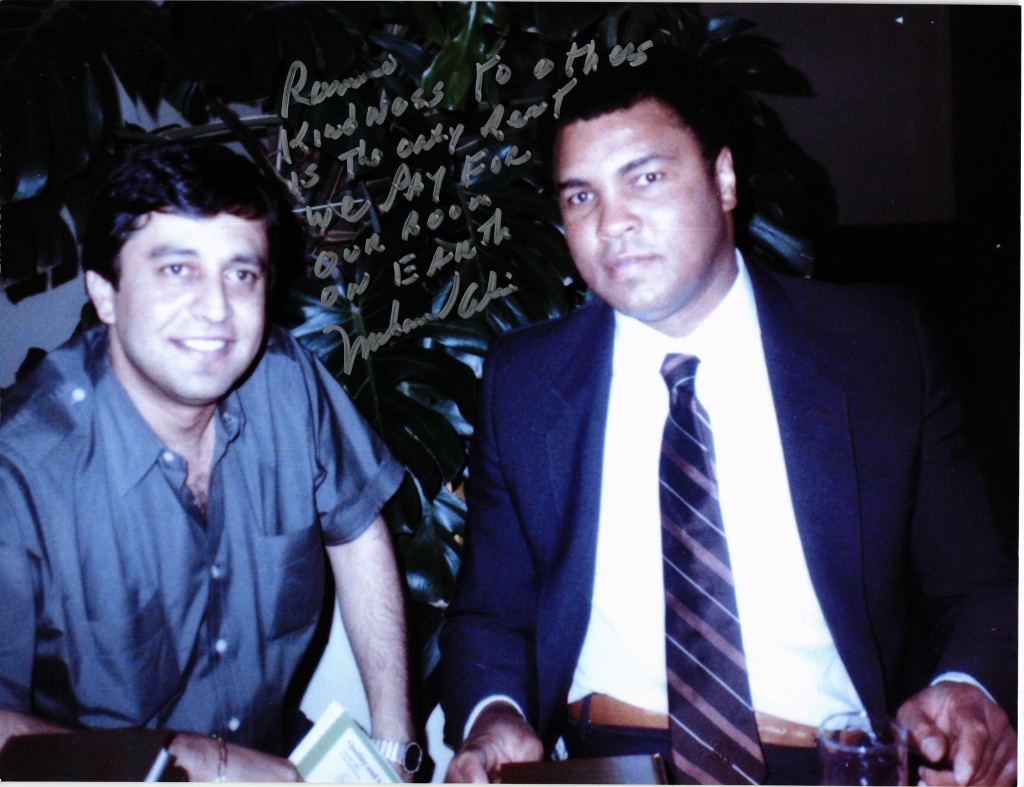 As people walked out of La Casa, Ramon was busy slipping DeSage Chocolates into people's pockets while making them laugh.
What a sweet guy.