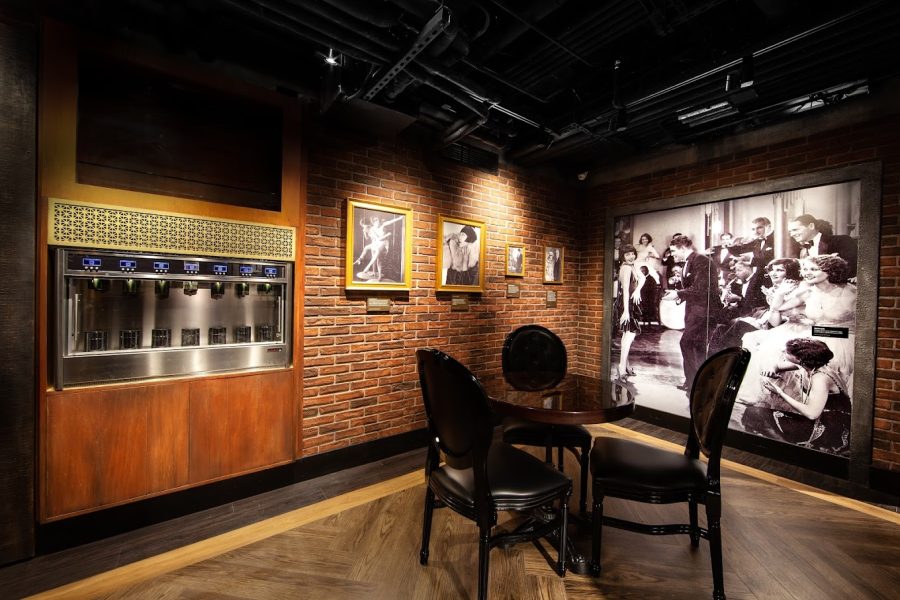 Underground Lounge Sports Bar at The Mob Museum: An Exclusive Experience
Contact Information:
Name: Underground Lounge Sports Bar
Location: The Mob Museum, 300 Stewart Avenue, Las Vegas, NV 89101
Phone: (702) 229-2734
Website: www.themobmuseum.org
Introduction: Welcome to the Underground Lounge Sports Bar, an extraordinary venue nestled within The Mob Museum in the heart of Las Vegas. This unique sports bar offers an immersive experience, combining the excitement of a lively sports bar atmosphere with the intrigue and history of organized crime. Step into the world of the Prohibition era and indulge in a one-of-a-kind journey where delicious food, refreshing drinks, and thrilling sports come together in perfect harmony.
Atmosphere and Decor: The Underground Lounge Sports Bar transports guests back in time to the 1920s and 1930s, the era when mobsters thrived. As you enter, you'll be immediately captivated by the speakeasy ambiance, exuding a sense of mystery and excitement. The bar is meticulously designed with attention to detail, featuring exposed brick walls, vintage wallpaper, and dim, ambient lighting. The decor showcases period-inspired memorabilia, such as vintage photographs, antique liquor bottles, and authentic Prohibition-era artifacts, creating an immersive environment that will transport you to a bygone era.
Seating and Layout: The Underground Lounge Sports Bar offers a variety of seating options to suit different preferences. You can choose from cozy booths, high-top tables, or pull up a seat at the long, classic wooden bar. The seating is designed to provide an intimate and comfortable experience, allowing guests to socialize, watch sports, or simply relax while soaking in the historical atmosphere.
Hours of Operation: The Underground Lounge Sports Bar operates with the following hours:
Monday: 4:00 PM – 12:00 AM
Tuesday: 4:00 PM – 12:00 AM
Wednesday: 4:00 PM – 12:00 AM
Thursday: 4:00 PM – 12:00 AM
Friday: 4:00 PM – 2:00 AM
Saturday: 12:00 PM – 2:00 AM
Sunday: 12:00 PM – 12:00 AM
Menu Highlights: The menu at the Underground Lounge Sports Bar is crafted to satisfy a wide range of tastes, offering a delectable selection of dishes inspired by the flavors of the Prohibition era. The culinary team takes pride in using locally sourced ingredients to create unique and mouthwatering creations. Here are some menu highlights that will surely tantalize your taste buds:
Mobster Nachos: A generous portion of crispy tortilla chips topped with savory ground beef, melted cheese, jalapenos, black olives, and tangy salsa. Served with a side of guacamole and sour cream.
Capone's Meatball Sliders: Tender meatballs made from a secret family recipe, smothered in rich marinara sauce, and served on soft mini buns. Accompanied by melted mozzarella cheese and a sprinkle of fresh basil.
Gangster Grilled Cheese: A gourmet twist on a classic comfort food. This grilled cheese sandwich features a blend of melted cheddar, Swiss, and provolone cheeses with crispy bacon and caramelized onions, served on toasted artisan bread.
Bootlegger Burger: A juicy Angus beef patty grilled to perfection, topped with melted American cheese, crispy bacon, lettuce, tomato, and a tangy secret sauce. Served with a side of crispy shoestring fries.
Prohibition Punch: This signature drink pays homage to the era with a blend of dark rum, fresh fruit juices, grenadine, and a hint of spice. Served over ice and garnished with a citrus twist.
Moonshine Mule: A classic cocktail with a twist. This refreshing concoction combines moonshine, ginger beer, fresh lime juice, and a dash of bitters, served in a copper mug with a sprig of mint.
Tommy Gun Tacos: A flavorful twist on traditional tacos, featuring seasoned grilled chicken or beef, topped with shredded lettuce, diced tomatoes, shredded cheese, and a drizzle of tangy chipotle sauce. Served with a side of house-made salsa.
The Untouchable Salad: A refreshing salad bursting with flavor. Mixed greens are tossed with fresh berries, candied pecans, crumbled goat cheese, and a champagne vinaigrette, creating a delightful combination of sweet and savory.
Cannoli Cigar Roll-ups: A sweet treat inspired by traditional Italian desserts. These delicate pastry cigars are filled with a rich and creamy cannoli filling, dusted with powdered sugar, and served with a side of chocolate dipping sauce.
Live Sports and Entertainment: At the Underground Lounge Sports Bar, you can catch all the major sporting events on multiple large high-definition screens strategically placed throughout the venue. The state-of-the-art audio-visual system ensures that you won't miss a moment of the action. Cheer for your favorite team while enjoying the immersive atmosphere and the camaraderie of fellow sports enthusiasts. The bar occasionally hosts live entertainment, such as jazz bands and guest DJs, to enhance the overall experience.
Private Events and Group Reservations: The Underground Lounge Sports Bar offers the option to host private events, making it an ideal venue for corporate gatherings, birthday parties, or special celebrations. Whether you're planning a small gathering or a large-scale event, the dedicated event planning team can customize the experience to suit your needs. From personalized menus to tailored entertainment options, they ensure a memorable and unforgettable occasion.
Conclusion: The Underground Lounge Sports Bar at The Mob Museum in Las Vegas provides a truly unique and immersive experience for sports fans, history enthusiasts, and anyone seeking a memorable night out. With its nostalgic ambiance, delicious menu offerings, handcrafted cocktails, and an array of refreshing beverages, this hidden gem captures the spirit of the Prohibition era while delivering an unforgettable time. Come and indulge in the excitement, revelry, and intrigue that can only be found in this extraordinary sports bar.