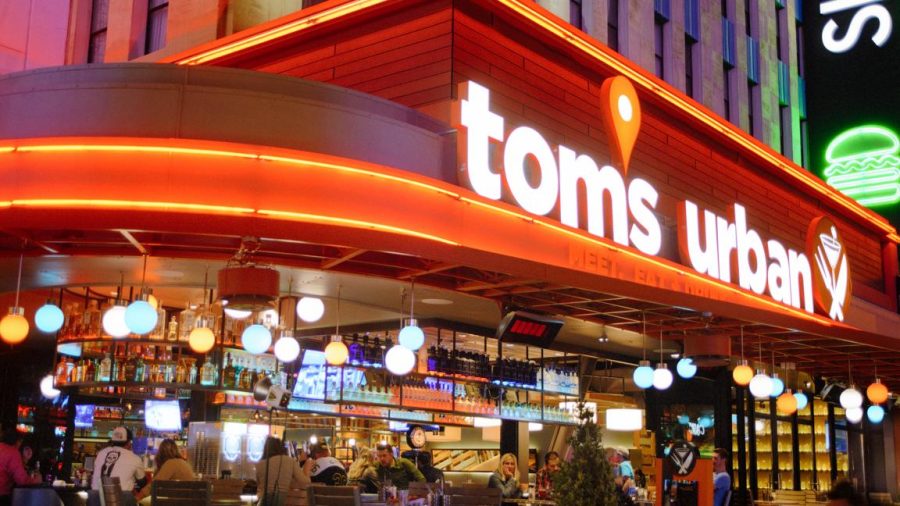 Tom's Urban Sports Bar at New York-New York Hotel in Las Vegas
Contact Information:
Address: 3790 S Las Vegas Blvd, Las Vegas, NV 89109
Phone: +1 (702) 740-6766
Website: www.tomsurban.com
Introduction: Tom's Urban Sports Bar is a vibrant and energetic restaurant located within the iconic New York-New York Hotel in Las Vegas. With its lively atmosphere, extensive menu, and impressive selection of drinks, Tom's Urban is the perfect spot for sports enthusiasts, food lovers, and those seeking a memorable dining experience in the heart of the Las Vegas Strip.
Atmosphere and Design: Upon entering Tom's Urban, guests are greeted by a stylish and contemporary ambiance. The bar features a sleek and modern design with a blend of industrial and urban elements, creating a visually appealing and comfortable space. The venue is equipped with numerous large-screen televisions strategically placed throughout, ensuring that guests never miss a moment of their favorite games.
Hours of Operation:
Sunday to Thursday: 11:00 AM to 12:00 AM
Friday and Saturday: 11:00 AM to 2:00 AM
Menu Highlights: Tom's Urban offers a diverse menu that caters to various tastes and preferences. Here are some menu highlights:
Appetizers:

Urban Nachos: A generous portion of tortilla chips topped with melted cheese, jalapeños, pico de gallo, guacamole, and sour cream.
Buffalo Wings: Classic chicken wings tossed in a choice of tangy buffalo sauce, sweet chili glaze, or honey barbecue sauce.

Burgers and Sandwiches:

Tom's Classic Burger: A juicy beef patty topped with cheddar cheese, lettuce, tomato, red onion, and pickles, served on a brioche bun.
The Big Stack Reuben: A towering sandwich filled with corned beef, sauerkraut, Swiss cheese, and Russian dressing, served on grilled rye bread.

Pizza and Pasta:

Margherita Pizza: A traditional Neapolitan-style pizza topped with fresh mozzarella, basil, and San Marzano tomato sauce.
Spaghetti Bolognese: Al dente spaghetti tossed in a rich meat sauce made with ground beef, tomatoes, herbs, and Parmesan cheese.

Main Entrées:

New York Strip Steak: A succulent 12-ounce steak cooked to perfection and served with a choice of side dish.
Grilled Salmon: Fresh Atlantic salmon fillet grilled and served with a lemon-dill sauce, accompanied by seasonal vegetables.

Craft Cocktails:

Tom's Classic Margarita: A refreshing blend of tequila, triple sec, lime juice, and agave nectar, served on the rocks with a salt rim.
Urban Mule: A twist on the classic Moscow Mule, featuring vodka, ginger beer, lime juice, and a splash of cranberry.
Conclusion: Tom's Urban Sports Bar at New York-New York Hotel is a vibrant and dynamic destination for sports enthusiasts and food lovers alike. With its stylish design, extensive menu, and energetic atmosphere, it provides a memorable experience for those seeking delicious food, exciting sports action, and an enjoyable time in the heart of Las Vegas. Whether you're looking for a casual lunch, a place to catch a game, or a lively evening out, Tom's Urban is a top choice.