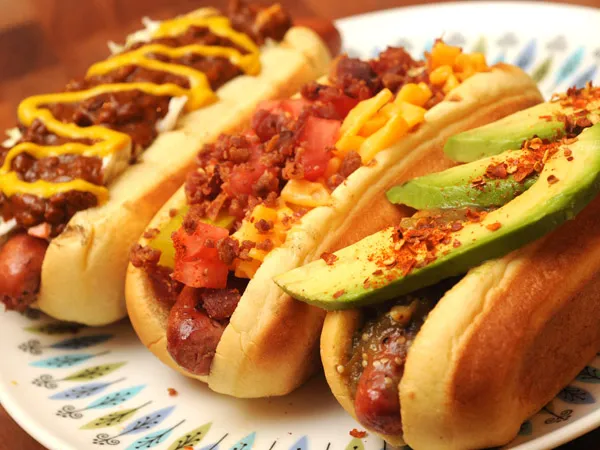 Top Ten Places in Las Vegas to Get a Great Hot Dog
Las Vegas, known for its vibrant nightlife and world-class entertainment, is also a hub for culinary delights. While the city boasts a wide range of dining options, sometimes all you need is a good old-fashioned hot dog. Whether you're a local or a tourist looking to satisfy your hot dog craving, here are the top ten places in Las Vegas where you can indulge in this classic American treat.
1. Pink's Hot Dogs Address: 3667 S Las Vegas Blvd, Las Vegas, NV 89109
Pink's Hot Dogs, a beloved Los Angeles institution, has made its way to the Las Vegas Strip. Their menu features a variety of hot dogs, including the famous "Chili Cheese Dog" and the "Huell Howser Dog" named after the legendary California TV personality. Don't miss their loaded fries and onion rings.
2. Dirt Dog Address: 8390 S Rainbow Blvd #100, Las Vegas, NV 89139
Dirt Dog takes hot dogs to the next level with creative toppings and flavorful combinations. Try the "Green Dog" with bacon, grilled peppers, and guacamole, or the "Dirty Chili Dog" for a spicy kick. Their specialty drinks, like the "Pineapple Express," perfectly complement the bold flavors.
3. Chicago Tasty Dogs Address: 9711 S Eastern Ave, Las Vegas, NV 89183
If you're craving an authentic Chicago-style hot dog, look no further than Chicago Tasty Dogs. This cozy spot offers hot dogs topped with classic ingredients like sport peppers, celery salt, and bright green relish. The "Chicago Combo" includes a hot dog and a side of fries.
4. Buldogis Gourmet Hot Dogs Address: 2291 S Fort Apache Rd #102, Las Vegas, NV 89117
Buldogis is known for its fusion of Korean and American flavors. Try the "Bulgogi Dog" with marinated beef, kimchi, and spicy mayo or the "Banh Mi Dog" inspired by the Vietnamese sandwich. Their diverse menu ensures there's something for everyone.
5. Cheffini's Hot Dogs Address: 1020 Fremont St, Las Vegas, NV 89101
Located in the heart of Downtown Las Vegas, Cheffini's offers gourmet hot dogs with a twist. The "Pear Dog" is a fan favorite, featuring bacon-wrapped pears, cream cheese, and balsamic glaze. For dessert, try their unique churro dog.
6. Dog Haus Biergarten Address: 4480 Paradise Rd, Las Vegas, NV 89169
Dog Haus combines the best of hot dogs and craft beer. Choose from a variety of sausages and dogs, including the "The Fonz" with pastrami and Swiss cheese. Their extensive beer selection complements the flavors perfectly.
7. Buldogis Unleashed Address: 2291 S Fort Apache Rd #101, Las Vegas, NV 89117
Buldogis Unleashed is the food truck extension of Buldogis Gourmet Hot Dogs, offering the same delicious creations on the go. Follow their social media for updates on their location, and don't miss their "Sisig Dog" with Filipino-inspired toppings.
8. Haute Doggery Address: 3545 S Las Vegas Blvd #L-25, Las Vegas, NV 89109
Located in The Linq Promenade, Haute Doggery specializes in gourmet hot dogs and sausages. Try the "L.A. Street Dog" with bacon, grilled peppers, and onions, or the "The Texas Tommy" wrapped in bacon and topped with chili and cheese.
9. Naked City Pizza Address: 3240 S Arville St, Las Vegas, NV 89102
Known for its pizza, Naked City Pizza also offers some exceptional hot dogs. The "Naked Dog" is a standout, featuring a beef hot dog wrapped in bacon and topped with grilled onions, jalapeños, and their secret sauce.
10. Biker Jim's Gourmet Dogs Address: 3455 S Las Vegas Blvd, Las Vegas, NV 89109
Last but not least, Biker Jim's is a renowned hot dog spot originating from Denver, Colorado. Their exotic sausages range from reindeer and pheasant to rattlesnake and wild boar. Don't miss the "Elk Jalapeño Cheddar" for a unique and delicious experience.
Whether you prefer classic hot dogs or want to explore creative and exotic flavors, Las Vegas has a hot dog joint for every taste. From food trucks to gourmet restaurants, these top ten places offer a diverse array of hot dog options that will satisfy any craving. So, next time you're in Sin City, be sure to embark on a hot dog adventure and taste the flavors that make Las Vegas a culinary destination.