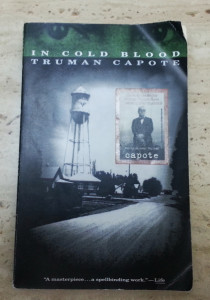 Truman Capote, one of the finest writers of the 20th Century, kick-started the nonfiction movement with this comprehensive account of a 1959 murder of a small town family. He spent roughly six years working on the book, interviewing hundreds of people connected to the case, including the two killers, who were ultimately hanged. His childhood friend, and fellow author Harper Lee (To Kill a Mockingbird), helped him with a good portion of the interviews and research. Four lives were sadly snuffed out, father, mother, daughter of sixteen, and son of fifteen. They were all beloved members of their community.
I've read it twice, finishing the second reading two days ago. The finished product provides dark–and empathetic–insights into human nature, along with being a masterwork of writing. You get to know the Kansan town, community, friends, neighbors, the family tragically murdered, the police officers and detectives hunting the killers, and even the two killers and families of the killers. It also sheds early light on our understanding of mental illness and psychosis and how it can amplify to tragic violence. By the end of the book, my opinion hadn't changed; I still preferred the two killers executed, and with minimal cost to the greater public; yet I also learned to empathize with them, and I could see from where much of their violence originated and how it perpetuated.
The movie is good, with Philip Seymour Hoffman, but as usual, the book is five times better.
Truman Capote also wrote "Breakfast at Tiffany's," which starred Audrey Hepburn in the film.