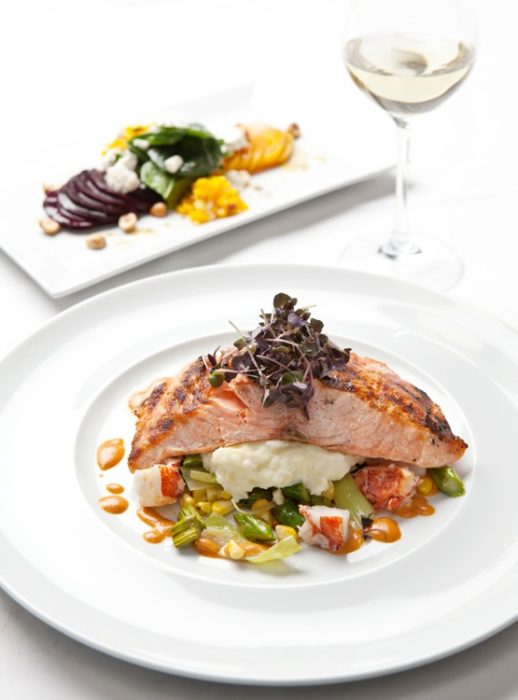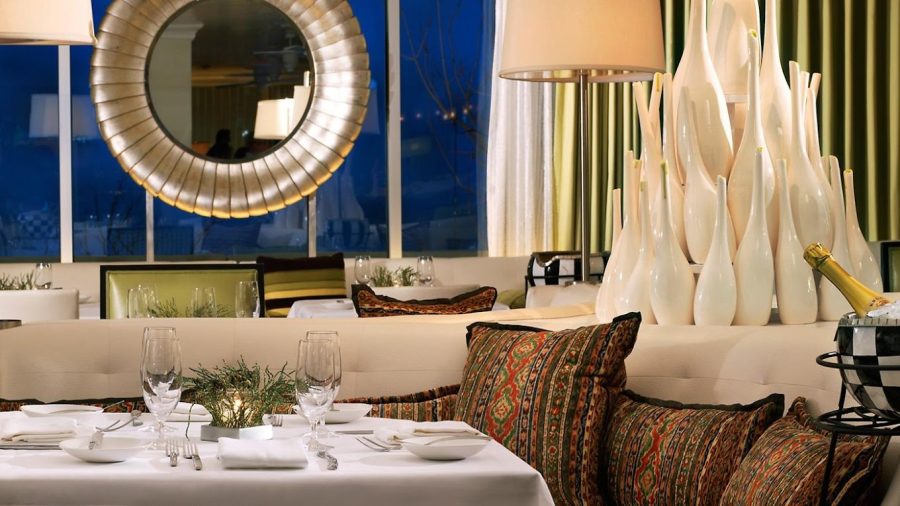 Vintner Grill: Where Class Meets Taste.
Nestled in the heart of the upscale Summerlin community in Las Vegas, Vintner Grill stands as a gastronomic oasis, offering a harmonious blend of delectable cuisine, exceptional wines, and a warm ambiance. With its dedication to culinary excellence and impeccable service, Vintner Grill has become a cherished destination for locals and visitors alike. This detailed profile will illuminate the restaurant's unique attributes, menu highlights, drink offerings, and more.
Hours:
Lunch – Monday to Friday (11am – 3pm)
Dinner – Monday to Saturday (4pm – 9pm)
Dinner – Sunday (4pm – 8:30pm)
Address and Contact Information: Vintner Grill 10100 W. Charleston Blvd. Las Vegas, NV 89135 Phone: (702) 214-5590 Website: https://vglasvegas.com/.
Ambiance and Atmosphere: Stepping into Vintner Grill is like entering a refined yet welcoming retreat. The restaurant boasts a rustic yet contemporary interior, adorned with warm earth tones, exposed brick walls, and tasteful artwork. The spacious patio, adorned with twinkling lights, offers a charming al fresco dining experience. Whether for a romantic dinner, a casual gathering, or a celebratory event, Vintner Grill's ambiance sets the stage for an unforgettable dining experience.
Culinary Offerings: Vintner Grill's culinary offerings are a celebration of seasonal ingredients and inventive techniques, skillfully crafted by Executive Chef [Chef's Name]. The menu features a diverse range of dishes, from contemporary American fare to globally inspired creations. Notable menu highlights include:
Grilled Spanish Octopus: Tender octopus is grilled to perfection, complemented by citrus-infused olive oil, smoked paprika, and a touch of sea salt.
Wild Mushroom Risotto: Creamy Arborio rice is infused with the rich flavors of wild mushrooms, finished with truffle essence and Parmesan shavings.
Pan-Seared Sea Bass: Delicate sea bass is pan-seared to achieve a crispy exterior and tender interior, accompanied by a citrus beurre blanc and seasonal vegetable medley.
Braised Short Rib: Succulent short ribs are slow-braised to achieve melting tenderness, served atop a bed of garlic mashed potatoes, and garnished with gremolata.
Drink Highlights: Vintner Grill's extensive drink menu showcases a curated selection of wines, handcrafted cocktails, and artisanal beers. Their resident sommelier ensures that each wine is thoughtfully chosen to enhance the dining experience. Notable drink highlights include:
Vintner's Reserve Wine Flights: Enthusiasts can embark on a journey of palate exploration with curated wine flights, featuring varietals from renowned wineries in both domestic and international regions.
Signature Cocktails: The mixology team at Vintner Grill crafts inventive cocktails that marry classic flavors with modern twists. The "Summerlin Sunset" blends fresh berries, citrus vodka, and a hint of elderflower liqueur for a refreshing sip of summer.
Local Craft Beers: The restaurant pays homage to its locality by offering a rotating selection of craft beers from Las Vegas-based breweries, providing a taste of the region's brewing creativity.
Private Events and Catering: Vintner Grill offers an ideal venue for private events and gatherings. Whether it's an intimate wedding reception, a corporate luncheon, or a milestone celebration, the restaurant's event coordinators work closely with clients to tailor menus and create memorable experiences.
Conclusion: Vintner Grill stands as a culinary jewel in the Summerlin area of Las Vegas, beckoning connoisseurs and casual diners alike to indulge in a symphony of flavors and experiences. With its inviting ambiance, innovative cuisine, thoughtfully curated drink selection, and commitment to exceptional service, Vintner Grill continues to carve a remarkable space in the vibrant Las Vegas dining scene.