Main Event Dates Remain July 5-14; $10 Million 1st Place Guarantee Removed
After 5% Entrant Increase in 2014, Organizers Looks to Spur More Growth
LAS VEGAS (Jan. 27, 2015) – The World Series of Poker has made a change to its payout structure for the Main Event, replacing the $10 million first place guarantee in favor of guaranteeing 1,000* places receiving winnings.
"The dream of life-changing money is core to the DNA of the WSOP Main Event and we also want to make it easier to experience playing in poker's Big Show," said WSOP Executive Director Ty Stewart.  "Our players understand numbers, and 2015 now presents the best odds ever to leave the Main Event a winner."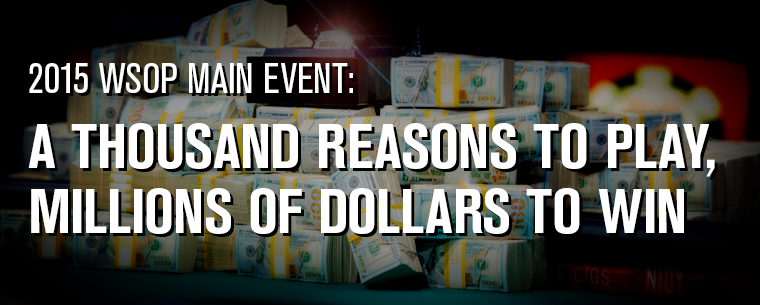 With a strategy to more broadly distribute the prize pool, the WSOP Main Event will still award a massive prize to its Champion. If participation numbers are the same as 2014 (6,683) the 2015 winner would receive $8,000,000, a prize consistent to winners of the past decade before last year's $10 million first place prize to commemorate the 10th anniversary of the event at the Rio. In addition, all final table participants would receive at least $1 million.
Using the 2014 Main Event entry number – 6,683 entries – the 2015 Main Event payout structure would look like this: (It is important to note the final payout structure will be determined based on number of 2015 entries) •    1st place: $8,000,000 •   2nd place: $4,663,527 •   3rd place: $3,500,000 •    4th place: $2,750,000 •    5th place: $2,000,000 •    6th place: $1,500,000 •    7th place: $1,250,000 •    8th place: $1,100,000 •    9th place: $1,000,000 •   10-12th place: $550,000 •    50th place: $142,500 •    100th place: $50,000 •    500th place: $20,850 •    693rd place: $16,750 (last year's last paid place) •   694-1,000 place: $15,000
The WSOP recognizes the Main Event is a unique tournament onto itself, given the highly international field, percentage of repeat players and lofty $10,000 buy-in. The WSOP believes paying a higher percentage of players in this particular event, (based on last year's entry figure would be akin to 15 percent of the field – nearly 50% more players than previously) will encourage both new and repeat participation for the Main Event, and thus an increased prize pool.
The world's longest-running poker tournament — the $10,000 buy-in No-Limit Hold'em WSOP Main Event championship — runs over ten consecutive days from July 5 – July 14, 2015 and will feature three starting flights –  Sunday, July 5; Monday, July 6; and Tuesday, July 7.
The average WSOP gold bracelet event in 2014 featured a $3,503,275 prize pool with $792,504 going to the event's winner. The 2014 WSOP featured all of the Top 5 field sizes of the year with the Main Event (6,683 entries), Millionaire Maker (7,977), Monster Stack (7,863), Little One for ONE DROP (4,496) and Seniors Event (4,425 entries) combining to attract a staggering 31,444 entries.
The 2014 WSOP attracted 82,360 participants – the largest attendance in the WSOP's 45-year history – in a total of 65 events, generating a prize pool of more than $227 million. Participants in WSOP events hailed from 110 countries in 2014. The WSOP Main Event, won by Sweden's Martin Jacobson this year, attracted 6,683 players and awarded Jacobson $10,000,000.
The current slate of individual events offered during the 46th Annual WSOP is almost finalized, with 60+ official gold bracelet events on tap and will be announced in full in the coming days.
* The event must have a minimum 5,000 entrants in order to pay 1,000 places.
About the World Series of Poker The World Series of Poker® is the largest, richest and most prestigious gaming event in the world, having awarded more than $2 billion in prize money  and the prestigious gold bracelet, globally recognized as the sport's top prize. Featuring a comprehensive slate of tournaments in every major poker variation, the WSOP is poker's longest-running tournament in the world, dating back to 1970. In 2014, the event attracted 82,360 entrants from 110 different countries to the Rio All-Suite Hotel & Casino in Las Vegas, and awarded more than $227 million in prize money. In addition, the WSOP has formed groundbreaking alliances in broadcasting, digital media and corporate sponsorships, while successfully expanding the brand internationally with the advent of the World Series of Poker Europe in 2007 and the World Series of Poker Asia-Pacific in 2013. For more information on the World Series of Poker, please visit www.wsop.com.