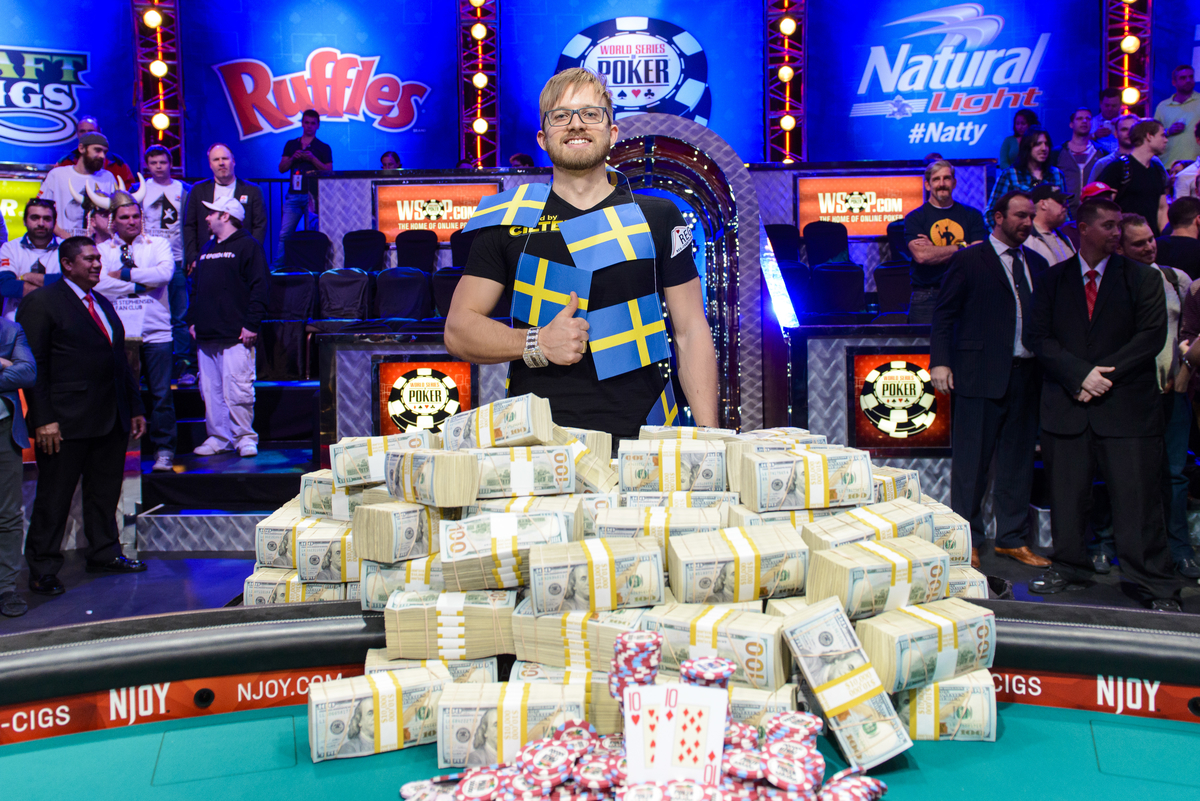 Sweden's Martin Jacobson Wins World Series of Poker® Main Event 
Jacobson Wins $10 Million, His First WSOP Gold Bracelet and Becomes first Swedish winner
LAS VEGAS (Nov. 11, 2014) – It's quite fitting that in the year the Rio was celebrating the 10th anniversary of hosting the World Series of Poker and first prize was $10 million, that the winner of the event would be holding pocket tens.
Martin Jacobson, a 27-year old poker professional from Stockholm, Sweden (now residing in London, England) has captured poker's world championship, winning the 2014 World Series of Poker Main Event crown and becoming his country's first champion in gaming's richest and most prestigious event.
Jacobson's pocket tens bested Felix Stephensen's Ace-Nine of Hearts.  The flop came 3 of spades, 9 of clubs and ten of clubs, giving Jacobson trip tens, while Stephensen picked up a pair of nines.  The King of Diamonds on the turn sealed Stephensen's fate, and the river 4 of clubs made it official.  Jacobson, a long-time pro who has had many near victories in his career, finally captures a title – the title all poker players dream of winning
"It is surreal," said Jacobson shortly after the victory.  "I have been so focused the past couple days.  I felt comfortable and surprisingly calm.  I don't know, it just felt like it was meant to be."
From an event that began way back on July 5, 2014 with 6,683 hopefuls who each ponied up the $10,000 entry fee, Jacobson ultimately outlasted them all, capturing all 200,490,000 chips in play and winning the $10 million first place prize and his very first WSOP gold bracelet.  The total prize pool up for grabs in the event was $62,825,752.
The 24-year old Stephensen, from Oslo, Norway, now residing in London, England, was the runner-up. Despite not capturing the championship, he can take solace in his $5,147,911 consolation prize and a sensational finish in poker's ultimate competition.
Jacobson captured the gold bracelet and $10,000,000 late this evening at the Rio All-Suite Hotel & Casino in Las Vegas in the famed Penn & Teller theatre.  The event took nearly 41 levels of play to complete, which equates to more than 81 hours of poker play to reach a victor.  In real time though, the event took 10 playing days, spread out over 128 days to become the champion.  When play began in July, players started with 30,000 in chips and the blinds were at 50 and 100.  When play completed at 9:43 pm in Las Vegas with 46 minutes, 8 seconds left in Level 41, blinds were at 800,000 and 1,600,000 with antes of 200,000.
Three-handed play began Tuesday evening at 5:30 pm PT and lasted roughly three and a half hours before Eindhoven, Netherlands native Jorryt van Hoof, 31 was eliminated in third place. van Hoof had an opportunity to become Netherland's first Main Event champion, but his terrific run finally ended after besting 6,681 other hopefuls. The now London resident, van Hoof collected $3,807,753 for his efforts.
It took another 45 minutes before Jacobson defeated his final opponent to make history.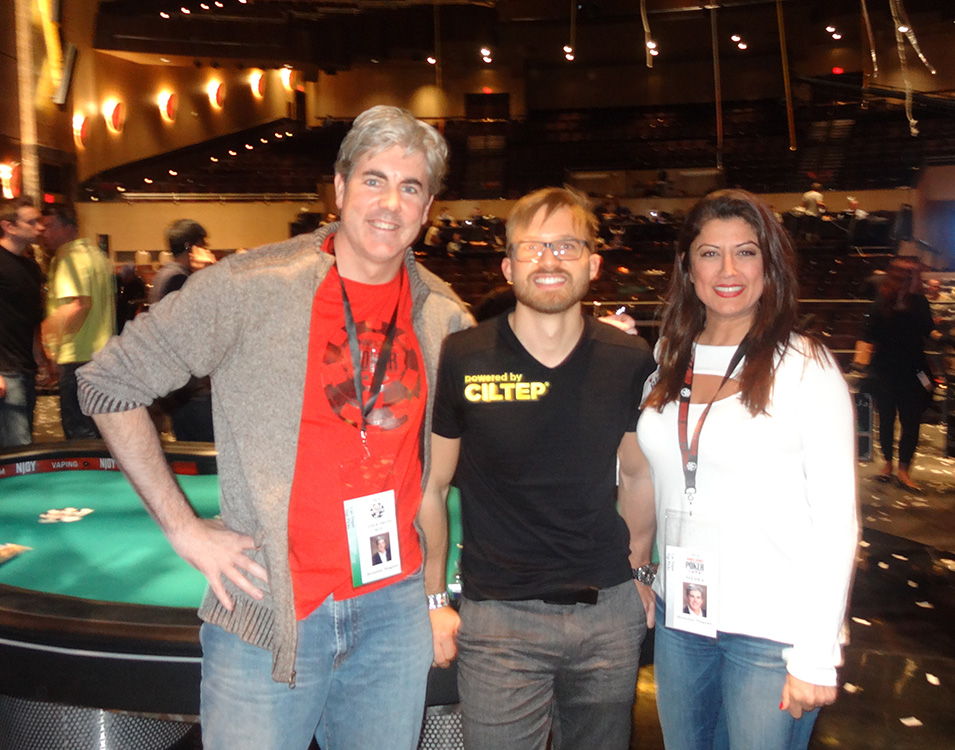 Pictured with Brendan Magone, Founder & Lead Writer of Las Vegas Top Picks, and Emily Genc of Turkey.
Rounding out the final table were:
4th place: William Tonking, 27, of Flemington, New Jersey, $2,849,763
5th place: Billy Pappaconstantinou, 30, of Lowell, Massachusetts, $2,143,794
6th place: Andoni Larrabei, 22, of Basque, Spain, $1,622,471
7th place: Daniel Sindelar, 30, of Columbus, Nebraska, $1,236,084
8th place: Bruno Politano, 32, of Fortaleza, Brazil, $947,172
9th place: Mark Newhouse, 29, of Los Angeles, Calif., $730,725
Monday's action was carried on a 30-minute delay on ESPN2. Tonight's finale was carried on the flagship ESPN on 30-minute delay and last xx hours.  The 2014 WSOP Main Event began in July with a total of 6,683 entrants. The event's total prize pool was $62,825,752, with more than $28 million going to the final nine players. A total of 693 entrants cashed in the event.
As has become tradition in recent years, Main Event play was suspended in July when the tournament reached its final nine players. It resumed with the "November Nine" taking to the felt 118 days later, on Monday with one hour, 35 minutes and 24 seconds remaining in Level 35, with antes of 50,000 and blinds at 200,000 and 400,000.  Play lasted nearly 12 hours in real time, but consumed 9 hours, 35 minutes of tournament clock play.
The 2014 WSOP attracted a record 82,360 players from 110 countries to its 65 events, generating a total prize pool of more than $227 million, the most in the series' 45-year history.
To view the hand-for-hand recap of the final table play, please click the following link:
http://www.wsop.com/tournaments/updates.asp?rr=5&grid=1052&tid=13665&dayof=
About the World Series of Poker
The World Series of Poker® is the largest, richest and most prestigious gaming event in the world, having awarded more than $2 billion in prize money and the prestigious gold bracelet, globally recognized as the sport's top prize. Featuring a comprehensive slate of tournaments in every major poker variation, the WSOP is poker's longest-running tournament in the world, dating back to 1970. In 2014, the event attracted 82,360 entrants from 110 different countries to the Rio All-Suite Hotel & Casino in Las Vegas, and awarded more than $227 million in prize money. In addition, the WSOP has formed groundbreaking alliances in broadcasting, digital media and corporate sponsorships, while successfully expanding the brand internationally with the advent of the World Series of Poker Circuit Tour in 2005, the World Series of Poker Europe in 2007 and the World Series of Poker Asia-Pacific in 2013. For more information on the World Series of Poker, please visit www.wsop.com.