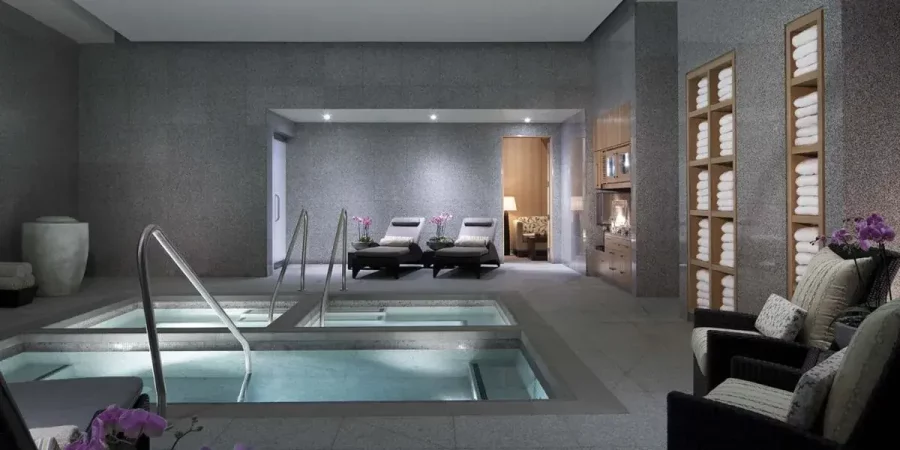 BATHHOUSE Spa at Delano Las Vegas: A Luxurious Oasis of Relaxation
Located within the stunning Delano Las Vegas, the BATHHOUSE Spa offers a tranquil haven away from the vibrant Las Vegas Strip. This premier spa destination seamlessly combines opulence and serenity, promising guests an unmatched retreat from the ordinary.
Location and Contact Information
Ambiance and Atmosphere
Upon entering the BATHHOUSE Spa, you'll immediately immerse yourself in an atmosphere of sophistication and relaxation. The spa's modern design is enhanced by soothing neutral tones, creating a peaceful environment that sets the stage for an indulgent spa experience. Natural light pours in through floor-to-ceiling windows, providing breathtaking views of the surrounding desert landscape.
Spa Menu Highlights
BATHHOUSE Spa's menu boasts a diverse range of treatments, catering to a variety of wellness needs and preferences. Here are some standout offerings:
Signature Desert Stone Massage: A unique fusion of hot stone therapy and personalized massage techniques that release tension, boost circulation, and restore balance.
HydraFacial: This state-of-the-art facial treatment deeply cleanses, hydrates, and rejuvenates the skin, leaving it radiant and refreshed.
Mojave Rain Vichy Scrub: An invigorating body scrub that blends desert salts and botanical extracts to exfoliate and nourish the skin, followed by a soothing Vichy shower experience.
Mystic Journey Bath Ritual: Immerse yourself in a luxurious bath infused with essential oils and rose petals, followed by a relaxing massage and scalp treatment.
Customized Spa Packages: BATHHOUSE Spa offers thoughtfully curated spa packages that combine various treatments for a comprehensive wellness experience. Options include "Calm & Renew," "Desert Oasis," and more.
Yoga and Meditation Classes: In addition to traditional spa services, the spa hosts yoga and meditation classes to promote holistic well-being and relaxation.
Expert Staff and Therapists
The BATHHOUSE Spa is home to a team of highly trained and experienced therapists who are dedicated to delivering personalized care. They take the time to understand each guest's unique needs and preferences, ensuring that every treatment is tailored to provide optimal results.
Amenities
The spa also features a range of amenities designed to enhance your experience, including a eucalyptus steam room, dry sauna, and a co-ed lounge with refreshments. Before or after your treatment, you can take advantage of these facilities to further unwind and rejuvenate.
Sustainability Initiatives
BATHHOUSE Spa is committed to sustainability and environmental responsibility. They use eco-friendly products and employ energy-efficient practices to minimize their ecological impact, ensuring that your relaxation experience aligns with eco-conscious values.
Conclusion
Whether you're seeking a serene escape from the bustling Las Vegas Strip, a revitalizing spa treatment, or a comprehensive wellness experience, the BATHHOUSE Spa at Delano Las Vegas is your destination of choice. Its luxurious ambiance, expert staff, and diverse menu of treatments make it a top pick for those looking to indulge in a world-class spa experience. Schedule your appointment today to embark on a journey of relaxation and rejuvenation like no other.