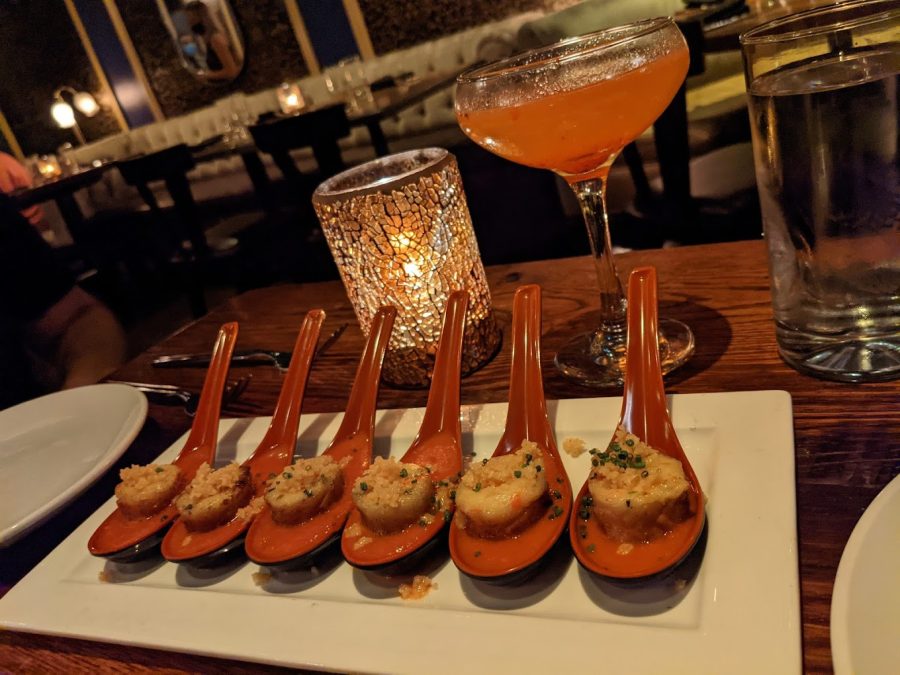 Beauty & Essex at The Cosmopolitan, Las Vegas
Overview: Beauty & Essex is a renowned restaurant located at The Cosmopolitan of Las Vegas, one of the city's premier luxury resorts. With its opulent yet inviting ambiance, the restaurant offers a unique dining experience that seamlessly blends exquisite cuisine, stylish décor, and a touch of old-world glamour. Beauty & Essex is part of the renowned TAO Group, known for its successful hospitality ventures around the world. This restaurant, a fusion of gastronomy and elegance, attracts both locals and visitors looking for an unforgettable meal in the heart of the Las Vegas Strip.
Address: Beauty & Essex at The Cosmopolitan
3708 Las Vegas Blvd S Las Vegas, NV 89109 United States
Contact Information: Phone: +1 (702) 737-0707
Website: www.beautyandessex.com/lasvegas
Reservations: Reservations can be made through the website or by phone.
Hours of Operation:
Monday: 5:00 PM – 10:00 PM
Tuesday: 5:00 PM – 10:00 PM
Wednesday: 5:00 PM – 10:00 PM
Thursday: 5:00 PM – 10:00 PM
Friday: 5:00 PM – 11:00 PM
Saturday: 5:00 PM – 11:00 PM
Sunday: 5:00 PM – 10:00 PM
Ambiance: Beauty & Essex features a captivating, multi-level design that exudes a blend of vintage elegance and contemporary allure. The restaurant's entrance is hidden behind a working pawn shop façade, which adds an element of intrigue to the experience. Upon entering, guests are greeted by a lavish interior adorned with sparkling chandeliers, plush velvet seating, and stunning artwork. The dimly lit dining spaces, complete with a bustling bar area, create a warm and intimate atmosphere, making it an ideal spot for a romantic dinner or a lively gathering with friends.
Menu Highlights: Beauty & Essex offers a diverse menu that showcases the culinary expertise of its acclaimed chefs. The restaurant takes inspiration from various global cuisines and adds a modern twist to traditional dishes, ensuring there is something to satisfy every palate. Here are some menu highlights:
Tuna Poke Wonton Tacos: A popular appetizer featuring fresh, marinated tuna served in crispy wonton shells, accompanied by avocado and a zesty chili-lime sauce.
Grilled Spanish Octopus: Tender, charred octopus served with fingerling potatoes, cherry tomatoes, olives, and a vibrant herb vinaigrette.
Lobster Mac & Cheese: A decadent twist on a classic comfort food, this dish combines succulent lobster chunks with creamy macaroni and cheese, topped with a crust of breadcrumbs.
Tomahawk Steak for Two: Perfect for sharing, this impressive bone-in ribeye is dry-aged for enhanced flavor and grilled to perfection, served with a selection of delicious sides.
Truffle Sashimi: A luxurious sashimi platter featuring fresh slices of premium fish drizzled with truffle oil, and accompanied by a selection of complementary condiments.
Chilean Sea Bass: A delicate and buttery Chilean sea bass fillet, served with a flavorful miso glaze and a medley of seasonal vegetables.
The "Jewel" Salad: A refreshing and colorful salad with mixed greens, goat cheese, candied pecans, and a champagne vinaigrette.
Desserts: Beauty & Essex's dessert menu is equally enticing, offering a variety of indulgent treats such as the Red Velvet Waffle Ice Cream Sandwich, Chocolate Molten Cake, and Banana Cream Pie Push Pops.
Beverage Selection: The restaurant boasts an extensive wine list featuring both domestic and international selections, as well as craft cocktails that range from classic concoctions to creative house specialties.
Conclusion: Beauty & Essex at The Cosmopolitan Las Vegas is a culinary gem that excels in providing an unforgettable dining experience. From its alluring ambiance to its diverse and delectable menu offerings, the restaurant caters to a wide range of tastes and preferences. Whether you're a local or a visitor, Beauty & Essex promises to leave you with cherished memories of an exquisite dining affair on the famed Las Vegas Strip.