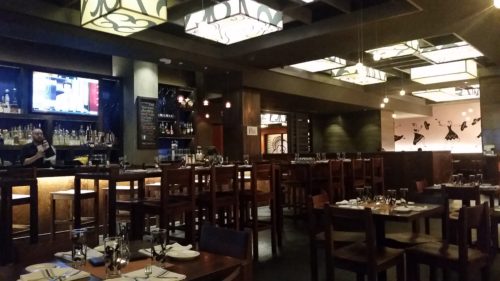 Thoughtful.  Everything on each plate at Border Grill is thoughtfully added with nothing taken for granted.
Famous executive chefs Mary Sue Milliken and Susan Feniger surprise you immediately after seating with three complimentary salsas and warm tortilla chips. They follow it up with a wide variety of tequilas and agave nectar available for your margarita.  We are a tough sell with margaritas, but we tried their house margarita before a custom version and enjoyed both.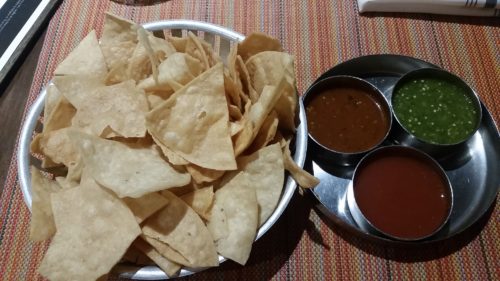 Bean Dip
The Border Grill bean dip is the third item that quickly convinced us that Susan and Mary Sue were going to exceed our expectations all evening.  In addition to the common bean dip with cheese, this dish features guacamole and two types of peppers. Here's where their care becomes evident. The mild green peppers are cut into larger rectangles while the hotter red peppers are tediously diced into tiny 1/8-inch cubes.  Border Grill offers this level of care in order to achieve their intended balance and assure that each bite contains a small, wonderful amount of heat.  This is quite impressive and this is "merely" bean dip.
Chile Relleno
If you crave a Chile Relleno and you won't be in New Mexico anytime soon, order one at Border Grill.  A large Poblano Chile with rich color is stuffed with Mexican cheeses.  Again, the freshness and care came through in the flavor of this dish.  True to form, Border Grill garnished our Chile Relleno with no less than five items: beans, Spanish rice, tomatillo rice, green Chile sauce and a red sauce.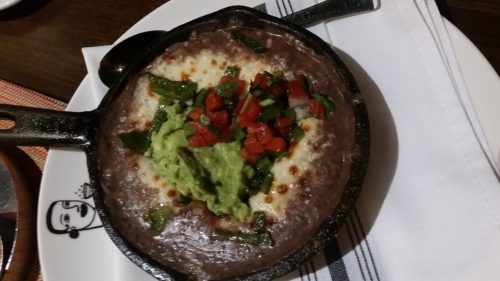 Cuidad Chicken
Based on our years of dining experience it's apparently very difficult to serve chicken white meat so that it's moist.  Border Grill meets that challenge with a moist preparation and then exceeds it by adding a generous portion of cilantro cream sauce and pickled tomatoes.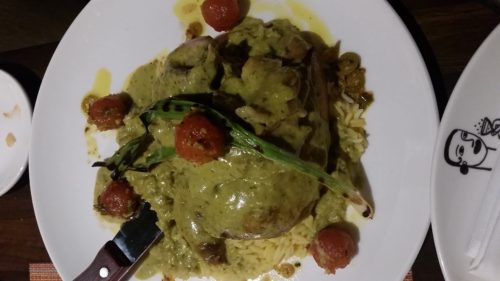 We thoroughly enjoyed our evening and highly recommend Border Grill in the Caesars Forum Shops.  We'd like to add that this was a blind dining experience.  There was no advance notice of our visit, we paid the entire ticket ourselves, and we left in complete anonymity.