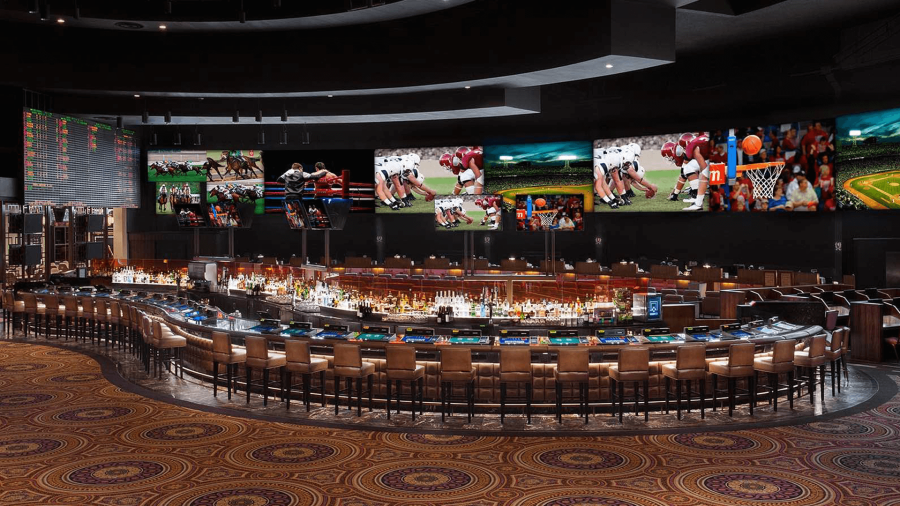 Title: Caesars Palace Race and Sportsbook: An Exquisite Haven for Sports Enthusiasts in Las Vegas
Introduction: Caesars Palace Race and Sportsbook, located in the heart of the Las Vegas Strip, is a renowned destination for sports enthusiasts, offering a premium and immersive betting experience. With its opulent setting, state-of-the-art technology, and an unrivaled atmosphere, this iconic establishment has become synonymous with luxury and excitement. This comprehensive profile delves into the intricate details of the Caesars Palace Race and Sportsbook, including its history, amenities, offerings, and overall experience.
I. History and Legacy: Caesars Palace, originally opened in 1966, has been a fixture on the Las Vegas Strip for over five decades. The Race and Sportsbook, which underwent significant renovations and expansions over the years, has continually evolved to meet the demands of its discerning clientele. Its reputation for excellence and a commitment to providing a world-class sports betting environment has made it a cherished institution in the city.
II. Location and Layout: The Caesars Palace Race and Sportsbook is strategically situated on the casino floor, adjacent to the resort's main entrance. Spanning an expansive area, it offers a captivating view of the action from every corner. The seating area is thoughtfully designed to provide maximum comfort and an unobstructed view of the numerous screens showcasing various sports events.
III. Amenities and Features: a) Seating: The sportsbook offers a vast array of seating options, including plush leather recliners, luxurious lounge chairs, and high-top tables with personal monitors. Guests can choose between individual seating or opt for private booths to enhance their privacy.
b) State-of-the-art Technology: The sportsbook boasts an impressive collection of high-definition screens, ensuring that guests never miss a moment of their favorite sports events. These screens range from massive video walls to smaller personal monitors integrated into seating areas.
c) Betting Stations: Numerous self-service betting stations are available throughout the sportsbook, allowing guests to place wagers conveniently. These stations feature user-friendly interfaces and provide access to a comprehensive selection of betting options, including traditional and exotic wagers.
d) VIP Lounge: For a truly exclusive experience, the Caesars Palace Race and Sportsbook offers a VIP lounge. With its lavish furnishings, private betting windows, and personalized concierge service, this secluded area caters to the needs of high-profile guests.
e) Sports Bar: Adjacent to the sportsbook, a vibrant sports bar adds another dimension to the overall experience. It features a full-service bar with a wide selection of beverages, along with delectable cuisine and bar bites to satisfy every palate. The bar also offers additional screens for those who prefer a more casual setting while enjoying their favorite games.
IV. Betting Options and Events Coverage: The Caesars Palace Race and Sportsbook provides an extensive range of betting options, covering a multitude of sports and events. Guests can place wagers on major professional leagues, including football, basketball, baseball, hockey, soccer, and more. The sportsbook also offers betting opportunities for collegiate events, as well as international sports and major tournaments.
V. Promotions and Special Events: The Caesars Palace Race and Sportsbook frequently hosts promotions and special events to enhance the excitement for guests. These may include giveaways, contests, and exclusive viewing parties for major sporting events, creating an engaging and festive atmosphere for sports enthusiasts.
VI. Mobile Betting: To accommodate the evolving landscape of sports betting, Caesars Palace offers a mobile betting platform. Guests can conveniently place their wagers using their smartphones or tablets from anywhere within the state of Nevada. This feature ensures that even when not physically present in the sportsbook, visitors can stay connected to the action.
VII. Overall Experience: The Caesars Palace Race and Sportsbook provides an unparalleled experience for sports lovers. With its luxurious setting, cutting-edge technology, a wide range of betting options, and a vibrant sports bar, guests can immerse themselves in the world of sports entertainment. Whether visiting for a single event or spending an entire weekend, this iconic establishment delivers a memorable and exhilarating experience for all.
Conclusion: The Caesars Palace Race and Sportsbook stands as a testament to Las Vegas's commitment to providing the finest sports betting experiences. With its rich history, opulent setting, comprehensive amenities, and exceptional service, it continues to be a premier destination for sports enthusiasts seeking both luxury and excitement.