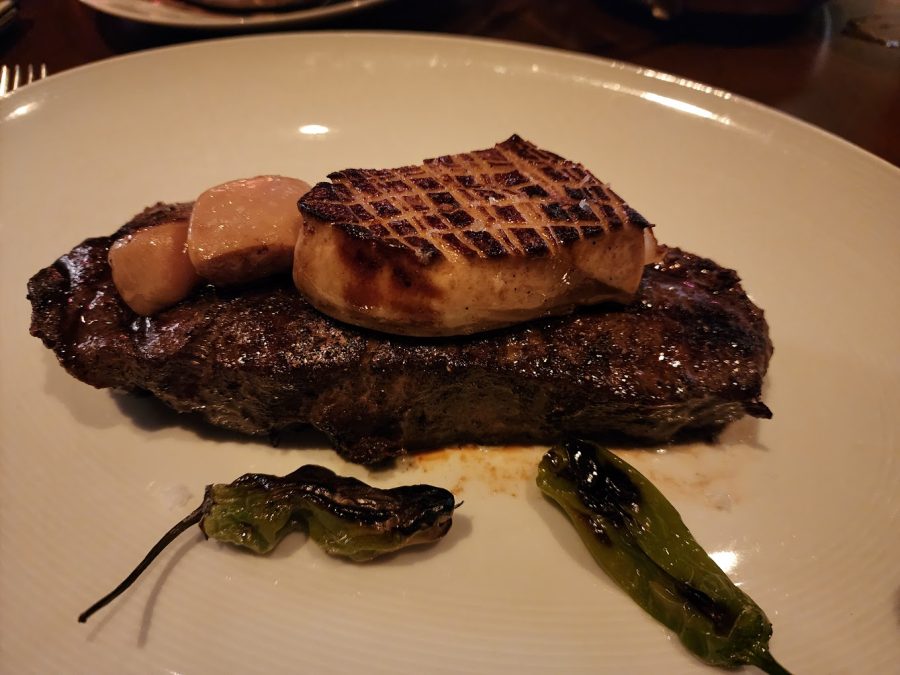 Carversteak at Resorts World Las Vegas: A Cut Above the Rest
Address: Carversteak Resorts World Las Vegas 3000 S Las Vegas Blvd Las Vegas, NV 89109
Inside the opulent Resorts World Las Vegas, Carversteak is a premier steakhouse that beckons to connoisseurs of fine dining. With a blend of classic elegance and contemporary flair, Carversteak invites you on a culinary journey like no other, where the art of steak is celebrated with gusto.
A Luxurious Haven: Carversteak, located at 3000 S Las Vegas Blvd, Las Vegas, NV 89109, is part of the grand Resorts World Las Vegas complex, known for its lavish amenities and world-class entertainment. As you step inside Carversteak, you'll find yourself immersed in a sophisticated ambiance, with its modern design elements complementing the timeless allure of a traditional steakhouse.
Menu: carversteak.com
A Cut Above the Rest: Carversteak takes great pride in its menu, curated to satisfy even the most discerning palates. Let's dive into some of the culinary highlights that make this steakhouse a gastronomic haven:
1. Prime Steak Selection: Carversteak showcases a selection of USDA Prime steaks, renowned for their exceptional quality and flavor. From bone-in ribeyes to filet mignons, each cut is meticulously prepared, seasoned, and cooked to perfection. The dry-aged steaks are a particular treat for those seeking a richer, more complex flavor.
2. Seafood Delicacies: While known for its steaks, Carversteak also delights seafood enthusiasts. Enjoy dishes like Chilean sea bass, Alaskan king crab legs, and jumbo shrimp cocktail, prepared with the same precision and attention to detail as their steaks.
3. Signature Sides: Complement your main course with an array of delectable sides. The truffle mac 'n' cheese, creamed spinach, and loaded baked potato are just a few options that elevate your dining experience.
4. Appetizing Starters: Begin your culinary journey with tantalizing starters like the lump crab cake or the classic French onion soup, setting the stage for a memorable meal.
5. Crafted Cocktails: The bar at Carversteak is not to be missed. Talented mixologists craft artisanal cocktails that pair seamlessly with your meal. Sip on classics like the Old Fashioned or try one of their signature creations, such as the Resorts World Manhattan.
6. Extensive Wine List: Choose from an extensive wine list featuring selections from around the world, curated to enhance the flavors of your meal. The sommelier is on hand to help you find the perfect pairing.
7. Dessert Extravaganza: Finish your meal on a sweet note with indulgent desserts like the chocolate molten lava cake or the house-made cheesecake, served with fresh berries.
An Experience Beyond Food: Beyond its culinary prowess, Carversteak offers an immersive dining experience that marries exceptional service with a captivating atmosphere. The restaurant's attentive and knowledgeable staff ensure that every aspect of your meal is flawless, from the moment you're seated to the final bite.
Perfect for All Occasions: Carversteak is ideal for a romantic dinner for two, a celebratory gathering with friends and family, or even a business meeting in a distinguished setting.
Reservations Recommended: Given the popularity of Carversteak, it's advisable to make reservations in advance. Whether you're planning a special occasion or an impromptu visit, securing your table ensures a seamless dining experience.
In Conclusion: Carversteak at Resorts World Las Vegas is a gastronomic destination that beckons those seeking an exceptional dining experience. With its prime location, impeccable menu, and unwavering commitment to culinary excellence, Carversteak is a cut above the rest in the Las Vegas dining scene. Experience the art of steak in all its glory at Carversteak and savor every moment of this culinary extravaganza.