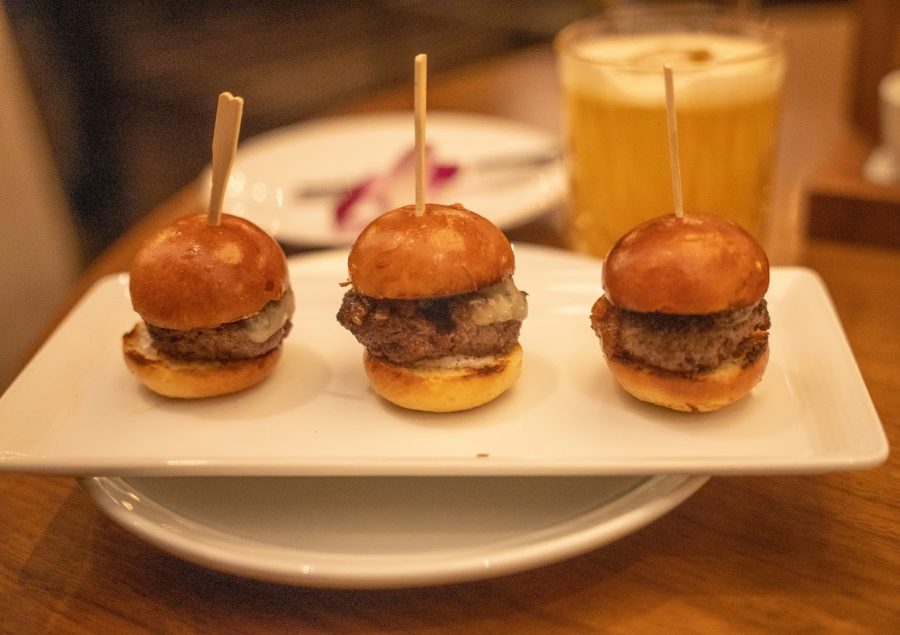 Cut by Wolfgang Puck at Palazzo, Las Vegas, stands as an epitome of culinary excellence and sophistication. As a creation of world-renowned celebrity chef Wolfgang Puck, this fine-dining steakhouse delivers a captivating gastronomic experience that is perhaps unrivaled. Nestled within the luxurious confines of The Palazzo, Cut elevates the art of dining, offering patrons a chance to savor the finest meats, seafood, and contemporary delicacies amid an opulent ambiance and impeccable service.
Location: Cut by Wolfgang Puck is strategically located at 3325 S Las Vegas Blvd, Las Vegas, NV 89109, in the heart of the world-famous Las Vegas Strip. Its central position makes it easily accessible for guests staying at The Palazzo and neighboring resorts, as well as visitors seeking a remarkable dining adventure.
Hours of Operation: Please note that operating hours may vary, and it is advisable to verify the current schedule by visiting the official website or contacting the restaurant directly.
Monday: 5:30 PM – 10:00 PM
Tuesday: 5:30 PM – 10:00 PM
Wednesday: 5:30 PM – 10:00 PM
Thursday: 5:30 PM – 10:00 PM
Friday: 5:30 PM – 10:30 PM
Saturday: 5:30 PM – 10:30 PM
Sunday: 5:30 PM – 10:00 PM
Contact Information: To make reservations or for any inquiries, reach out to Cut by Wolfgang Puck using the following contact details:
The Palazzo – A Grand Setting: Nestled within The Palazzo, an award-winning luxury resort and casino, Cut finds its home amid an array of world-class entertainment, high-end shopping, and exceptional amenities. The Palazzo boasts an Italian-inspired design, evoking a sense of elegance and sophistication that sets the stage for an extraordinary dining experience.
The Culinary Journey: Cut by Wolfgang Puck takes its guests on an extraordinary culinary journey, where every dish is crafted with meticulous attention to detail and a commitment to quality. Here are some highlights of the dining experience at Cut:
1. The Magnificent Steaks: Cut is renowned for its selection of top-tier, dry-aged steaks, sourced from the finest ranches around the globe. Guests can indulge in prime cuts such as the rich and marbled American Wagyu beef, the buttery texture of Japanese Wagyu, and classic favorites like the dry-aged New York strip steak. The talented culinary team ensures that each steak is expertly seasoned and grilled to perfection, creating a symphony of flavors with every succulent bite.
2. Exceptional Seafood: For seafood enthusiasts, Cut offers an enticing assortment of fresh and seasonal catches. Revel in the sweet and delicate flavors of Alaskan king crab legs, indulge in pristine oysters on the half shell, and relish the exquisite taste of Maine lobster, all sourced to delight the most discerning palates.
3. Impeccable Appetizers: Begin your culinary adventure with an array of tantalizing appetizers. From the delicate and refreshing tuna tartare to the melt-in-your-mouth Wagyu beef sashimi, these dishes showcase Chef Wolfgang Puck's finesse in combining bold flavors with artistic presentation. Additionally, the selection of artisanal cheeses with carefully paired accompaniments promises a delightful start to your meal.
4. Complementing Sides: The sides at Cut are far from ordinary; they are handcrafted to enhance the main course experience. Savor the creamy goodness of the signature creamed spinach, indulge in the luxurious truffle mashed potatoes, and relish the vibrant flavors of the chef's selection of roasted seasonal vegetables.
5. Sweet Culmination – Desserts: The dessert offerings at Cut are nothing short of divine. Conclude your meal on a high note with classic favorites like the warm chocolate soufflé, accompanied by velvety house-made ice creams and sorbets. Alternatively, explore the innovative dessert creations that showcase the artistry and creativity of the pastry team.
Impeccable Service and Ambiance: Cut by Wolfgang Puck takes pride in delivering impeccable service that complements the delectable dishes. The restaurant's ambiance exudes elegance, with plush furnishings, warm lighting, and contemporary art adorning the walls. The attentive and knowledgeable staff caters to each guest's needs, ensuring a memorable and personalized dining experience.
Conclusion: Cut by Wolfgang Puck at Palazzo, Las Vegas, is an exquisite culinary destination that beckons food enthusiasts and connoisseurs alike. With its central location, luxurious ambiance, and a menu that celebrates the finest ingredients, this fine-dining steakhouse promises an unparalleled experience. Whether you are celebrating a special occasion, hosting a corporate event, or seeking a memorable evening of culinary delights, Cut by Wolfgang Puck will undoubtedly leave a lasting impression on your palate and your heart.