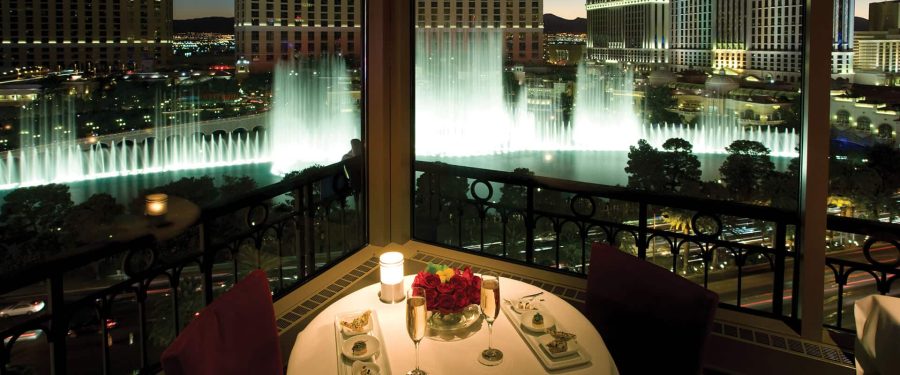 Overview: The Eiffel Tower Restaurant, located at the iconic Paris Hotel in Las Vegas, offers a lovely dining experience with breathtaking views of the Las Vegas Strip and a romantic ambiance reminiscent of Paris. The restaurant is situated on the 11th floor of the hotel's half-scale replica of the Eiffel Tower, providing guests with an unparalleled dining experience that combines world-class cuisine and unparalleled vistas.
Address: Eiffel Tower Restaurant Paris Hotel & Casino 3655 S Las Vegas Blvd Las Vegas, NV 89109 United States
Contact Information: Phone: +1 (702) 948-6937 Website: www.eiffeltowerrestaurant.com
Hours of Operation:
Lunch: Daily from 11:30 AM to 2:30 PM
Dinner: Daily from 4:30 PM to 10:00 PM
Ambiance: The Eiffel Tower Restaurant exudes an elegant and sophisticated atmosphere, featuring classic French décor, ornate chandeliers, and soft lighting. The floor-to-ceiling windows offer stunning panoramic views of the Las Vegas Strip and iconic landmarks, such as the Bellagio Fountains and the High Roller Observation Wheel. The restaurant's interior is designed to transport guests to the romantic streets of Paris, making it a popular choice for special occasions, intimate dinners, and celebratory events.
Cuisine: Led by an award-winning team of chefs, the Eiffel Tower Restaurant presents a fusion of French and American flavors. The menu is thoughtfully crafted with an emphasis on seasonal ingredients and exceptional culinary techniques. Diners can indulge in a wide array of gourmet dishes that showcase the best of French cuisine, complemented by a curated wine list featuring an extensive selection of fine wines from around the world.
Menu Highlights:
Appetizers:

Lobster Bisque: Creamy lobster soup with a touch of Cognac and finished with a dollop of crème fraîche.
Foie Gras Terrine: A delicacy of velvety smooth duck foie gras served with brioche toast points and fruit compote.
Escargot: Traditional Burgundy snails baked in garlic-parsley butter, served in the shell.

Entrees:

Chateaubriand: Classic French dish featuring a tender center-cut filet mignon, carved tableside, and served with Béarnaise sauce.
Coq au Vin: Slow-cooked chicken braised in red wine with pearl onions, mushrooms, bacon lardons, and herbs.
Wild Mushroom Risotto: Creamy Arborio rice cooked with a medley of wild mushrooms, Parmesan cheese, and truffle oil.

Desserts:

Crème Brûlée: A luscious vanilla custard with a caramelized sugar crust, served with fresh berries.
Chocolate Soufflé: A decadent and airy chocolate soufflé served with a scoop of vanilla ice cream.
Tarte Tatin: A classic French upside-down apple tart with flaky pastry and caramelized apples.
Reservations: Given the restaurant's popularity, it is highly recommended to make reservations in advance, especially for dinner and during peak tourist seasons.
Dress Code: The Eiffel Tower Restaurant maintains a business casual dress code. While formal attire is not required, guests are encouraged to dress smartly to match the sophisticated ambiance of the restaurant.
Additional Information:
Valet and self-parking options are available at the Paris Hotel & Casino.
The restaurant is wheelchair accessible.
Private dining rooms can be reserved for special events and large parties.
In conclusion, the Eiffel Tower Restaurant at Paris Hotel, Las Vegas, is an exquisite culinary destination that seamlessly blends French elegance with the excitement of the Las Vegas Strip. With its awe-inspiring views, delectable cuisine, and romantic atmosphere, it remains a top choice for visitors and locals seeking an unforgettable dining experience in the heart of Vegas.