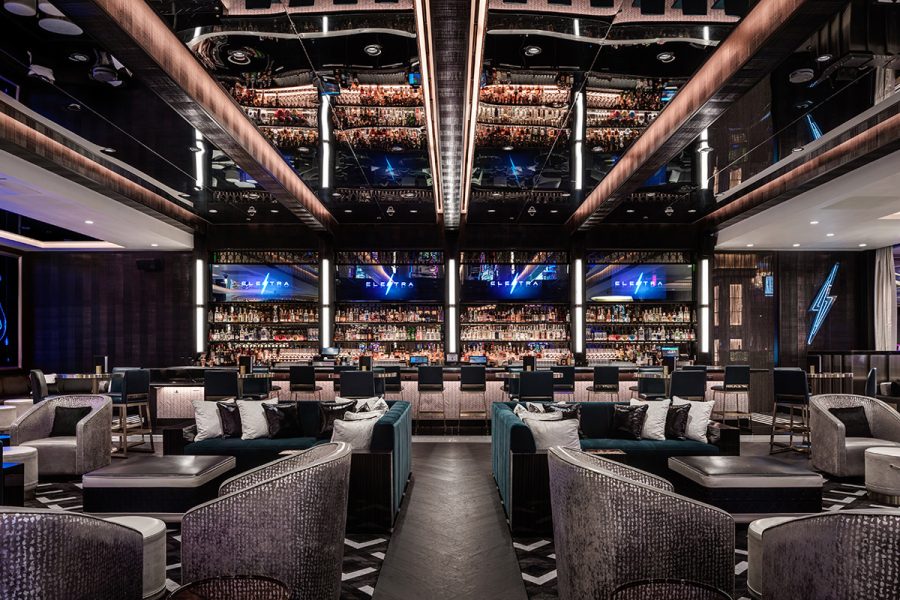 Electra Cocktail Club at Venetian: A Captivating Experience in the Heart of Las Vegas
Address: Electra Cocktail Club 3355 S Las Vegas Blvd Las Vegas, NV 89109 United States
Hours of Operation: Sunday to Thursday: 5:00 PM – 2:00 AM Friday and Saturday: 5:00 PM – 3:00 AM
Nestled within the world-renowned Venetian Resort in Las Vegas, the Electra Cocktail Club is a captivating nightlife destination that seamlessly blends modern sophistication with vintage glamour. With its dazzling decor, exceptional mixology, and energetic ambiance, Electra Cocktail Club promises an unforgettable experience for cocktail enthusiasts and night owls alike.
Intoxicating Atmosphere and Impeccable Design
As you step into Electra Cocktail Club, you'll be immediately drawn to its electrifying atmosphere. The club's design takes inspiration from the art deco era, featuring plush velvet seating, shimmering chandeliers, and sleek geometric patterns. The space is adorned with vibrant hues of emerald green, gold accents, and retro-style lighting, creating a visually stunning and vibrant environment.
The centerpiece of Electra Cocktail Club is the mesmerizing digital display that spans the entire ceiling. This innovative installation showcases captivating visuals, providing a dynamic backdrop that enhances the club's energetic ambiance. The combination of stunning visuals, meticulously designed interiors, and comfortable seating creates an inviting and alluring space to enjoy a night out.
Exquisite Mixology and Signature Drinks
At the heart of Electra Cocktail Club is an extraordinary team of talented mixologists who craft an extensive menu of innovative cocktails. Their passion for mixology is reflected in every drink they create, utilizing fresh ingredients, house-made infusions, and unique flavor combinations to deliver an exceptional drinking experience.
The menu features an array of classic and contemporary cocktails, each with its own twist and character. From light and refreshing libations to bold and complex creations, there's something to satisfy every palate. Whether you prefer vodka, rum, gin, or whiskey, Electra Cocktail Club offers a diverse selection to cater to your preferences.
Drink Highlights:
The Electra: This house specialty is a captivating cocktail featuring a perfect blend of vodka, St. Germain, passion fruit, and lime. Served with a hint of effervescence, it's a refreshing and sophisticated choice for those seeking a vibrant libation.
Deco Daquiri: Inspired by the classic Cuban cocktail, the Deco Daquiri is a delightful fusion of rum, lime juice, simple syrup, and fresh fruit. Sip on this tangy and tropical concoction while enjoying the lively ambiance of the club.
Gatsby's Martini: A nod to the glamour of the roaring '20s, Gatsby's Martini is a timeless classic that combines gin, dry vermouth, and a touch of citrus. Indulge in this elegantly crafted cocktail and transport yourself to the bygone era of flappers and jazz.
Midnight Manhattan: For whiskey enthusiasts, the Midnight Manhattan offers a modern twist on the traditional recipe. Made with rye whiskey, sweet vermouth, and a dash of chocolate bitters, this cocktail boasts a rich and velvety flavor profile.
In addition to the impressive cocktail menu, Electra Cocktail Club also offers a selection of fine wines, premium spirits, and craft beers, ensuring that there's something to suit every taste.
Contact Information:
Website: Electra Cocktail Club
For inquiries and reservations, please contact: Phone: +1 (702) 414-2121
Immerse yourself in the allure of Electra Cocktail Club, where meticulously crafted libations, enchanting ambiance, and impeccable service converge to create an extraordinary experience in the heart of Las Vegas. Whether you're celebrating a special occasion, enjoying a night out with friends, or simply looking to savor a well-crafted cocktail, Electra Cocktail Club promises to be an unforgettable destination for discerning cocktail connoisseurs and lovers of nightlife.