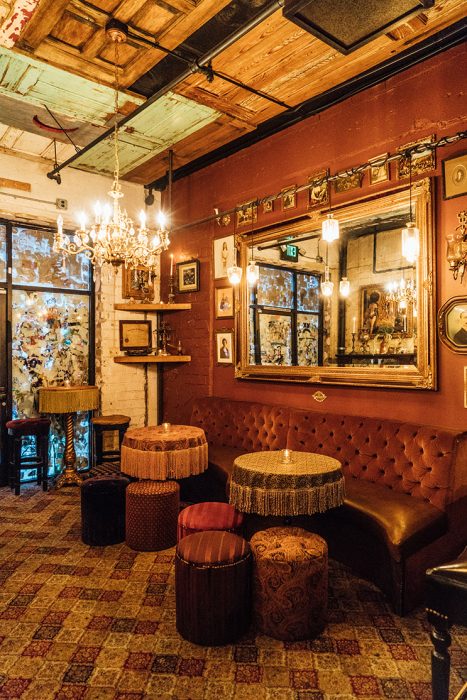 The Laundry Room Cocktail Bar: A Hidden Gem Inside Commonwealth
Introduction
Tucked away inside the bustling Commonwealth in downtown Las Vegas, The Laundry Room Cocktail Bar stands as a hidden gem for cocktail enthusiasts seeking a unique and intimate drinking experience. Located at 525 E. Fremont St., Las Vegas, NV 89101, The Laundry Room offers a speakeasy vibe reminiscent of the Prohibition era, with carefully crafted cocktails, a cozy atmosphere, and impeccable service.
Hours of Operation
The Laundry Room Cocktail Bar operates on a reservation-only basis and is open seven days a week. The hours of operation are as follows:
Monday to Thursday: 7:00 PM to 2:00 AM
Friday and Saturday: 7:00 PM to 3:00 AM
Sunday: 8:00 PM to 2:00 AM
Ambiance and Atmosphere
Upon entering The Laundry Room, visitors are transported back in time to an era of clandestine bars and hidden drinking spots. The dimly lit space is adorned with vintage decor, featuring plush leather seating, exposed brick walls, and a stunning bar crafted from reclaimed wood. The intimate setting accommodates a limited number of guests, ensuring an exclusive experience for those lucky enough to secure a reservation.
Reservation Process
Due to its popularity, The Laundry Room Cocktail Bar operates on a strict reservation-only policy. To secure a reservation, visitors must contact the bar in advance. Reservations can be made by visiting their official website at The Laundry Room and using the provided contact information. The bar highly recommends making reservations well in advance, as availability is limited.
Drink Highlights
The true allure of The Laundry Room lies in its exceptional cocktails, meticulously crafted by a team of expert mixologists. The bar prides itself on using only the finest ingredients and innovative techniques to create drinks that tantalize the taste buds. Here are some notable drink highlights that have become synonymous with The Laundry Room experience:
Barrel-Aged Old Fashioned: A classic cocktail that receives a modern twist with a carefully curated selection of aged spirits, artisanal bitters, and a touch of house-made syrup, resulting in a perfectly balanced libation.
Smoking Jacket: This signature cocktail combines rich, smoky flavors with a hint of sweetness. It features an artful blend of single malt whiskey, lapsang souchong tea-infused vermouth, charred orange, and aromatic spices.
Secret Garden: A refreshing and herbaceous concoction, the Secret Garden marries gin, elderflower liqueur, cucumber, basil, and fresh lemon juice, culminating in a delightfully vibrant and balanced sip.
Bespoke Cocktails: The Laundry Room offers personalized creations tailored to individual preferences. By engaging in a conversation with the skilled mixologists, guests can have a unique and customized cocktail designed specifically for their taste.
Contact Information
To learn more about The Laundry Room Cocktail Bar, make reservations, or inquire about any specific details, please use the following contact information:
Address: 525 E. Fremont St., Las Vegas, NV 89101
Phone: +1 (702) 701-1466
Website: The Laundry Room
Conclusion
For those seeking a distinctive and exclusive drinking experience in the heart of Las Vegas, The Laundry Room Cocktail Bar is an absolute must-visit. With its secretive ambiance, exceptional cocktails, and unparalleled service, this hidden gem within Commonwealth promises an unforgettable journey into the world of craft mixology. Make your reservation today and prepare to indulge in a cocktail experience like no other.