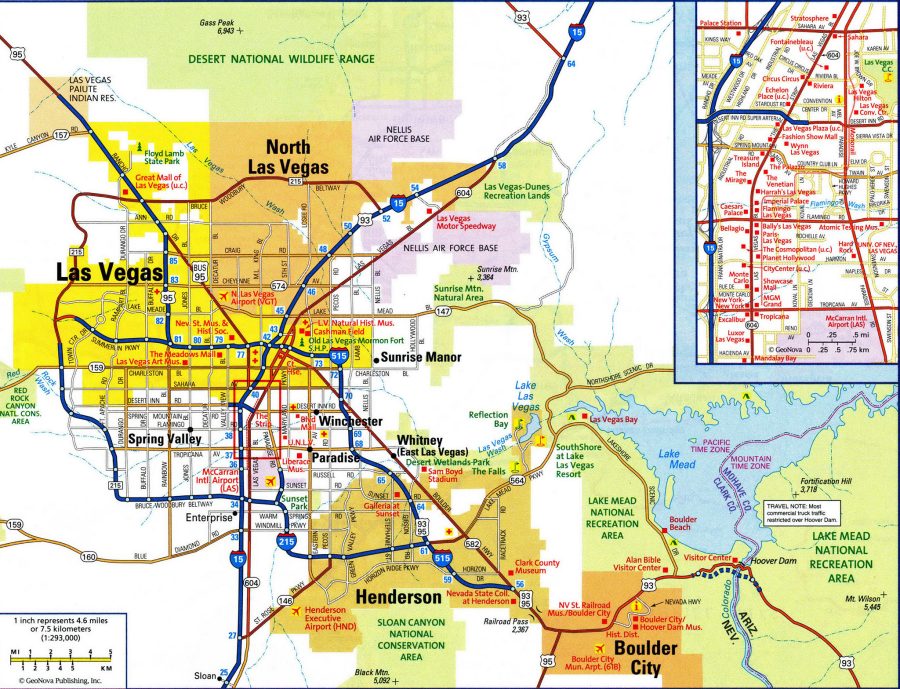 Exploring the Diverse Neighborhoods and Areas of Las Vegas
Las Vegas, Nevada, is known for its vibrant entertainment scene, world-class resorts, and a unique blend of cultures. While the famous Las Vegas Strip is undoubtedly a major attraction, the city is also home to numerous diverse neighborhoods and areas, each with its own distinct character and highlights. In this comprehensive guide, we will take you on a journey through the various neighborhoods and areas of Las Vegas, highlighting the unique features and attractions of each.
1. The Las Vegas Strip: Where Glitz and Glamour Converge
The Heart of the Entertainment Capital
The Las Vegas Strip, often simply referred to as "The Strip," is undoubtedly the most famous neighborhood in Las Vegas. Stretching approximately 4.2 miles along Las Vegas Boulevard South, this iconic area is home to some of the world's most renowned hotels, casinos, and entertainment venues. Highlights include:
Bellagio: Famous for its stunning fountain show and upscale dining.
Caesars Palace: A Roman-themed resort with a grand casino and shopping.
The Venetian: Known for its Venice-inspired architecture and indoor canals.
MGM Grand: One of the largest hotels in the world, featuring a massive casino and entertainment options.
High-end dining: The Strip boasts an array of fine dining establishments, including celebrity chef restaurants.
2. Downtown Las Vegas: The Birthplace of Sin City
Historic Charm Meets Modern Excitement
Downtown Las Vegas, or "Old Vegas," is where the city's story began. It offers a different vibe compared to the Strip, focusing on history, culture, and a burgeoning arts scene. Highlights include:
Fremont Street Experience: A pedestrian mall with a dazzling light show overhead.
Container Park: An eco-friendly shopping and entertainment center made from shipping containers.
The Mob Museum: An immersive look into the history of organized crime in Las Vegas.
Arts District: A hub for local artists, galleries, and cultural events.
Diverse dining: Downtown offers a range of dining options from classic diners to upscale eateries.
3. Summerlin: The Suburban Oasis
Residential Luxury and Natural Beauty
Located on the western edge of Las Vegas, Summerlin is a master-planned community known for its upscale living and outdoor amenities. Highlights include:
Red Rock Canyon: A natural wonder, perfect for hiking, climbing, and scenic drives.
Downtown Summerlin: A shopping and dining district with a vibrant atmosphere.
Tivoli Village: A European-style shopping and dining destination.
Top-rated schools: Summerlin is home to some of the best schools in Las Vegas.
Golf courses: Several world-class golf courses offer a golfer's paradise.
4. Henderson: The Family-Friendly Haven
Award-Winning Suburbia with Parks Galore
Henderson, located southeast of Las Vegas, consistently ranks as one of the safest and most family-friendly cities in the United States. Highlights include:
Lake Las Vegas: A picturesque artificial lake with water activities and dining.
Green Valley Ranch Resort: A luxury resort with a casino and beautiful outdoor spaces.
Ethnic dining: A diverse culinary scene with restaurants serving cuisines from around the world.
Ample parks and trails: Henderson boasts numerous parks, making it ideal for outdoor enthusiasts.
Top-ranked schools: The city is known for its excellent education system.
5. North Las Vegas: The Affordable Alternative
Affordable Living with Easy Access to the City
North Las Vegas offers a more budget-friendly living option while still providing access to the excitement of Las Vegas. Highlights include:
Aliante Nature Discovery Park: A family-friendly park with a dinosaur-themed playground.
Cannery Casino Hotel: A popular casino and entertainment venue.
Craig Ranch Regional Park: A sprawling park with sports fields, playgrounds, and a pond.
Affordable housing: North Las Vegas is known for its reasonably priced homes.
Emerging dining scene: New restaurants are popping up, offering diverse culinary experiences.
6. East Las Vegas: A Slice of Cultural Diversity
Ethnic Enclaves and Authentic Cuisine
East Las Vegas is a melting pot of cultures, offering a rich tapestry of ethnic communities and culinary delights. Highlights include:
Ethnic neighborhoods: Areas like Chinatown and Little Ethiopia provide authentic cultural experiences.
International dining: A wide array of international restaurants serving exotic cuisines.
Festivals and events: Cultural festivals and events celebrate the area's diversity.
Historic Sunrise Trailhead: A scenic trailhead for hiking and outdoor activities.
Affordable living: East Las Vegas offers more affordable housing options.
7. Spring Valley: Suburban Serenity with City Access
Tranquil Suburbia Close to the Action
Nestled just west of the Las Vegas Strip, Spring Valley is a quiet suburban oasis with easy access to the city's attractions. Highlights include:
Desert Breeze Park: A vast park with a lake, sports fields, and picnic areas.
Shopping and dining: Abundant retail and dining options along West Sahara Avenue.
Tranquil neighborhoods: Peaceful residential areas perfect for families.
Proximity to the Strip: Quick access to the entertainment hub of Las Vegas.
Golf courses: Several golf courses cater to enthusiasts.
8. Southern Highlands: Upscale Living Amidst Nature
Luxury Living with a Touch of Tuscany
Southern Highlands is an affluent community located in the southern part of Las Vegas. It offers luxurious living and scenic surroundings. Highlights include:
Southern Highlands Golf Club: An exclusive golf course and country club.
Mediterranean-style architecture: Homes and buildings inspired by Tuscany.
Parks and trails: Scenic parks and trails for outdoor recreation.
Elite schools: Access to some of the city's top-rated schools.
High-end dining and shopping: Upscale options for those seeking luxury.
9. West Las Vegas: Historical Significance and Cultural Heritage
A Historic Neighborhood with a Vibrant Soul
West Las Vegas has a rich African-American heritage and is known for its historical significance. It offers a unique blend of culture and history. Highlights include:
Historic Westside School: A museum preserving the area's history.
Heritage Parade: An annual parade celebrating African-American culture.
Soul food restaurants: Authentic Southern cuisine and soul food eateries.
Local art galleries: Showcasing the work of African-American artists.
Community events: Engaging in local events and cultural activities.
Las Vegas is a city of contrasts, where the glittering lights of the Strip meet the serene beauty of the surrounding natural landscapes, and where diverse neighborhoods offer a wide range of lifestyles and experiences. Whether you're seeking world-class entertainment, family-friendly suburbs, cultural immersion, or a serene retreat, Las Vegas has a neighborhood to suit your preferences. Each area contributes to the tapestry of this vibrant city, making Las Vegas a place where everyone can find their own slice of paradise.