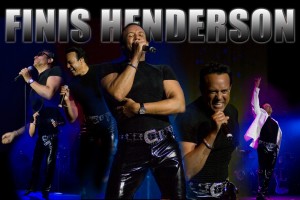 Finis Henderson is bringing his singing impressionist show to Las Vegas in a big way the weekend of September 20th, opening for Jay Leno at the Mirage on Friday night Sept 20 and then headlining his own show at Rocks Lounge at Red Rock Sept 21st. Tickets for the Red Rock show are on sale now via Station Casinos or Ticketmaster for $25. http://www.ticketmaster.com/Finis-Henderson-tickets/artist/956114
Like many singing impressionists, Henderson does all the famous voices of Elvis, Sinatra, etc., but what separates him from the pack is that his impressions are spot on, he is a tremendous singer in his own right, and he was on the Motown label and still sings in his own voice in addition to impressions. Henderson—unlike many of his peers—also dances and performs many dance numbers including a fantastic Michael Jackson "moonwalk" and Riverdance plus several other bits; he simply has more movement than other impressionists.  He has the ability to interject comedy in his act and has performed at comedy clubs throughout the country for 30 years. He has an extended engagement to perform at the Stardome Comedy Club in Alabama later this year.
Henderson has opened for Jay Leno at the Mirage several times now and his act includes everything from young to old.  He performs Maroon 5, Pitbull and Neyo; standards like Tom Jones, Sammy Davis and Dean Martin; and everything in between Coldplay to In Sync to Boyz II Men. A highlight of many shows includes Henderson singing the famous aria Nessun Dorma that has been performed by all the greats – Pavarotti, Bocelli, and Placido Domingo among others.
Finis Henderson has been a staple on major cruise lines throughout the world for well over a decade. He has performed at many casinos including Atlantic City and Indian casinos through the West, but he is focusing now on building his recognition in Las Vegas.
More information including video links can be found at http://finis.com