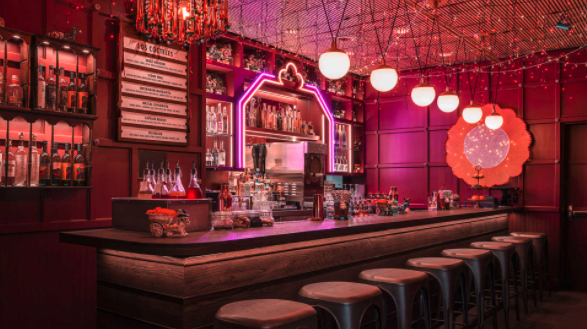 Ghost Donkey Lounge: A Vibrant Escape at The Cosmopolitan, Las Vegas
Introduction: Nestled within the vibrant atmosphere of The Cosmopolitan in Las Vegas, Ghost Donkey Lounge is a unique and lively destination that offers a memorable experience for locals and visitors alike. This exceptional lounge combines innovative mixology, a vibrant ambiance, and a menu featuring delectable bites that celebrate the diverse flavors of Mexico. Whether you're seeking a place to unwind after a long day or looking to embark on an exciting night out, Ghost Donkey Lounge promises an unforgettable time.
Location: Ghost Donkey Lounge is conveniently located within The Cosmopolitan, situated at 3708 S Las Vegas Blvd, Las Vegas, NV 89109. The lounge is easily accessible from various parts of the city, making it a popular destination for both tourists and locals.
Hours of Operation: The lounge operates with the following hours:
Monday to Thursday: 4:00 PM to 12:00 AM
Friday: 4:00 PM to 2:00 AM
Saturday: 12:00 PM to 2:00 AM
Sunday: 12:00 PM to 12:00 AM
Contact Information: To reach Ghost Donkey Lounge for inquiries or reservations, you can use the following contact details:
Atmosphere and Design: Ghost Donkey Lounge boasts an atmosphere that effortlessly combines sophistication with a playful, vibrant energy. The lounge's interior features a combination of modern design elements and rustic touches that pay homage to the rich cultural heritage of Mexico. From the moment you step inside, you'll be captivated by the lounge's warm lighting, carefully curated décor, and comfortable seating arrangements. The overall ambiance sets the stage for an exciting and immersive experience.
Menu and Beverage Selection: The lounge's menu offers an exquisite selection of culinary delights inspired by the diverse flavors of Mexico. The expertly crafted dishes are designed to be shared, encouraging a convivial dining experience among friends and acquaintances. From traditional street food favorites to innovative twists on classic recipes, Ghost Donkey Lounge presents a tantalizing array of options to please any palate.
As the name suggests, the lounge specializes in an impressive variety of mezcal and tequila-based cocktails. The talented mixologists at Ghost Donkey Lounge create concoctions that push the boundaries of traditional mixology, offering guests a chance to savor unique and unforgettable flavor profiles. Whether you prefer a classic margarita or are open to trying innovative creations, the lounge's extensive beverage selection is sure to impress even the most discerning cocktail connoisseurs.
Events and Entertainment: Ghost Donkey Lounge is more than just a place to enjoy exceptional food and drinks; it also hosts a range of lively events and entertainment offerings. From live music performances to guest DJ sets, the lounge curates a dynamic schedule to enhance the overall experience. The events calendar is regularly updated, ensuring there's always something exciting happening at Ghost Donkey Lounge.
Private Events and Reservations: For those seeking an exclusive and intimate gathering, Ghost Donkey Lounge offers private event services. Whether you're planning a corporate event, a birthday celebration, or a special occasion, the lounge can accommodate your needs with personalized packages and attentive service. Reservations are recommended for both regular dining and private events to ensure a seamless and enjoyable experience.
Exceptional Service and Staff: At Ghost Donkey Lounge, the dedicated team of professionals is committed to providing exceptional service to every guest. The knowledgeable staff members are well-versed in the lounge's offerings and are more than happy to guide you through the menu and suggest the perfect drink pairing. Their attention to detail and friendly demeanor contribute to the overall welcoming atmosphere that defines Ghost Donkey Lounge.
Conclusion: Ghost Donkey Lounge at The Cosmopolitan in Las Vegas is a destination that seamlessly blends unique flavors, innovative mixology, and a vibrant ambiance. Whether you're a local seeking a new experience or a visitor looking to immerse yourself in the city's dynamic scene, Ghost Donkey Lounge offers an unforgettable adventure. From the meticulously crafted cocktails to the delectable menu, every aspect of the lounge is designed to leave a lasting impression. So, step into this captivating oasis and indulge in the vibrant spirit of Mexico right in the heart of Las Vegas.