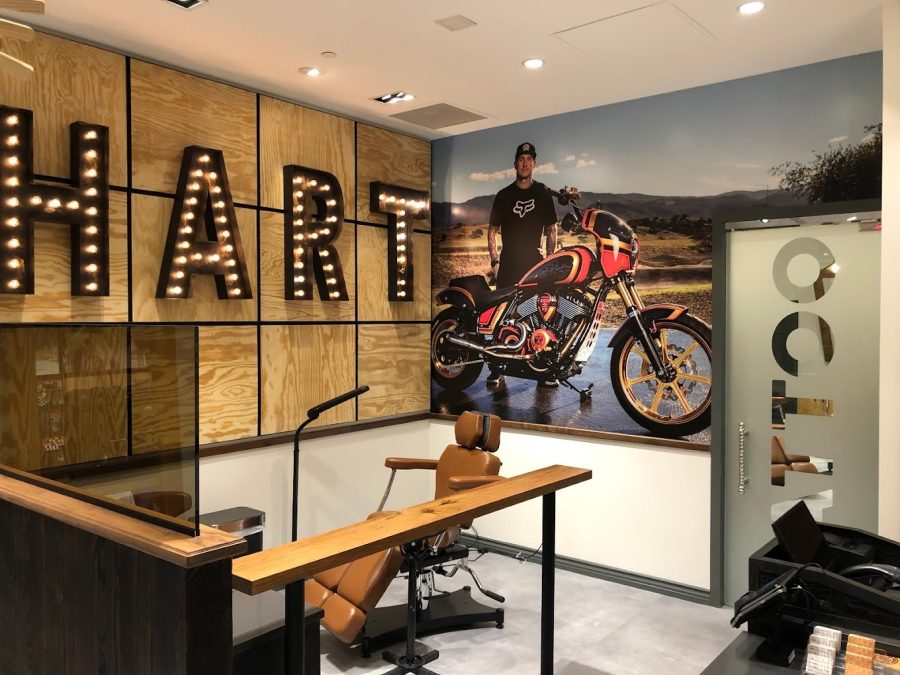 Hart & Huntington Tattoo Co: A Premier Tattoo Experience in The Forum Shops, Las Vegas
Address: The Forum Shops at Caesars Palace 3500 Las Vegas Blvd. South Las Vegas, NV 89109
Hours of Operation: Monday – Thursday: 10:00 AM – 11:00 PM Friday – Saturday: 10:00 AM – 12:00 AM Sunday: 11:00 AM – 10:00 PM
Contact Information: Phone: (702) 216-5366 Email: info@hartandhuntington.com Website: https://hhtattoolasvegas.com/
Introduction: Nestled in the heart of the renowned Forum Shops at Caesars Palace in Las Vegas, Hart & Huntington Tattoo Co is a premier tattoo studio that has gained a reputation for its exceptional craftsmanship, talented artists, and unparalleled tattoo experience. Founded by Carey Hart, a world-renowned motocross champion and tattoo enthusiast, Hart & Huntington Tattoo Co has become a go-to destination for both locals and visitors seeking high-quality tattoos in an upscale and vibrant setting.
The Studio: Stepping into Hart & Huntington Tattoo Co is an immersive experience in itself. The studio boasts a contemporary design that fuses modern aesthetics with elements of classic tattoo culture, creating a unique and welcoming atmosphere for clients. The spacious layout provides both comfort and privacy, ensuring a relaxed and enjoyable tattooing experience. From the moment you enter, you'll be greeted by friendly staff who are dedicated to assisting you throughout your journey.
Tattoo Artists: Hart & Huntington Tattoo Co boasts a team of exceptionally talented and diverse tattoo artists, each with their own distinctive style and specialization. Whether you're looking for traditional, blackwork, realism, neo-traditional, Japanese, or any other tattoo style, you'll find an artist who can bring your vision to life with precision and creativity. These artists are not only skilled in their craft but also take the time to understand your ideas and collaborate with you to create a unique and personalized tattoo design.
Tattoo Highlights: Hart & Huntington Tattoo Co takes pride in delivering exceptional tattoo artistry that exceeds expectations. Some of the tattoo highlights offered by their renowned artists include:
Custom Designs: The artists at Hart & Huntington Tattoo Co excel in creating custom tattoo designs tailored to each client's preferences. They work closely with you to understand your vision, combining their expertise with your ideas to produce a one-of-a-kind masterpiece.
Cover-Ups and Modifications: If you have an existing tattoo that you want to transform or cover up, the skilled artists at Hart & Huntington Tattoo Co can guide you through the process. They possess the expertise to creatively modify or conceal unwanted tattoos, ensuring that the end result is a piece you'll be proud to wear.
Black and Gray Realism: The studio is home to artists who specialize in black and gray realism, a style known for its stunning attention to detail and depth. These artists can create breathtaking portraits, lifelike animals, and intricate scenes that capture emotions and stories with remarkable realism.
Colorful and Vibrant Artwork: For those seeking vibrant and colorful tattoos, Hart & Huntington Tattoo Co has artists who excel in incorporating a wide range of hues into their designs. From bold traditional pieces to imaginative and whimsical creations, their artists can bring a burst of color to your skin.
Small Tattoos and Fine Line Work: If you prefer delicate and intricate designs, the studio offers artists who specialize in small tattoos and fine line work. Whether it's a minimalist symbol, a dainty floral piece, or an elegant script, their skilled artists can bring your small-scale tattoo ideas to life with precision and finesse.
Conclusion: Hart & Huntington Tattoo Co in The Forum Shops at Caesars Palace, Las Vegas, is a premier tattoo studio offering an unforgettable experience for tattoo enthusiasts. With a team of talented artists, a welcoming atmosphere, and a commitment to delivering exceptional artwork, this studio has established itself as a must-visit destination for anyone seeking high-quality tattoos in the vibrant city of Las Vegas. Whether you're a seasoned collector or a first-time tattoo recipient, Hart & Huntington Tattoo Co is ready to bring your ideas to life with passion and artistry.