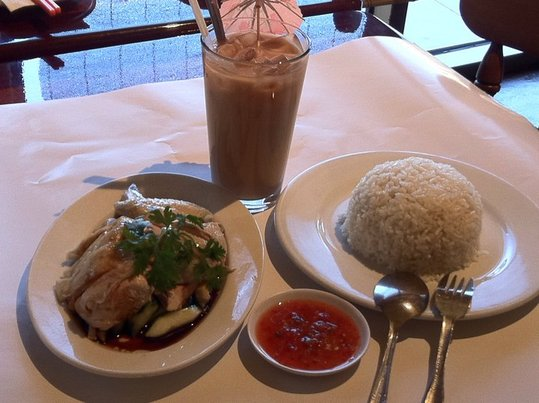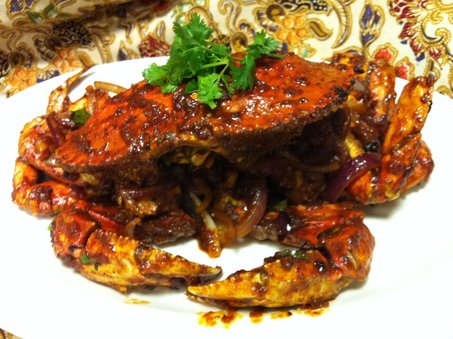 Island on Spring Mountain in Chinatown serves authentic Malaysian dishes that match the food you find in Malaysia and Singapore. Nearly all patrons are local regulars from Southeast Asia (Malaysia, Singapore, Indonesia, etc) so you can be assured of authenticity along with reasonable prices and a casual environment.  Two national dishes of Singapore (Malaysia's neighbor) are Hainanese Chicken Rice and Chili Crab. These are my favorite items at Island, plus the Char Kway Tow (stir fried meat, vegetables and noodles, Southeast Asian style).
The Chili Crab is messy to eat (with your hands), but is a taste you won't find anywhere else in Vegas. In addition, Penang Garden in San Francisco is the only Chili Crab rival my wife and I have found in the United States. Tess and her husband cook a live crab in chili gravy. You cannot decide which is better, the chili-flavored crab meat or the roti dipped in crab-infused Chili gravy. Oh my, is this an exquisite dish!
The Hainanese Chicken Rice is the most famous dish in Singapore. No Singaporean will ever admit that any chicken rice is as good outside Singapore hawker centers, and even I concede that. But Island's chicken rice comes close. It's certainly close enough that it's one my Island favorites.
American tastes wanting to play it safe would enjoy the chicken rice, the roti (thin, warm bread) and the coconut gel dessert (served in an actual coconut).
Singapore cuisine is a mix of Malaysian, Indian, and Chinese cultures. And all different Chinese provinces are represented in Singapore. Consequently, there is no such thing as a truly "Singapore restaurant." All Singaporeans I know look with suspicion when they see a restaurant call itself Singaporean. In fact, due to its one-of-a-kind cultural mix described above, no two restaurants in Singapore are the same.
In America you will rarely encounter Singaporeans because there are only 4 million people in Singapore and life is simply too good to leave it. But nearly every time we dine at Island we find at least one table of Singaporeans.
Island Malaysian Cuisine
Chinatown
5115 Spring Mountain Road, STE #217
Las Vegas, NV 89146
(702) 898-3388