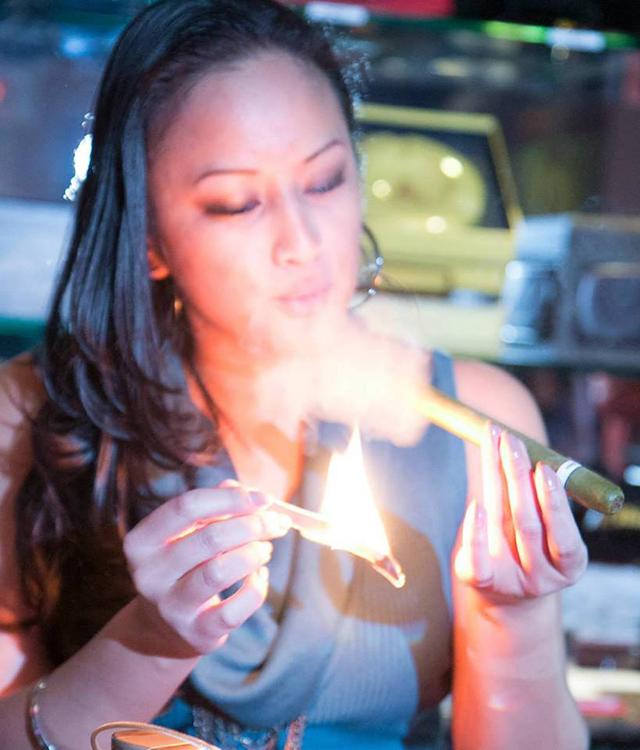 Jaxx Guevarra is our top tobacconist. And our favorite. She's worked seriously and passionately in the cigar industry since 2010, and is currently the general manager of La Casa, a cigar-inspired live music lounge in Tivoli Village.
She enjoys recommending cigars for a variety of tastes and occasions, as well as pairing them perfectly with everything from a simple soda to premium spirits.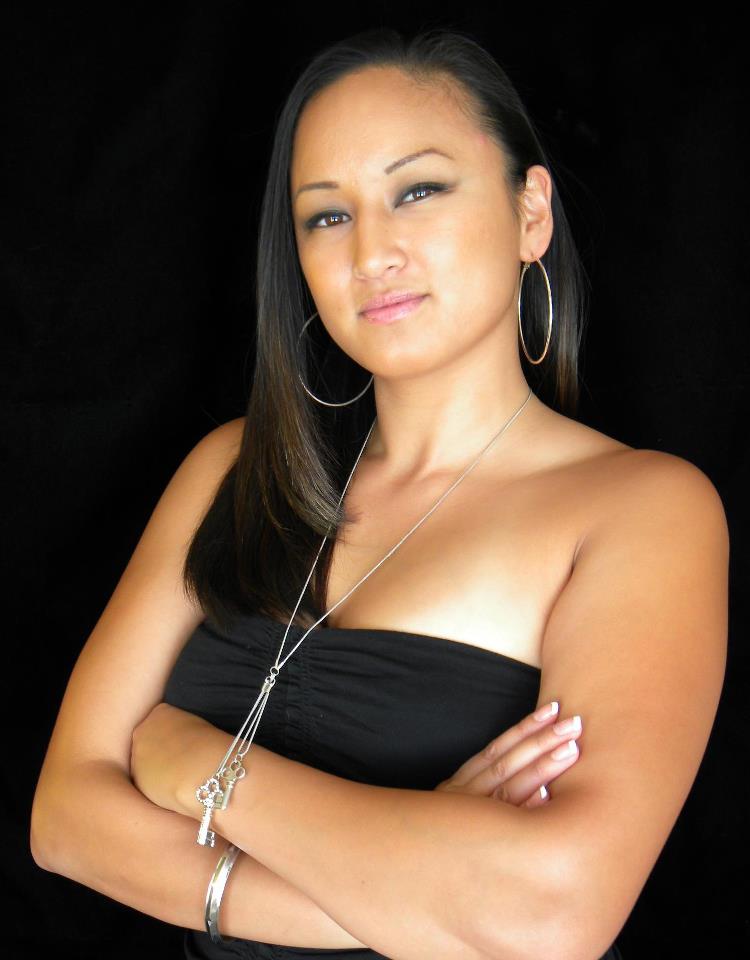 Over the past year, Jaxx has been mentioned once in Cigar Aficionado and twice in Cigar & Spirits Magazine.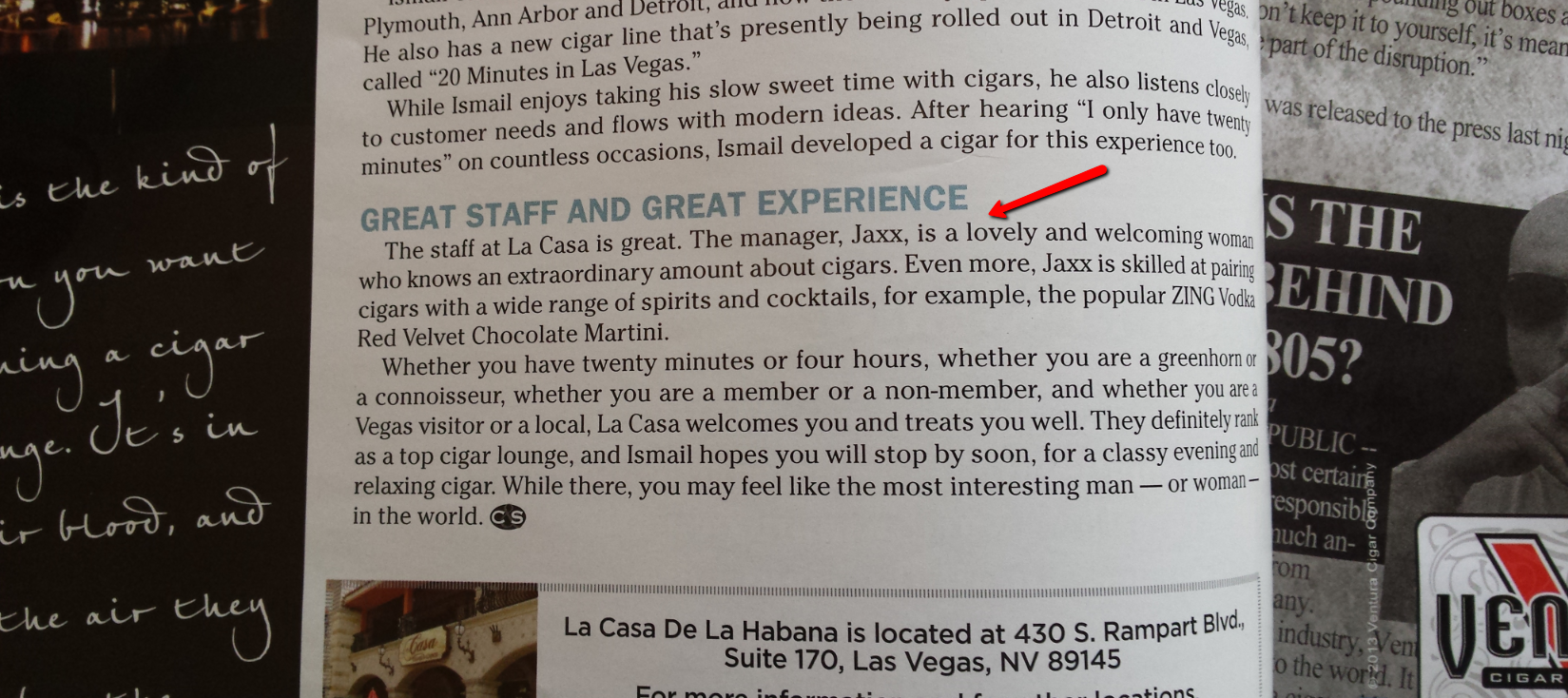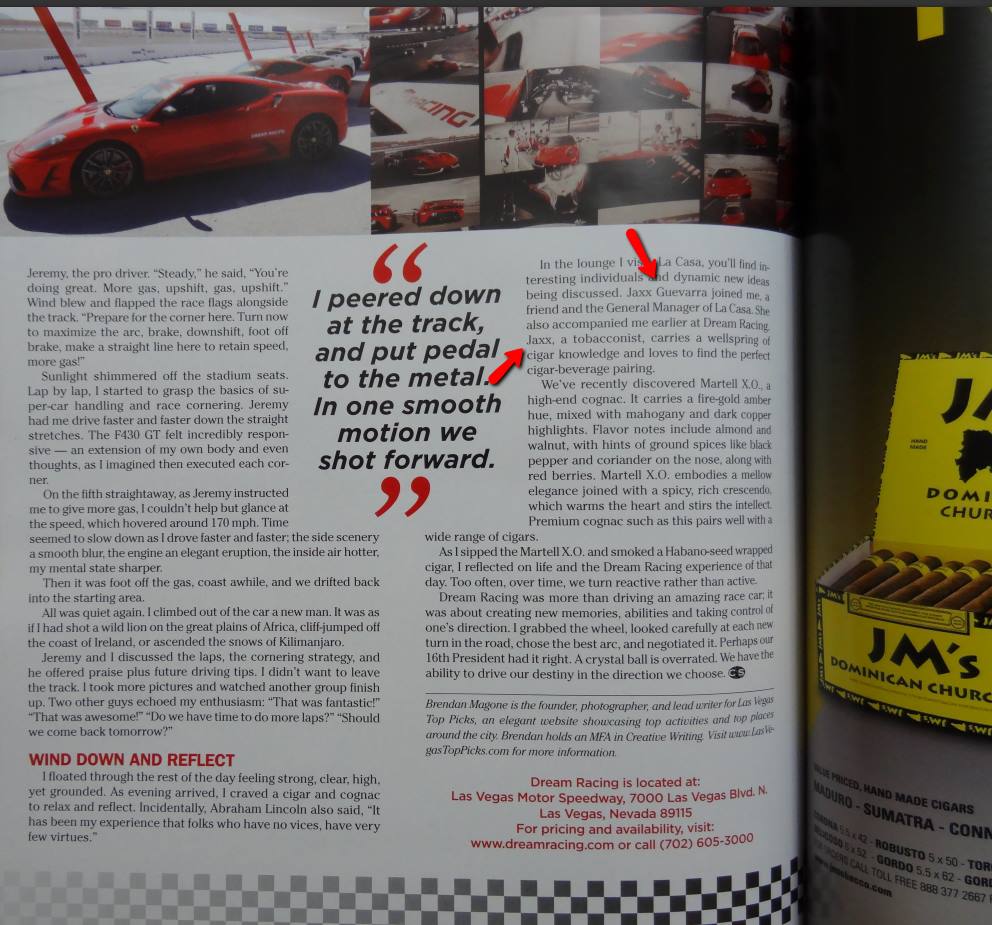 Jaxx often attends high-profile events around Las Vegas. Below with Phil Maloof, at a Super Bowl Party thrown in his Palms Place Penthouse.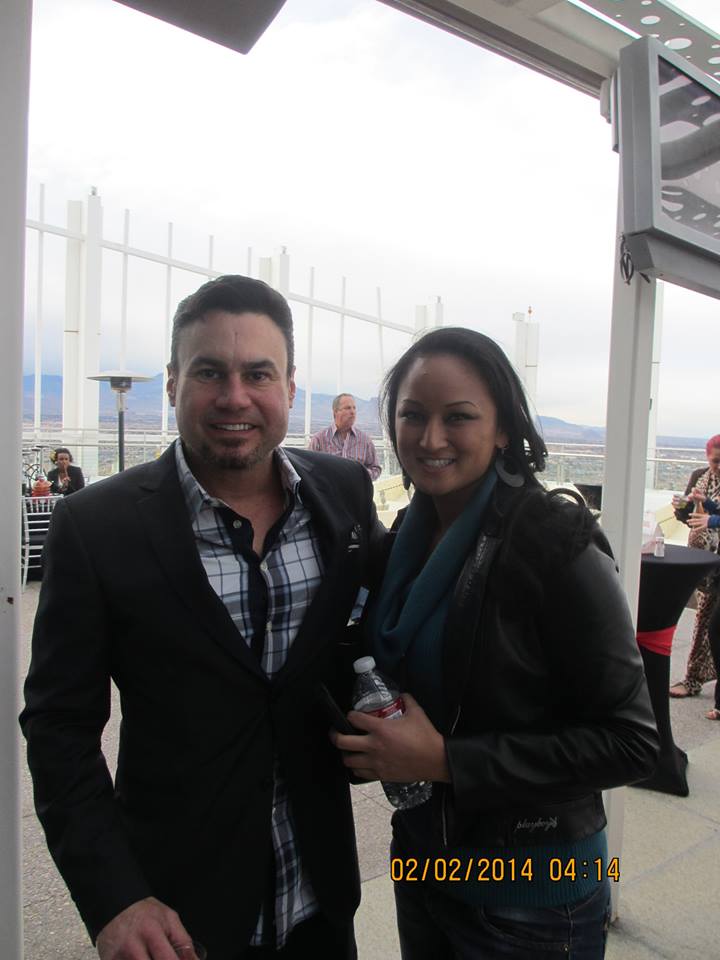 Just two months ago, Jaxx attended "A Royal Salute to Piaget," which included the tasting of an ultra-rare 41-year-old "62 Gun Salute" scotch. Steve Wynn dropped by this event. So did Vegas Magazine, catching a picture of Jaxx, as seen below.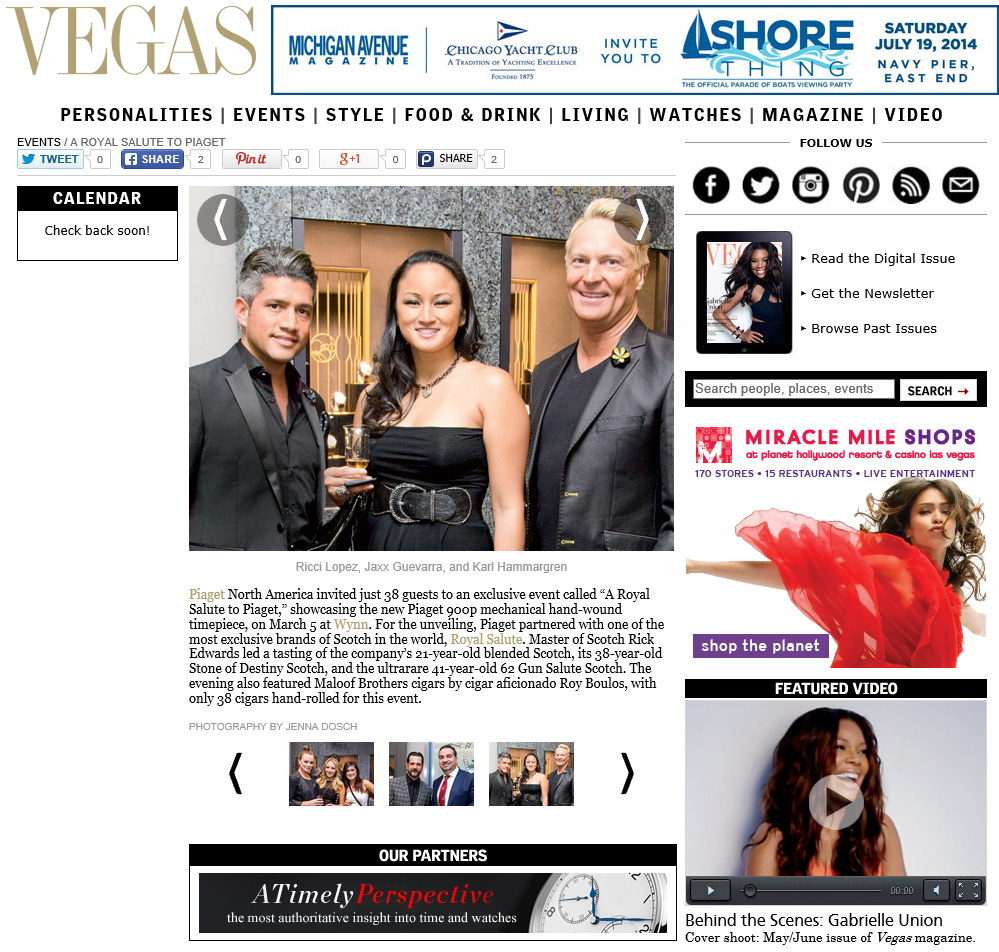 Jaxx will be mentioned for a third time in the summer issue of Cigar & Spirits, due out mid-July. I currently write for Cigar & Spirits, and she helped me compose an article which paired Chivas Regal 18 and Chivas Regal 25 with two distinguished cigars.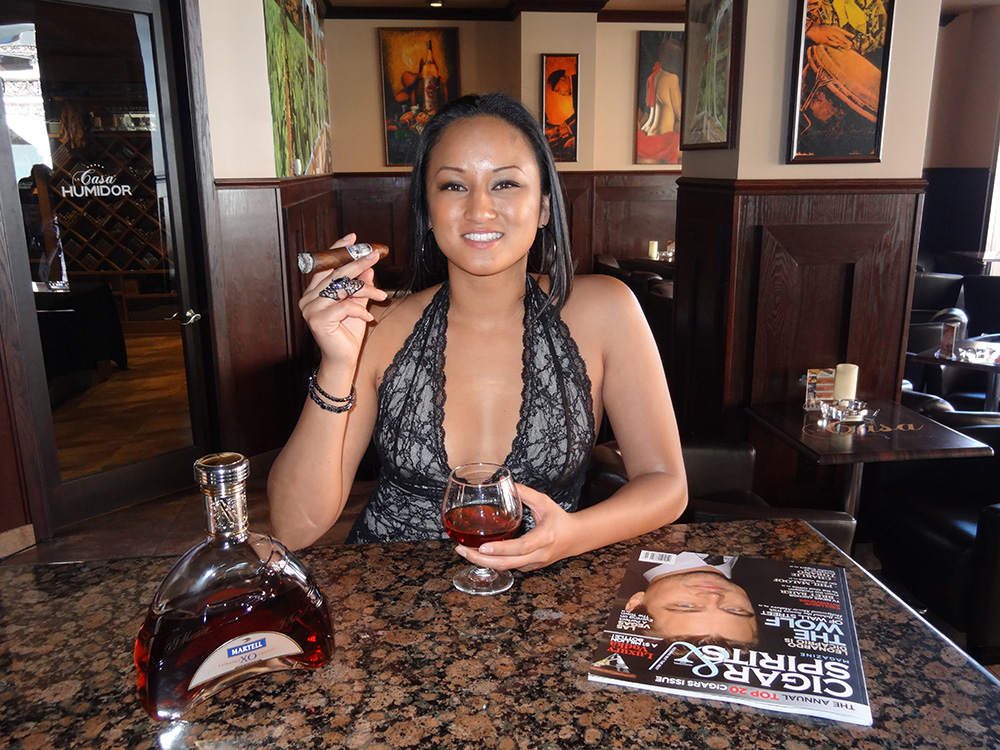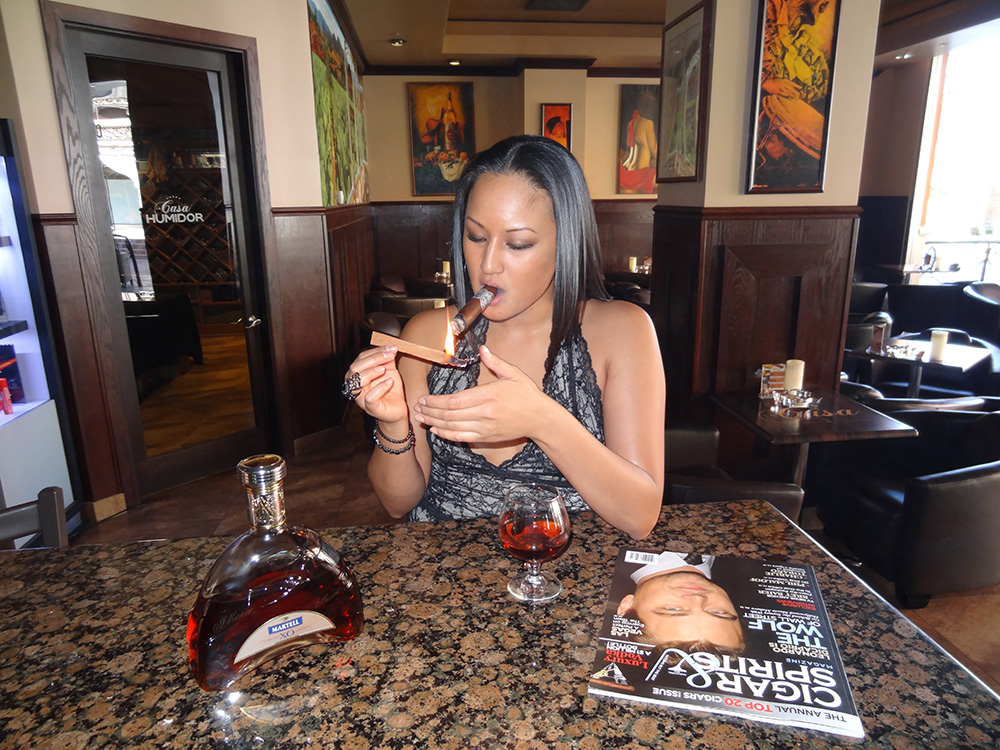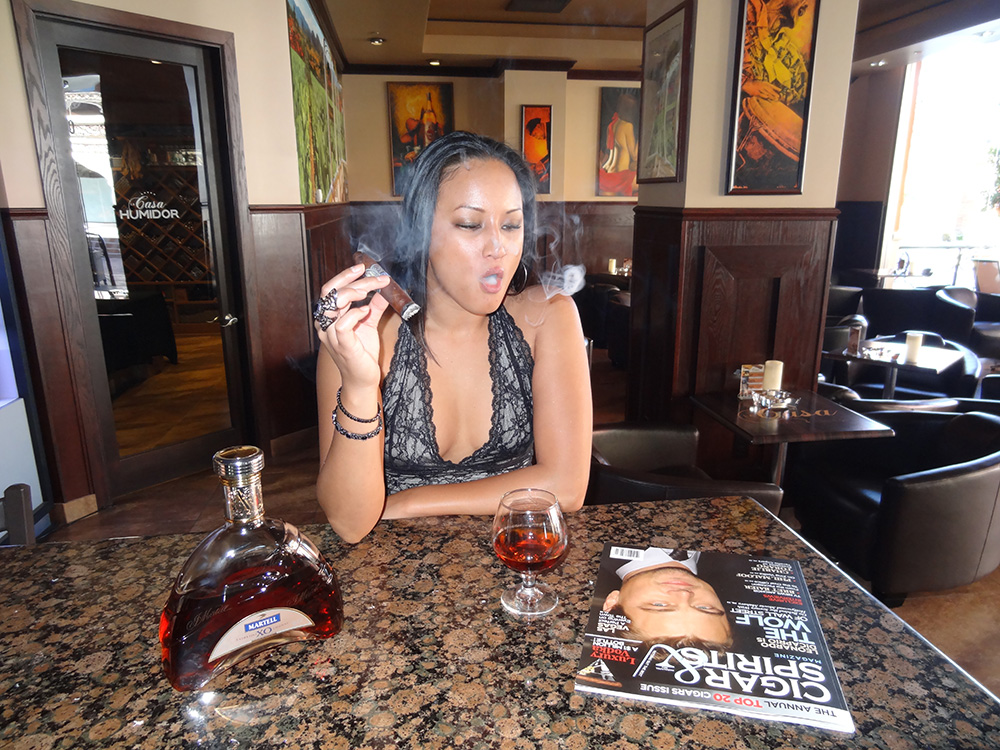 I've known Jaxx for nearly a year and count her among friends. She's extremely well-versed in cigars and the whole community of smoking cigars. Later, Las Vegas Top Picks will post a detailed interview with Jaxx, plus a video with two worthwhile cigar-drink pairings.
For now, here are three of Jaxx's favorite cigars:
1. Padron, Anniversary Series. Her celebration stick. Pricey but worth it. Maduro wrap, rich cocoa essence, great with red wine. You'll want to sit back and relax, truly take your time with this cigar…smell, taste, take it all in. High quality. You know what you get.
2. La Palina, primarily the Family Series. Very smooth, with an easy, clean draw. Very smoky and the ash holds nicely. Full-bodied but subtle on the palate. The Alison and Little Bill have the extra intensity of an Ecuadorian wrapper that is velvety and perfumed. The Babe is wrapped with a delicate-flavored Costa Rican capa.
3. Kristoff. Maduro wrapped. Reasonable price point. Solid & medium-bodied. Known to have Cuban seeds planted in the Dominican. Wrapper is oily; when you touch and smell it you know it's a great cigar; bunched foot; pigtailed end. Great to smoke any day; have with a rum and coke; body is consistent. Jaxx loves the taste.