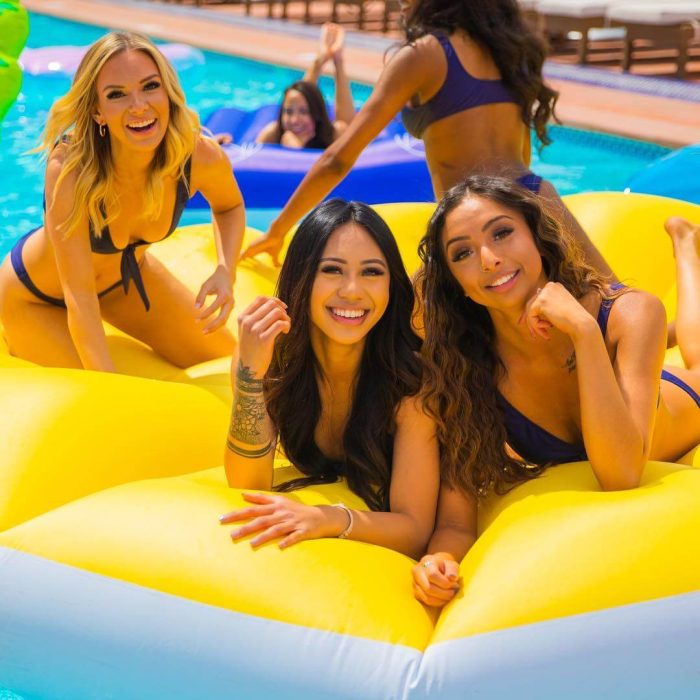 JEMAA, The NoMad Pool Party: An Exquisite Daytime Oasis in Las Vegas
Address: 3772 S Las Vegas Blvd, Las Vegas, NV 89109 Hours of Operation: Friday to Sunday, 11:00 AM – 6:00 PM Contact Information:
Nestled within the luxurious and iconic NoMad Las Vegas Hotel, JEMAA, The NoMad Pool Party is a vibrant and sophisticated daytime oasis located on the bustling Las Vegas Strip. With its unparalleled blend of chic design, energetic atmosphere, and elevated poolside experience, JEMAA stands out as a premier destination for those seeking a unique and memorable pool party experience.
An Oasis of Style and Relaxation
Upon entering JEMAA, guests are instantly captivated by the stylish and inviting ambiance. The pool area is thoughtfully designed, featuring lush greenery, comfortable lounge chairs, and private cabanas. The overall aesthetic blends contemporary elegance with a touch of bohemian charm, creating a refreshing and relaxing atmosphere.
Unforgettable Entertainment and Music
JEMAA offers an exceptional entertainment lineup, ensuring that every visit is filled with excitement. Acclaimed DJs and live performers take to the stage, delivering infectious beats and electrifying performances that keep the party alive. Whether you're looking to dance the afternoon away or simply bask in the lively energy, JEMAA provides the perfect soundtrack to your day.
Unparalleled Service and VIP Experience
At JEMAA, attentive and personalized service is paramount. The dedicated staff ensures that every guest's needs are met with utmost care and professionalism. For those seeking an elevated experience, the VIP options at JEMAA are truly exceptional.
Luxurious Cabanas: Your Personal Retreat
JEMAA's cabanas are the epitome of luxury and exclusivity, providing a private sanctuary within the vibrant pool party atmosphere. Each cabana is meticulously designed to offer comfort, style, and a range of amenities, allowing you to relax and indulge in style. Some highlights of the cabana experience include:
Spacious Seating and Daybeds: The cabanas feature ample seating and plush daybeds, providing a comfortable space for you and your guests to unwind and socialize.
Dedicated Cabana Host: A dedicated cabana host is at your service throughout the day, attending to your every need and ensuring a seamless experience.
Refreshments and Bottle Service: Enjoy a selection of refreshing beverages and signature cocktails from the comfort of your cabana. Bottle service is also available, allowing you to savor premium spirits and champagnes.
Private Plunge Pool: Some cabanas offer the added luxury of a private plunge pool, providing a refreshing oasis within your exclusive space.
Gourmet Food Selection: Indulge in a delectable array of culinary delights crafted by the talented chefs at JEMAA. From light bites to sumptuous dishes, the food menu is designed to satisfy your cravings and enhance your poolside experience.
Visit JEMAA, The NoMad Pool Party
Located within the NoMad Las Vegas Hotel, JEMAA stands as a pinnacle of refined poolside entertainment in Las Vegas. With its impeccable service, stunning ambiance, and luxurious cabanas, it promises an unforgettable experience for anyone seeking the perfect blend of relaxation and excitement. Whether you're a local or a visitor to Las Vegas, JEMAA is the ultimate destination to bask in the sun, dance to the rhythm, and create lasting memories.