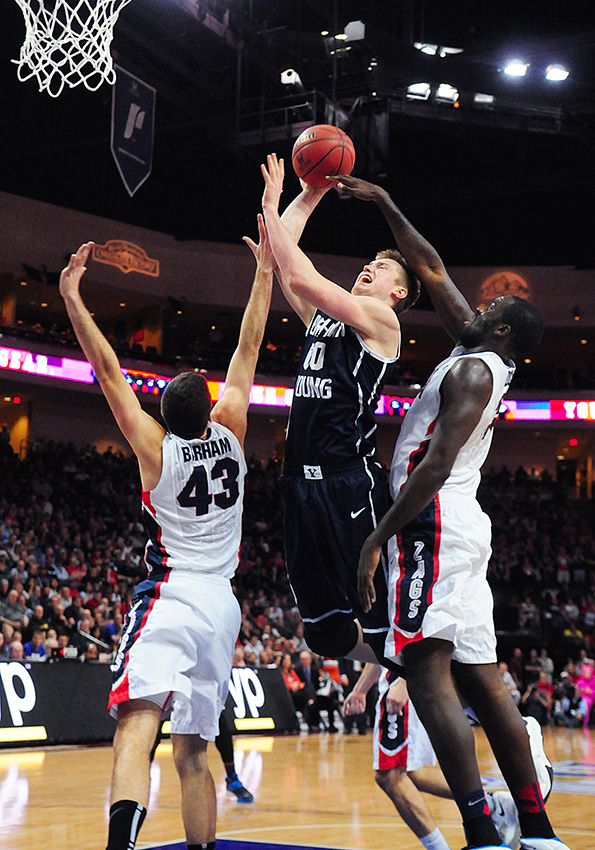 Like any professional handicapper, John Fisher has both wins and losses, but overall he continues to deliver strong positive value, especially his "Guarantee plays". More college basketball picks and notes from last week:
Can Spiders beat VCU twice. I don't think so. Richmond had a lot things going its way. Burgess was hurt and Lewis had the flu bug. So they were not 100%. They were outscored on the FT line and just made 3/20 from 3 point line so the Rams gave that game away. Look for Lewis and Butgess to give Rams a better game here. Richmond is one team where the press might not be as effective. Look for Shaka to mix his zone with press defense. 4 Stars
Never swept VCU in 14 years…happened tonight after double OT
VCU 1.5 Richmond 67-63
LOSS
Iowa State is all about offense. This is a revenge Home game for the Cyclones who will come out firing away against Baylor. Baylor beat Iowa State by 1 at Home by dominating the offensive glass. That gave them 10 more shots. Now that this game is being played at IOWA State look for the Cyclones to play with more intensity.  IOWA State made 10/19 threes and I expect the same here at Home. I don't beleive Baylor will make 9 this game. IOWA State and the Mayor Look for another effort like they had versus WVU at Home. DD WIN HERE for cyclones. Baylor has been in most games. I just feel they put up a stinker here. GUARANTEE.
I didn't  want to say this because didn't want to jinx but IOWA STATE has never lost to Baylor at Ames. Guess what they lost. 21 games streak over.
14 three point shots made…..whatever.
After going up 7 and looking to blow out Baylor …Baylors Gathers has a temper meltdown..it inspired the team to just go out and bomb away and make 5 consecutive threes…..that's ridiculous.
LOSS
Don't look now but PURDUE is starting to click and are Tournament bound. They have jelled  into a cohesive and efficient unit. Hammomds has become a beast on the inside and with an even Bigger Haas to relieve him from the bench they don't lose a beat with their potent imside out offense. Rutgers since Jordan's cry fest and their win over a depleted Badger team has spiraled into oblivion. This is a type of game that could be easily covered by Rutgers if they decided they want to play. But this locker room has lost any positive attitude and has fallen apart. They have lost 11 straight and simply don't believe and behave any more. PURDUE has the defense to do what many teams have done against the Knights…put them in 5 minute scoring draughts which then kills their drive to compete. Three stars play
Up 16 at half and 16 with 5 minutes left PURDUE completely fell apart..Guards could not get pass the press defense. Rutgers made 28/34 FTs this after shooting less then 50% from the line during 11 game losing streak. What? Insane.
PURDUE -14
Purdue 92 Ruthers 85
LOSS
Though BYU is just 13-15 ATS spread they have a nice 8-5 ATS AWAY …they have actually played better defense as of late. Their offense will always be there but the defense always made them a tough pick as a favorite. With the line small at 4 and playing better defense I like them to cover here. Portland was completely dominated with all their parts last time they met but had a back door cover thanks to a 32 point 10 minute frame. Bobby Sharp won't be there 100% to help with the three ball. The same three ball that got Portland the cover and so many teams that I went against this year. BYU just too quick and efficient on offense and with Wimder returning it will be an uphill battle. 5 star play GUARANTEE
Byu -4
BYU 82-69.
Byu put up 49 points in nice comeback victory. Hayes breakes Jimmers scoring record at BYU.
WINNER WINNER 10-2 L12 on GUARANTEES…
What does a team like Utah do when they get beat by DDs last game. They respond. Ask UNLV, wash at, and USC. They all lost by DDS AFTER the Utes lost. Utes are 15-0 at Home and 10-4 ATS the champions of ATS battles at 18-7 this year. This line to me is very manageable. When they last played ASU the Sundevils had absolutely no clue how to handle Utah. Utah actually led by 28 points until Wright and company sat out last frame of game. Sun Devils are up and down ATS this year. If their three doesn't fall 8 plus tonight they get blown out by 16 to 18. I was killed in my three plays last night as all my plays lost because of the three ball. Over 30 to be exact. I don't care who or what plays if the three ball goes down like that it's difficult to win. So make this a small 3 star play
Utah -12.5
Uyah 83-41
WINNER
WOW WHAT A BUTT KICKING BY THE MORMONS TODAY AS BYU ALSO COVERED!
It's difficult to play on a revenge angle at Home here. Why? The Dons have not beaten any team outside a 100 Ranked  efficiency this year. It's difficult to win games against better competition like Saint Mary's when you shoot a poultry 62% as a team from the FT line. Their defense was vulnerable versus the Gaels the first game as Waldow dominated the paint. Since that game the Gaels other players have stepped up a bit. Coach Bennett in my opinion blew it for Saint Mary's is their Seniors last Home game versus the Zags. He left his starters in game too long and they ran out of gas with 8 minutes left. When he mixes in his bench they play much better. With four  days off the Gaels should be fresh versus the inconsistent Dons. Yes. The trend that has worked for me is revenge teams playing at Home. But like BYU versus Portland the defense from Home not enough to make this trend stick. 4 stars
StMarys -2.5
StMarys 84-53
Complete domination by the Gaels
WNNER
When you constantly hear your on the outside looking in and in deep danger of making the tournament then you have two choices. 1. You cave into the pressures like most teams. 2. You decide to focus more and play to win. I'm going to take number 2. Stanford has suffered with its offensive production as Allen is out with back injury. The fortunate thing for them here is they play a team that won't make you score 70 pts to cover large spreads. Oregon State is a top notch defensive team. Especially at Home. But on the Road they have lost 6 of 7 games. In the games they lost they lost big….by an average of 17 pts a game! Even Quinnipac beat them by 8. Another interesting tit tat…when they play back to back home games and follow with an away game they have lost by DDs. Standards big three of Brown, Nastic, and Ramdle will help the Cardinal get 65 pts . Beavers won't go above 54. Love this Home play. Stanford will be number 2 and focused . 5 stars
Stanford -8.5
Stanford 75-48
WINNER
Nice 4-1 Night…On FIRE!
Shockers have this game circled since their blowout loss to the Panthers. Tuttle was dominate with 29 Pts and getting Morris and Carter in foul trouble. Washpun also played well. I thought Wichita fell in love with three ball which is uncharacteristic for a Gregg Marshall team. Cotton and Carter will go out in style in their last game at Wichita State. A prudent HC would really see +6 as a better value because these teams are so close. However, I am going to go with a team that will be hungry and wanting to get payback. Just need to trust that Marshall has made the adjustments on Tuttle. 4 Stars
Wichita State -5.5
Wichita State 74 N IOWA 60
Great intensity by the Shockers
WINNER
The only thing the Bulldogs need to worry about is looking past this game and focusing on the next game…..Kentucky. But they have too many veterans on the team to,let that happen as well as playing an awful Tigers team. Everyone is back and healthy for Georgia as they pulled off two must needed road victories with wins over Bama and Ole Miss. Missoiro finally won after 13 straight losses. On their losses on the road they lost by an average of DDs and their last two losses were by 20 pts without G Clark. So this will be a 5 star Blowout play.
Georgia -12
Georgia 68 Missouri 44
No contest…Missouri awful
WINNER