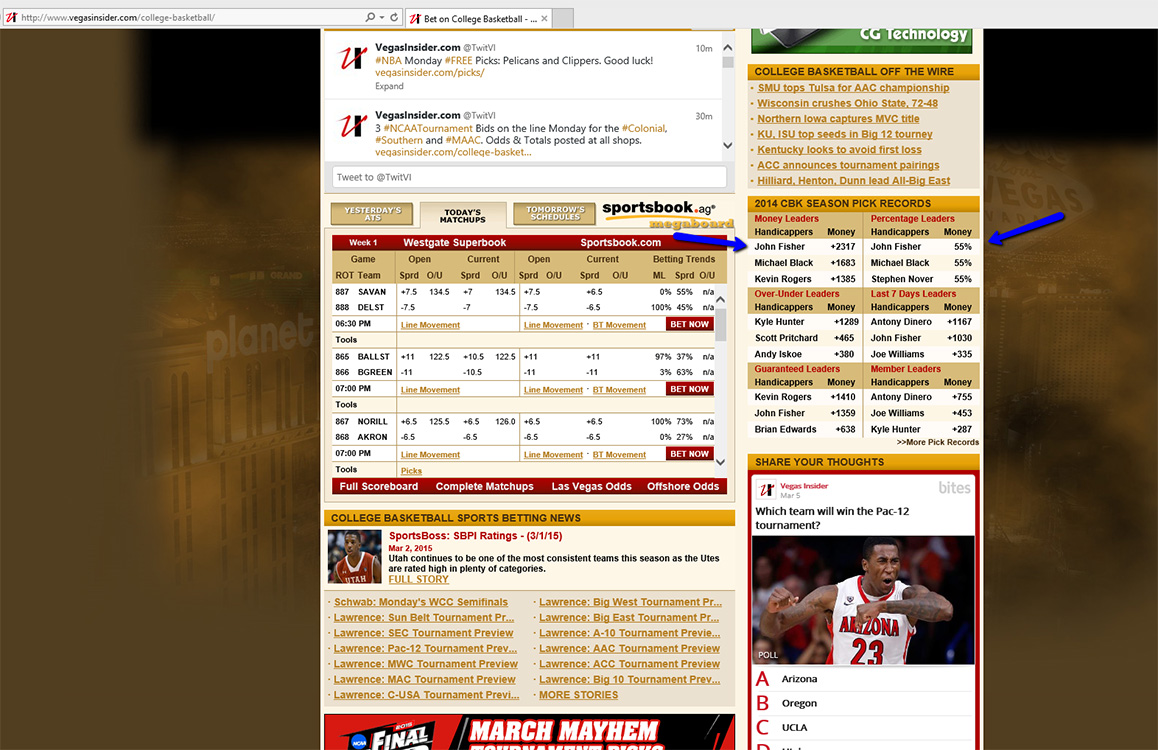 We know a top pick when we see one, and that's exactly what John Fisher is! Top handicapper in the nation. He's on fire with college basketball and March Madness. +2317.
Look at his notes on wins from the last few days:
Both these teams are 19-31. ATS this year so gauging any confidance on one of these teams is a handful. However, I'm going to go with the team that is enjoying themeselves in their 6 game winning streak and go against a Nebraska teams who has lost 7 straight  and is having a hard time knowing how to win and more importantly have fun. Dez Wells has stepped up, his hame and frankly can't be stopped one on one. Trimble is the engine that runs this team. Nebraska weakness in the Pt Guard position hurts them in games. This game seems like a trap but we will bite the cheese here. Terps win this 3 star.
Maryland -2
Maryland 64-61
WINNER
Ball Game. We complete a 3-0 Sweep with a Maryland win and cover! Northeastern and Stony Brook were earlier wins. We are Number 1.,,,love making money but better yet making other people money..thanks players!!!
Very interesting. Vegas has adjusted its line because prudent HCs like myself have exposed a trend that is hitting almost 100% in tournament. When a team losses twice to another conference foe they have been covering and also winning outright the third time in conference tournament play. Wichita State got a dose of that yesterday FGCU and INDIANA State the other day and on and on. This time Vegas has made most of the teams that lost three times favorites …..making a complete adjustment. Today it's Northeastern. They lost twice to UNC Wilmington in conference play yet they are favored? Interesting. Well I believe Vegas and I see something besides the trendy trend. Northeastern has shot FTs relatively well this season but for some strange reason we're dismal versus UNC. Ft Shooting cost them both the games. Otherwise, they did what they needed to do. Make Threes and get to the FT line. UNC has a better defense but its offense sometimes goes stretches without a basket. Northeastern is favored for a reason. Thus are better in every category with the exception of TOs. UNC will have a +12 difference in TO to points but NE will have a +20 difference in FTs and 3 pointers. We will take them as well in this 3 star play.
Northeastern -2
Northeastern 78-71
WINNER
It's becoming a broken record players but teams that have lost twice to their opponent and play them A third time are winning 80% clip and we have hit 5/5! We are now the top Syndicated and Documented HC in College Hoops in the entire nation. Vegasinsider.com
Vermont has been Stony Brooks nemesis for a few years. It's time for a less heralded Stony Brook team to get pay back. I will go with the trend that is dominating play as of late. I said this before it started happening. Teams that have been losing two times in regular season to their opponents have been winning the third time around in tournament play. So I will stick with this trend and pick the Dog as they are getting 5 points. Teams are similiar in that they rely on defensive stops and transition to put away their opponents. In half court they tend to struggle. Look for C Warney to get a double double here. 4 Star Seawolves!
Stony Brook +5
Stony Brook 79-77
WINNER
Great comeback by the Seawolves. I said the Catamounts would not continue their three point shooting as they made just two in second half. Stony Brook came out with purpose and attitude to come out victorious after being down by 16!
OVER 144.5
Byu 78-76= 154
WINNER
Fisher Another winning night players…top HC in nation Documented. Vegasinsider.com +2000 units!! As predicted we knew Santa Clara would continue their nice offense and make this a game so we took the OVER 145
Yes we were unfortunate in our two,early games. Simply had bad breaks really. I had this on my menu and will play it. AGGIES are weak defensively as shown against a Wyoming team that won't has less offensive talent then Rams. Rams struggle away from home with their defense but their offense is much better. I see value here in this game for the favorite. I like the over as well in this play. Look for each team  to hit the 70 pt plateau. Offense is better then defense in this game. See each team hitting plus 8 threes. This will give us  5 plays. 3 stars only.
Colorado State -1.5
Colorado State 75-70
WINNER
Over 135
WINNER
We get the Daily Double players with RAMS and the OVER. It wasn't. A sure thing as AGGIES played hard and hit threes. Avila showed leadership and dominated!
Sooners up by 20 feeling good about themeselves. Same time Jayhawks down by 18 to an undermanned Mountaineers team. Things looking good for Sooners to play Jayhawks for title…then Rock Chalk Jay Hawk fortune happens. Iowa State scores 24 straight points amd destroy Oklahoma and Jayhawks comeback and tie game into OT for a victory. Lessons learned here. Cousins exuberance cost the Sooners and the Jay Hawks perseverance gives them another title. Here is the question? Will Kansas just go through the motions after winning title or will Oklahoma just be hung over from the bitter defeat. Playing at Home helps put bad memories to rest. Of the Top 15 teams in the country I believe KANSAS will wilt without Ellis. Officials won't be there to help them beat a much better Sooner team at their venue. Watch out for the Sooners. They will be angry and will destroy this KANSAS team that won't be a match on Saturday. GUARANTEE SOONERS 10 STARS
Oklahoma -5
Oklahoma 71-69
LOSS
When it looks too easy it never is….KANSAS missing a couple of players had nothing to play for stays toe to toe with SOONERS. Oklahoman defense is suspect to let this even be close.